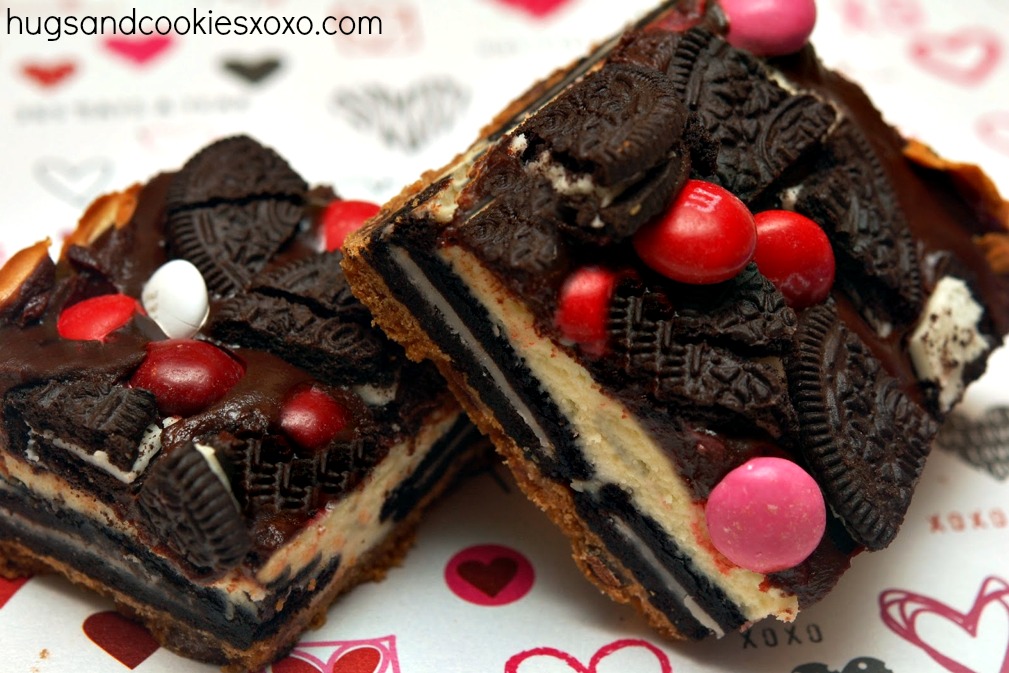 These Pillsbury Oreo Cheesecake bars will be quite the treat for your Valentine! And, have you even tried raspberry M & M's yet? Hurry and get your hands on them…they are spectacular!!! Then you add in a Pillsbury cookie layer and these oreo cheesecake bars will send you to the moon! Smiling, of course!!!
THIS VALENTINE'S RECIPE STARTS OFF SIMPLE BY USING PILLSBURY COOKIE DOUGH!
1. LINE AN 8X8 PAN WITH A NONSTICK FOIL SLING.
2. PRESS IN 8 OUNCES OF CHOCOLATE CHIP COOKIE DOUGH.
3. BAKE AT 350 FOR 14 MINUTES.
4. LINE THE COOKIE DOUGH BAKED CRUST WITH 16 OREOS.
5. MAKE THE CHEESECAKE:
electric mix the following until smooth:
12 oz. cream cheese, soft
1/3 c. sugar
1 egg
6. Pour the cheesecake over the Oreos and bake at 350 for 35 minutes.
7. Make the glaze:  
In the microwave heat:
 1/2c. heavy cream
 4 ounces chocolate chips until smooth. Pour on bars. Top with chopped Oreos and raspberry M & M's. Chill a few hours. You can speed this in the freezer. These are easier to cut when very cold!!!! Enjoy!