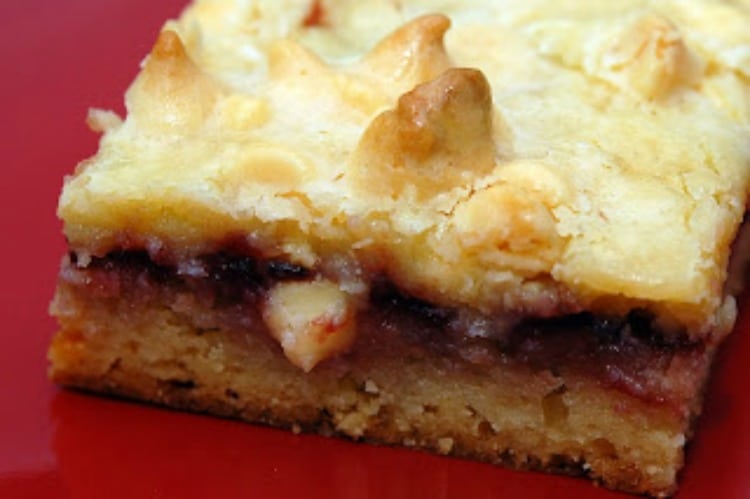 1 stick salted butter
2 cups (12-oz. pkg.) white CHIPS
2 large eggs
1/2 cup granulated sugar
1/4 teaspoon almond extract
1 cup all-purpose flour
1/2 teaspoon salt
1/2 cup seedless raspberry jam
Preheat oven to 325° F. Line a 9 inch square metal pan with foil and spray foil with cooking spray.
Melt butter in medium, microwave-safe bowl on high (1 min). Add 1 cup morsels; let stand. Do not stir.
Beat eggs in a mixing bowl until foamy. Add sugar; beat until light lemon colored, about 5 minutes. Stir in morsel-butter mixture, and extract. Add flour and salt; mix until combined. Spread about 2/3 of batter into prepared pan.
Bake for 15 to 17 minutes or until light golden brown around edges. Remove from oven to wire rack.
Heat jam in microwave for 30 seconds; stir. Spread jam over warm crust. Stir remaining morsels into remaining batter. Drop spoonfuls of batter over jam.
Bake for 25 to 30 minutes or until edges are browned. Cool completely in pan on wire rack. Cut into bars.