Crock Pot barbecue chicken? 2 ingredients? Turn on the crock pot? Dinner ready in 5 hours? Yup! Count me in. I wasn't convinced this was going to even be an edible dinner. I mean, only 2 ingredients thrown into the crock pot…how good could it be? Well, this 2 ingredient barbecue chicken was fabulous. I used 2 forks to shred the chicken when it was done, put it back into the barbecue sauce and hubby loved it. I served it with large lettuce leaves (like at the Cheesecake Factory!) and we made barbecue chicken lettuce wraps. Some Marcona almonds thrown in for a crunch and you have a perfect dinner! You could also serve this as barbecue chicken tacos or wraps. The possibilities are endless just like the topping ideas! So grab yourself some chicken and a jar of your favorite barbecue sauce and let the crock pot do the cooking!
If you can get your hands on Stubb's barbecue sauce, then go for it! We really liked it and the final sauce was not watery! You even get to use frozen chicken in this recipe so you won't have to worry about defrosting it ahead of time. That alone is a huge time saver! There is nothing worse than thinking about what's for dinner and remembering that you never defrosted a thing! Those are the nights you just gotta have take-out menus on hand!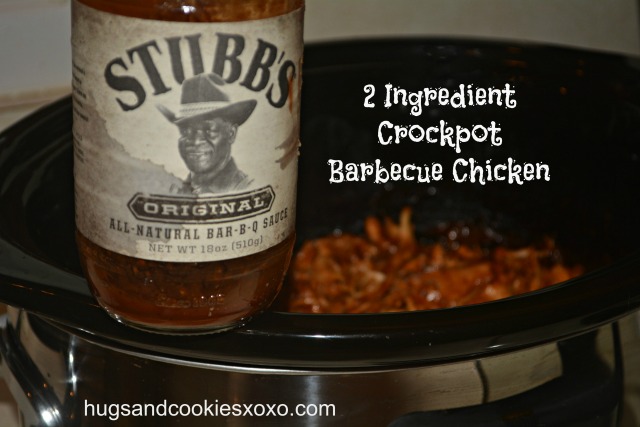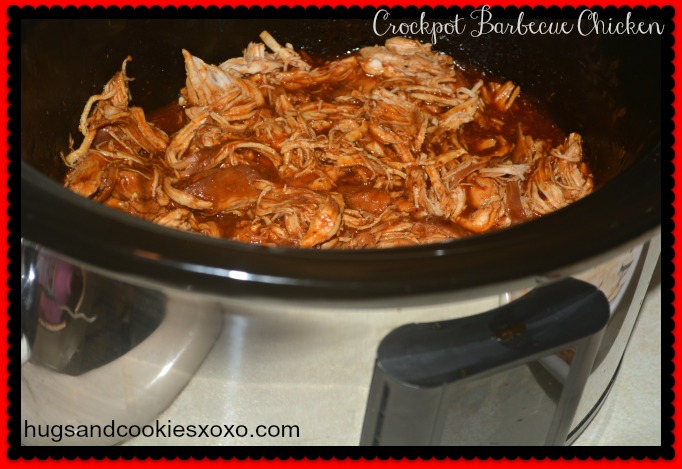 2 Ingredient Crock Pot Barbecue Chicken
Ingredients:
2 or 2 1/2 pounds skinless, boneless chicken breasts (thick, not thin sliced)
1 jar of your favorite barbecue sauce
Directions:
Pour the entire bottle of barbecue sauce into the crock pot. Place frozen chicken on top. Turn in the sauce to coat. Cook on high 5 hours. Shred and serve in lettuce wraps or tacos.