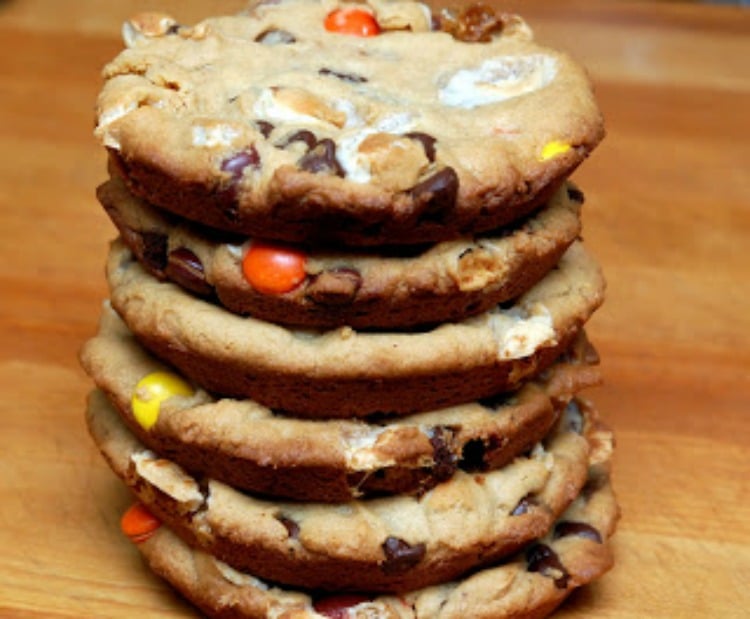 DON'T THESE LOOK CRAZY GOOD? WITH ALL THESE MIX-INS, IT'S LIKE A PARTY IN A COOKIE!! I SAW THIS ORIGINAL RECIPE OVER AT BRU CREW! SUCH A CREATIVE IDEA! I ADAPTED THIS BY USING GLUTEN FREE FLOUR. GOOD TO KNOW YOU CAN MAKE IT EITHER WAY!!! ENJOY!

3/4 c. butter, softened
1/2 c. peanut butter
1/2 c. sugar
1/2 c. brown sugar
2 eggs
1 Tbsp. honey
1 tsp. vanilla
2 1/4 c. flour OR GF FLOUR AS I DID IN PICTURES (I TESTED THESE WITH BETTER BATTER AND ALSO C4C)
1 tsp. baking soda
1/2 tsp. salt
1 small box instant vanilla pudding
1/2 c. chocolate chips
1 c. miniature marshmallows
1 c. Reese's pieces
1 c. peanut butter cups, chopped
ELECTRIC MIX BUTTER, PEANUT BUTTER AND BOTH SUGARS. ADD EGGS, HONEY, VANILLA. ON LOW ADD FLOUR, PUDDING MIX, BAKING SODA AND SALT. STIR IN THE CHIPS, MARSHMALLOWS, PIECES AND PB CUPS.
SCOOP INTO A MUFFIN TOP PAN OR ONTO A PARCHMENT LINED COOKIE SHEET BY LARGE TABLESPOON AND BAKE 11-13 MINUTES.
You May Love These, Too! XOXO