ANOTHER FUN BLOGGER PACKAGE ARRIVED-A 32 OUNCE GLASS JAR OF COCONUT OIL TO TRY OUT! JACKPOT! MY LITTLE CHEF IS BUSY MAKING SOME OF THE WORLD'S BEST COCONUT GRANOLA WITH IT! YOU CAN FIND THE RECIPE HERE! IF YOU'RE INTERESTED, CLICK TO LEARN MORE ABOUT TROPICAL TRADITIONS OIL!
BEST! COCONUT! GRANOLA! EVER!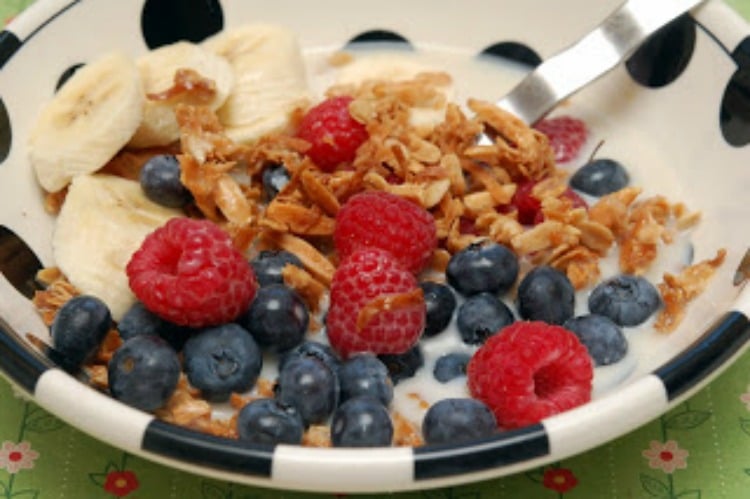 2 cups old-fashioned oats
3/4 cup shredded sweetened coconut
1/2 cup slivered almonds
2 tablespoons brown sugar
1 teaspoon cinnamon
1/4 teaspoon salt
4 tablespoons melted coconut oil
1/2 cup pure maple syrup
1 teaspoon vanilla extract
Directions:
1. Preheat the oven to 300 degrees F. Line a large baking sheet with parchment paper.
2. In a large bowl, combine oats, coconut, almonds, brown sugar, cinnamon, and salt. Pour in the coconut oil, maple syrup, & vanilla. Stir well until dry ingredients are well-coated.
3. Pour the granola onto the sheet in an even layer. Bake for 30 minutes or until granola is golden brown, stirring every 10 minutes. Let cool completely. Store in a container for up to 1 month.
4. Serve with fresh berries, sliced bananas and SILK almond milk! Mmmmmmm!!!
RECIPE ADAPTED FROM TWO PEAS AND THEIR POD
LINKING AT SWANKY STUFF
You May Love These, Too! XOXO