Blackberry Pie Cookies
Blackberry Pie Cookies are the ultimate treat especially when served warm with vanilla ice cream. Try this at your next gathering!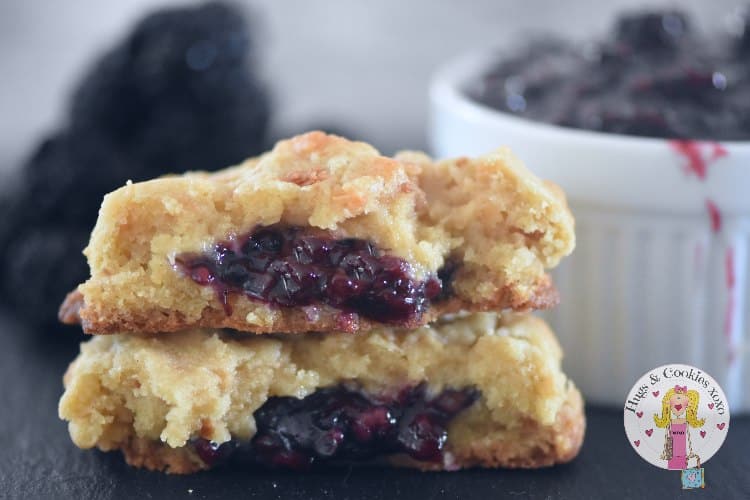 You may need:
Blackberry Pie Cookies
Ingredients
Cookies
2 sticks salted butter, room temperature
¾ cup light brown sugar
½ cup granulated sugar
2 eggs
1 tsp. vanilla extract
1 tsp. almond extract
1 tsp. baking powder
1 tsp. baking soda
½ tsp. kosher salt
2¾ cup all-purpose flour
Blackberry Jam (cooked to 212 degrees and chilled)
½ pie crust, baked, cooled and broken into pieces
Pie Crust
9 T. cubed butter, kept in freezer
1⅓ cup flour
½ tsp. kosher salt
1 T. sugar
1 T. cornstarch
1T. apple cider vinegar
¼ cup ice water
2 T. sugar mixed with 1 tsp. cinnamon
2 T. melted butter


Instructions
Cookies
Beat butter and sugars until creamy.
Add eggs with both extracts.
On low blend in dry ingredients.
Add pie crust and only mix in a short amount-you want to keep large pieces..
Measure out 4 ounce mounds and in the center add a tap of jam.
Wrap dough around jam to tightly seal it in.
Freeze mounds.
I like to defrost them before baking and bake at 375 for 13-14 mins. (From frozen 14-15 mins.)
Cool about 30 mins and eat warm with ice cream.
Pie Crust
Combine flour, salt, sugar, and cornstarch in a food processor and pulse
Add the butter and pulse just about 5-6 times.
Pour in the ice water and vinegar pulsing 3-4 times.
You want it to just begin to come together, but still remain crumbly.
Dump out onto a piece of plastic wrap and push into a square.
Wrap well and chill a few hours.
Roll out on a floured surface pretty thin.
Brush with melted butter, sprinkle with the cinnamon sugar mix.
Pop into the freezer 20 mins.
Bake at 400 degrees until crispy. (approx 15 mins but keep an eye on it.)
Let cool.
Adapted from
Sunshine Texas Cookies
   She has some insane recipes! Check out her website!
You May Love These, Too! XOXO