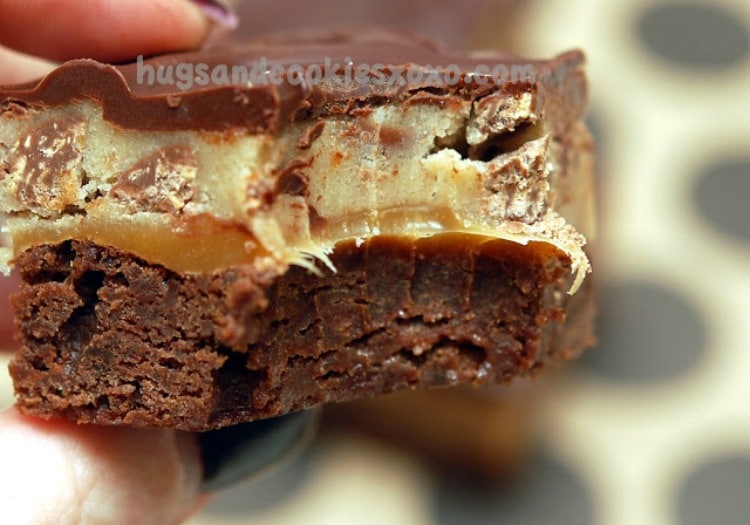 Brownies:
1/2c. flour
1T cocoa powder
1/2tsp. salt
3 1/2 ounces dark chocolate bar
1/3c. butter
2/3c. brown sugar
2 eggs
1 tsp. vanilla
Melt butter & chocolate in microwave till smooth. Whisk in sugar. Add eggs and vanilla. Stir in dry ingredients until just blended. Pour into nonstick foil lined 8×8 pan and bake at 350 for 20 mins. Let cool.
Caramel:
In microwave melt 25 kraft caramels and 1 tablespoon heavy cream until smooth. spread onto cooled brownies and chill.
Cookie Dough Layer:
Electric Mix:
1 stick soft butter
1/4c. sugar
1/2c. light brown sugar
2 T cream
1/2 tsp. vanilla
3/4c. flour
1/4 tsp. salt
Once blended I chopped 20 mini Butterfinger bells and stirred in. Use pb cups r mini chips if u prefer. Spread onto chilled caramel layer and rechill.
Glaze:
In microwave melt:
3 1/2 ounces dark chocolate
2 T butter
once smooth spread on chilled cookie dough layer and rechill. Cut into squares!
adapted from cookie dough lover's cookbook
You May Love These, Too! XOXO