Cajun Meatballs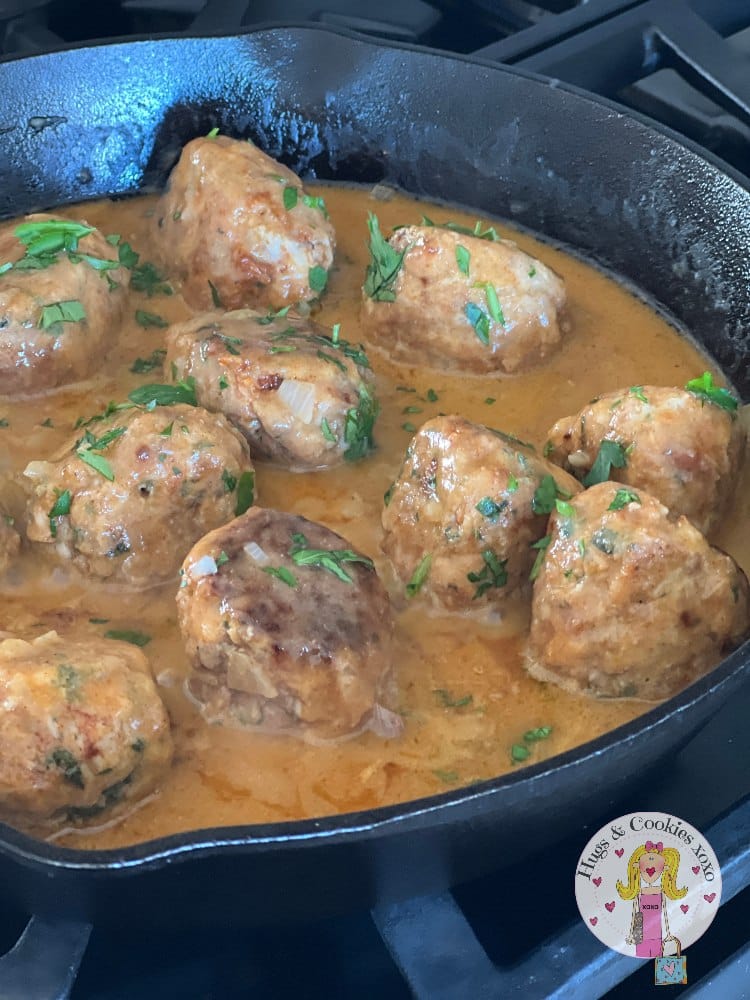 Cajun Spice
Ingredients
Cajun Spice
3 tablespoons paprika
2 tablespoons kosher salt
2 tablespoons garlic powder
sprinkle of fresh pepper
1 tablespoon chipotle powder
Instructions
Mix all and store in dry area.
Cajun Meatballs
Ingredients
1½ pound ground chicken thighs
2 garlic cloves, minced
1 egg, whisked
½ cup Panko bread crumbs
2 tablespoons Cajun seasoning (see recipe above)
¼ cup parmesan cheese
2 tablespoons chopped parsley
2 -3 tablespoons olive oil
Sauce
2 tablespoons butter
½ cup onion, finely chopped
2 tablespoons flour
2-3 teaspoons Cajun seasoning (recipe above)
½ cup chicken broth
½ cup heavy cream
2 tablespoons parsley, chopped
Instructions
Meatballs
In a bowl, combine ground chicken, garlic, egg, Panko breadcrumbs, Cajun seasoning, Parmesan cheese and chopped parsley.
Form 1 inch meatballs.
Heat 1 T. oil in skillet and brown meatballs, not cooking through. Transfer to plate.
Sauce
Melt butter in same skillet.
Add onions for 5 mins.
Add the flour and cook 2 – 3 minutes, while stirring.
Add broth and seasoning.
Return meatballs to skillet and cook on low 10 mins to cook through.
Shut heat and add cream, top with parsley.
Adapted from
Lemon Blossoms
You May Love These, Too! XOXO