Luckily it is time for another month of Two Sweetie Pies! Another month of 2 Sweetie Pies with That Skinny Chick Can Bake means another wonderful dessert! Always a success when you bake from Liz's blog! Each month we bake up a recipe from each other and keep it a secret until reveal day! Super fun! Make sure you pop over to visit Liz and see which Hugs & Cookies recipe she chose this month.
This month I went with Liz's Candy Bar Pie because how can you not love a pie with THAT name. It did not disappoint. A rich, creamy filling with a crispy crust….YUM! I served this topped with hot fudge but it stands perfectly well on its own, too!
Thanks once again Liz for a fabulous dessert!
You can visit Liz on her social media channels here: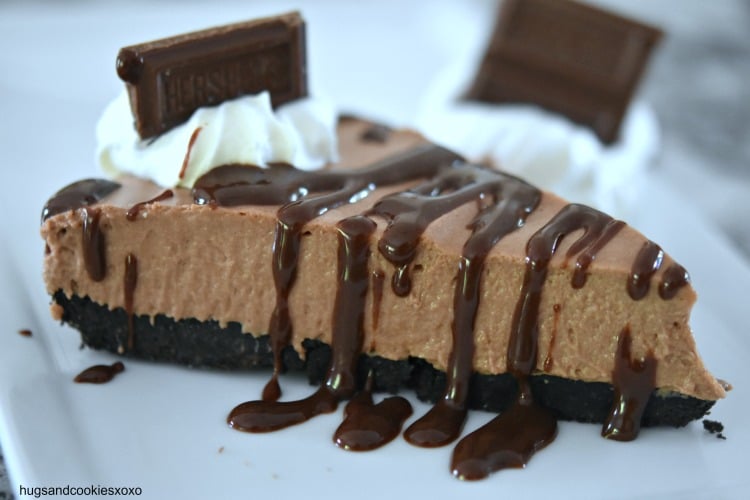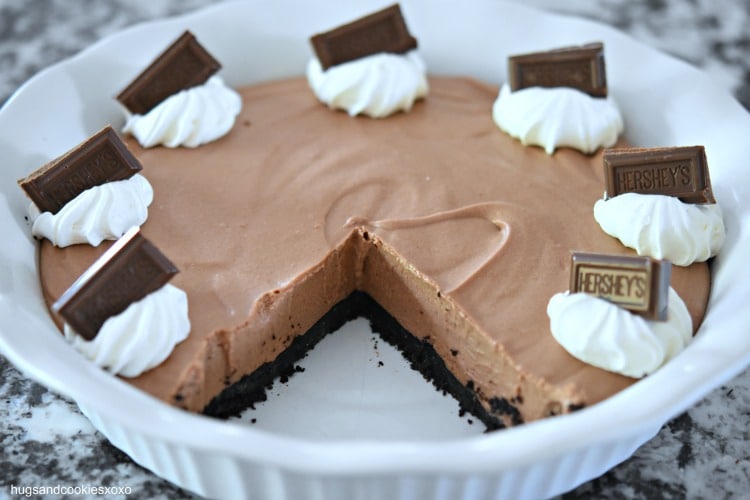 Candy Bar Pie
Ingredients
CRUST:
25 Nabisco Famous Wafers, crushed
1 tablespoon sugar
4 tablespoons butter, melted
FILLING:
20 regular marshmallows
½ cup milk
1 8-ounce milk chocolate bar
1 cup heavy cream plus more for topping (I topped with ½ cup whipped cream)
Hershey bar pieces for garnish and hot fudge, optional
Instructions
Combine crushed cookie crumbs, sugar, and butter.
Pat into 9-inch pie plate and freeze.
In a medium saucepan, combine marshmallows and milk.
Cook over low heat, stirring occasionally, till melted.
Add chocolate chunks and remove from heat. Stir till melted.
Refrigerate 10 minutes.
Whip the 1 cup cream and fold into chocolate.
Pour into shell and refrigerate at least 3 hours.
To serve, pipe on whipped cream and top with chocolate!
Drizzle on hot fudge, if desired!