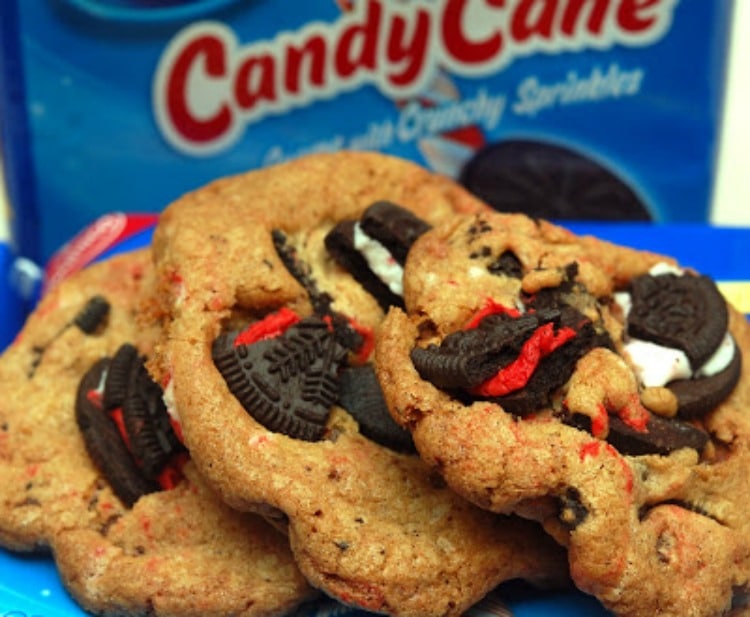 For the cookie dough (Thick and Chewy Chocolate Chip Cookies):
2 cups plus 2 tbsp all-purpose flour
½ tsp baking soda
½ tsp salt
12 tbsp unsalted butter, melted and cooled until warm
1 cup brown sugar, packed
½ cup granulated sugar
1 large egg plus 1 egg yolk
2 tsp vanilla extract
1 ½ cups semi-sweet chocolate chips
1 PACKAGE CANDY CANE OREOS!!! Chop each cookie into 4-5 pieces.
Instructions:
To make the cookie dough:
Beat butter and sugars until thoroughly combined. Add egg, yolk, and vanilla until combined. Add dry ingredients and beat at low-speed just until combined. Stir in chocolate chips. Stir in half the oreos. Reserve rest for the tops! Chill dough.
Preheat oven to 325 degrees F. Line two baking sheets with parchment paper.
Bake 12-15 minutes until lightly browned. Transfer the baking sheets to wire racks and immediately press in some more oreo chunks. Cool the cookies on the sheets for at least 5 minutes. Transfer the cookies to the wire racks and coo.