This recipe for caramel apple crisp is as insane as it looks! Orchard apples meet salted caramel for pure perfection. Make this and your family will rave for days. Mine raved for about 4 days. Don't forget to serve this up with some vanilla ice cream! Mmmmm!!! This would make a perfect Thanksgiving dessert, don't you think? If you aren't crazy about caramel (don't even, I can't imagine) you could leave off the caramel. This also reheats beautifully the next day for breakfast  lunch dinner dessert!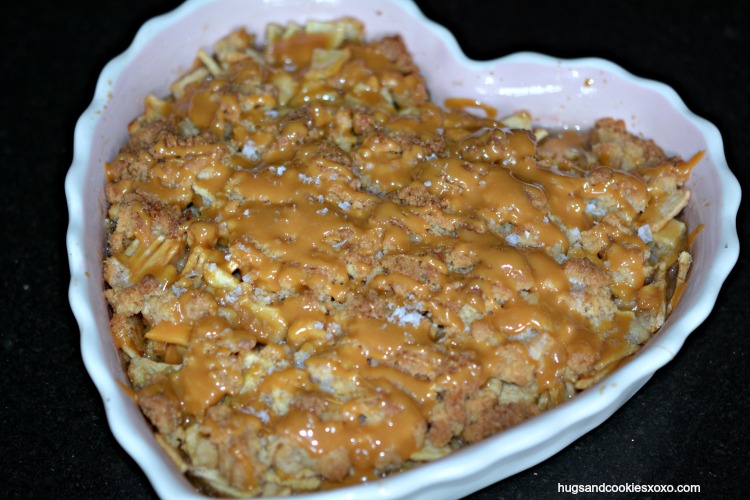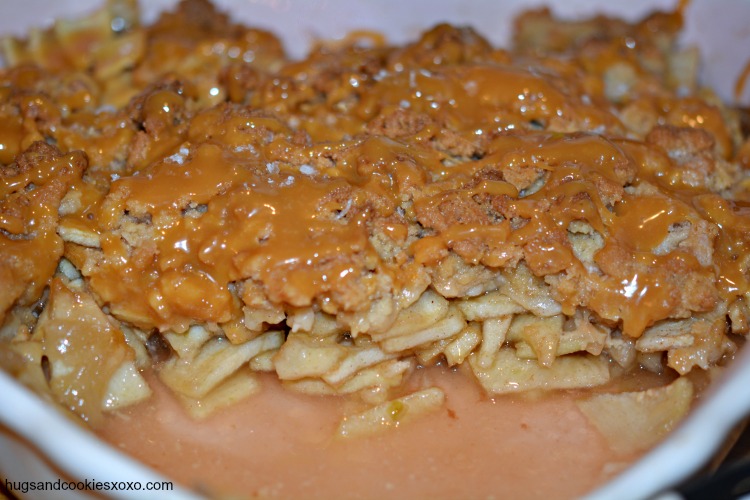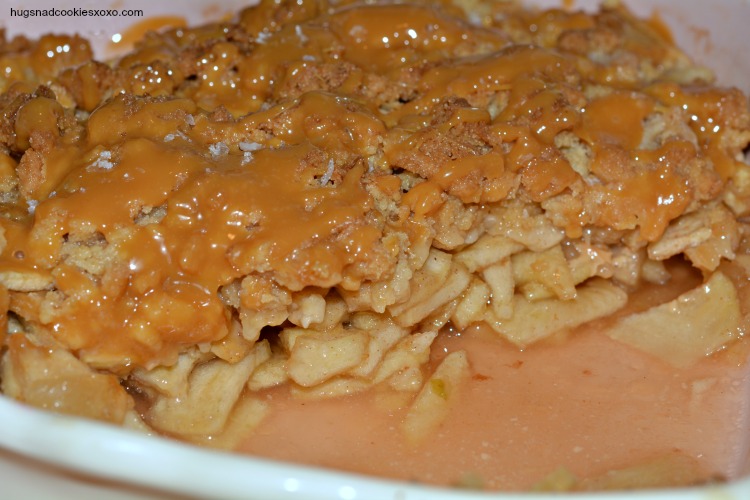 Caramel Apple Crisp
Ingredients
Topping:
1 cup all purpose flour or use 1 cup of "CUP4CUP" gluten free brand
¼ cup + 1 T. granulated sugar
¼ cup packed brown sugar
⅛ tsp. salt
2 tsp. vanilla extract
6 T. butter, softened
Filling:
½ tsp. cornstarch
3 tsp. lemon juice
3 lbs of apples, cored/peeled/diced into ½ inch pieces, I used Honeycrisp & Granny Smith
⅔ cup sugar
pinch ground cinnamon
Salted Caramel
½ bag Kraft caramels, unwrapped
2 T. heavy cream
Pinch sea salt, coarse flakes
Instructions
Preheat oven to 350 degrees.
Grease 8×8 or decorative pan with butter.
Filling:
Mix the cornstarch, lemon juice, apples, sugar & cinnamon. Let sit.
Topping:
Mix the flour, sugar, brown sugar, salt, vanilla and butter in a bowl until you can form crumbs with fingers.
Put the apple mixture into the pan and cover with foil.
Put the topping on a cookie sheet lined with parchment.
Bake both the filling pan and the sheet with crumbs for 15 minutes.
After 15 mins, remove the foil from the filling.
Also, take out the topping and break it up with a spatula.
Carefully dump the crumbs on the filling and bake uncovered for about 30 minutes.
Caramel
Microwave caramel and cream until smooth. Drizzle over apple crisp after it has cooled a bit. Sprinkle with sea salt.
Serve a la mode!!
adapted from Whisk Together
You May Love These, Too! XOXO