HAPPY NATIONAL CHEESECAKE DAY! XOXO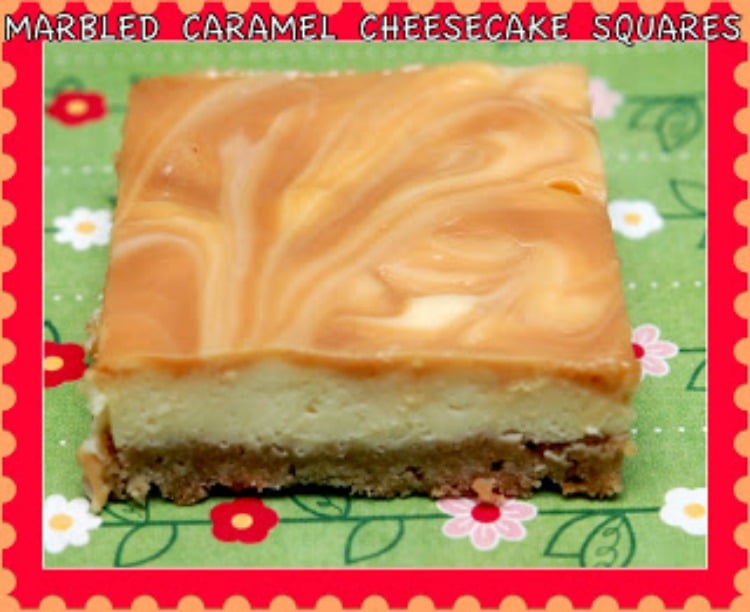 Caramel Cheesecake Bars
adapted from Chewy Gooey Crispy Crunchy by Alice Medrich
Crust
14 tablespoons unsalted butter, melted and still warm
1/2 cup (3.5 oz) sugar
2 teaspoons vanilla extract
3/8 teaspoon salt
2 cups (9 oz) all-purpose flour
Filling
1/2 cup caramel sauce (use store bought OR what I did was melt some kraft caramels with splash of heavy cream in microwave)
1 1/2 lbs cream cheese, at room temperature
1/4 cup (1.75 oz) sugar
1 1/2 teaspoons vanilla extract
2 large eggs, at room temperature
To make the crust: Preheat oven to 350 F with a rack in the lower third of the oven. Line a 13×9 baking pan with nonstick foil, leaving an overhang so you can lift the bars out after they've baked.
Combine the melted butter, sugar, vanilla and salt in a medium bowl. Stir in the flour until just incorporated – the mixture will be soft, that's fine. Transfer the mixture to the prepared baking pan and press into an even layer on the bottom of the pan. Bake for 20-25 minutes, or until the crust is golden brown. Let cool completely. Turn the oven down to 325 F.
In the bowl of a stand mixer fitted with the paddle attachment, beat the cream cheese on medium speed until smooth, about 30 seconds. Scrape down the sides of the bowl then add the sugar and vanilla, beating until smooth and creamy, about 1-2 minutes. Add the eggs, one at a time, beating just until incorporated and scraping down the sides of the bowl in between. Transfer 2 tablespoons of this batter to the 1/2 cup of caramel sauce and stir to incorporate. Pour the remaining cheesecake batter over the cooled crust and spread evenly.
Dollop the caramel sauce mixture over the filling. Use a toothpick to gently marble the caramel – be careful not to scrape the crust while you are doing it. Bake for 20-25 minutes, or until the edges are puffed and the center is just barely set.
Transfer the pan to a cooling rack and let come to room temperature. Cover and refrigerate for at least 4 hours, but preferably 24. Use the foil sling to lift the bars out of the pan and transfer to a cutting board. Cut into squares with a long sharp knife. The bars can be refrigerated in an airtight container for up to 4 days.
For the wheat free crust:
2 ounces white rice flour (1/3c. plus 1T)
5 ounces oat flour (1 1/4c. plus 2T)
1/4 tsp. salt
1/8tsp. baking soda
2/3c. sugar
2 ounces cream cheese
12T. butter, softened and cut in chunks
1 tsp. vanilla
Preheat 350. Line 9×13 pan with nonstick foil. Beat sugar, cream cheese, butter and vanilla until smooth. Add dry just until incorporated. Press into pan and bake 20-25 minutes until deep golden in the center.