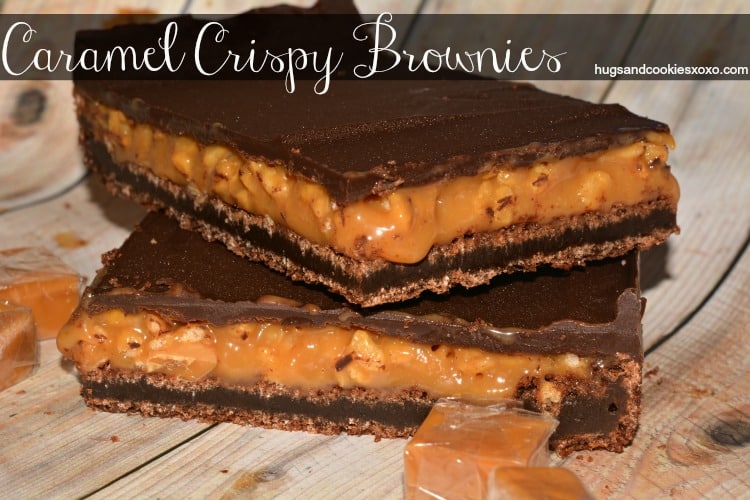 Ingredients
Brownie
3 ounces unsweetened chocolate, coarsely chopped
1/2 cup butter
1 cup sugar
2 eggs
1 teaspoon vanilla
2/3 cup all-purpose flour
1/4 teaspoon baking soda
Caramel
1 1/2 14 ounce bags vanilla caramels (68 caramels total), unwrapped
2 T. evaporated milk
1 tablespoon water
1 1/2 cups crisp rice cereal
1 12 ounce package semisweet chocolate pieces
3 tablespoons butter
1/3 cup whipping cream
Directions:
Preheat oven to 350 degrees F.
Line a 9×13 pan with nonstick foil.
In a medium saucepan combine unsweetened chocolate and 1/2 cup butter.
Cook and stir over low heat until melted and smooth.
Remove from heat; cool slightly.
Stir sugar into chocolate mixture.
Add eggs, one at a time, beating with a wooden spoon after each addition just until combined.
Add vanilla.
Add flour and baking soda.
Stir just until combined.
Pour batter into the prepared pan, spreading evenly.
Bake for 15 to 17 minutes or until edges start to pull away from sides of pan.
Cool on a wire rack.
For caramel layer, in a large microwave-safe bowl combine caramels, evaporated milk, and the water.
Microwave for 3 minutes or until caramels are melted, stirring every 30 seconds.
Stir in cereal.
Spread caramel mixture evenly over brownie layer in pan.
Place pan in freezer.
For chocolate layer, microwave chocolate, butter, and cream until melted and smooth.
Pour over the crispy layer and return to the freezer until set up.
Store in fridge and cut into bars.
*note, I doubled the filling for the brownie you see pictured.
Adapted from BHG