Another night of orange caramel sea scallops for us because they are just amazing!!!!! Scallops get cooked in a caramel sauce with fresh orange juice, white wine and some cold butter whisked in!!! Such a fast dinner to prepare on a weeknight yet it will taste like you cooked all day! This time I stepped it up by using a blood orange and homemade chicken stock since I ran out of white wine. Try this caramel blood orange sea scallops dish soon!!!!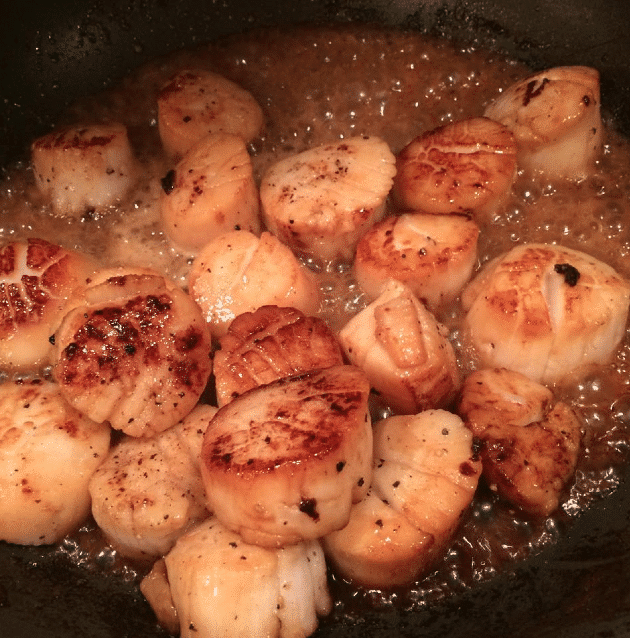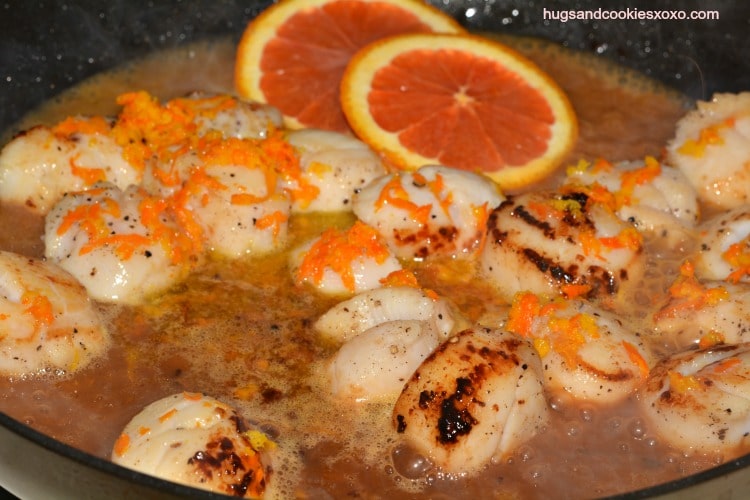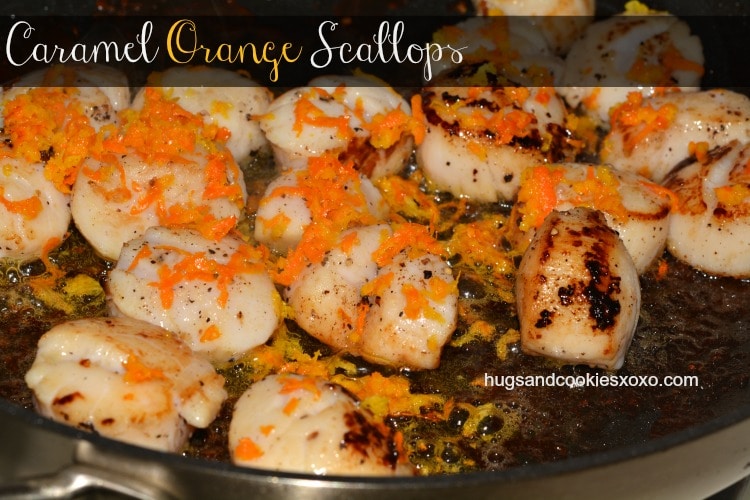 Caramel Orange Sea Scallops
Ingredients:
2 tablespoons sugar
1/2 cup homemade chicken stock (or store bought) or white wine
1 large orange, juiced and slice some for garnish (Use a blood orange if you can!!)
1 lb sea scallops (GREAT from Costco)
1 tablespoon olive oil
salt and pepper
1 tablespoon cold butter
Directions:
Sprinkle the sugar into a small saucepan.
Place the pan over medium-high heat and warm the sugar until it starts to melt and color.
As soon as you see it turn brown, begin to gently swirl the pan.
When the sugar is a deep caramel color, about 3 minutes, stand back and add the stock or white wine and orange juice.
It may bubble and spatter, so watch out.
Turn the heat up to high, stir with a wooden spoon, and boil the sauce until it is reduced by half — you should have about 1/3 cup. Pour into a measuring cup and swirl in the cold butter. Let sit.
In same pan, heat 1 1/2 teaspoons olive oil and swirl to coat the bottom. Add the scallops (pat dry first), season them with salt and pepper, add a little more oil if needed, and cook for another 1 to 2 minutes, or until the scallops are firm on the outside and just barely opaque in the center — nick one to test. Pour on the orange caramel sauce and stir. Serve over pasta! Season with salt and pepper to taste!
Adapted from Dorie Greenspan