Love casseroles? Lie a one dish wonder and voila! Dinner is ready….and yummy, too!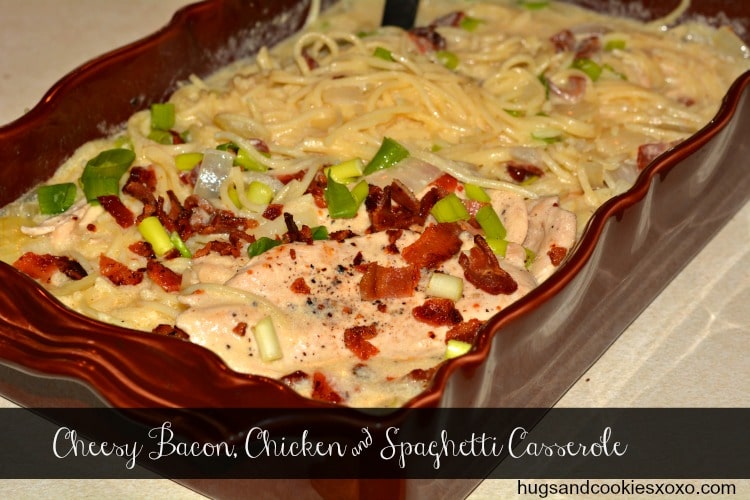 Cheesy bacon, chicken and Spaghetti Casserole
Ingredients
4 boneless, skinless chicken breasts
4 slices bacon
1 C onion, diced
3 Tablespoons  flour ( I used gluten free Cup4Cup flour)
3 Tablespoons butter
1 tsp kosher salt
1/4 tsp pepper
3 C chicken broth
1 cup heavy cream
1 cup white cheddar cheese, grated
1/4 cup chopped scallions
1 pound spaghetti (I used gluten free)
Season chicken breasts with salt and pepper.
Cook bacon until crisp, remove from pan and chop up for later. Drain off all but 2 tbsp of the fat. Heat pan to medium-high heat.
Cook chicken in the bacon fat until well browned. You don't have to cook the chicken through. Remove chicken from pan and place in casserole dish.
Drain off  the bacon fat from the pan and add 3 tbsp of butter. Once melted stir in the onion. Cook until soft and starting to caramelize- 5-7 minutes.
Stir 3 tbsp of flour into the onions & cook for 1 minute.
Stir broth and cream into the flour mixture, bring to boil -constantly stirring- for a few minutes to reduce a bit. Remove from heat.
Stir in salt, pepper,  cheese and pour over the chicken in the casserole dish. Bake, uncovered for 20-25 minutes or until the sauce is bubbly and chicken is cooked through.
While the chicken is baking, cook 1 lb spaghetti and drain.
Remove chicken from the oven, stir pasta into the sauce and serve topped with crumbled bacon and scallions.
Adapted from Heather Likes Food