Chicken Pot Pie with Crescent Roll Dippers
Sometimes you want a chicken pot pie without making an entire crust. This is a perfect shortcut to an amazing chicken pot pie. I used crescent roll sheets from Pillsbury to create the dippers. Just roll out the sheets, cut circles with a cookie cutter, prebake in the oven and arrange on top at serving time. This prevents them from getting soggy! This was a huge dinner hit at my house! I roasted my own chicken but you could certainly use a rotisserie to save time!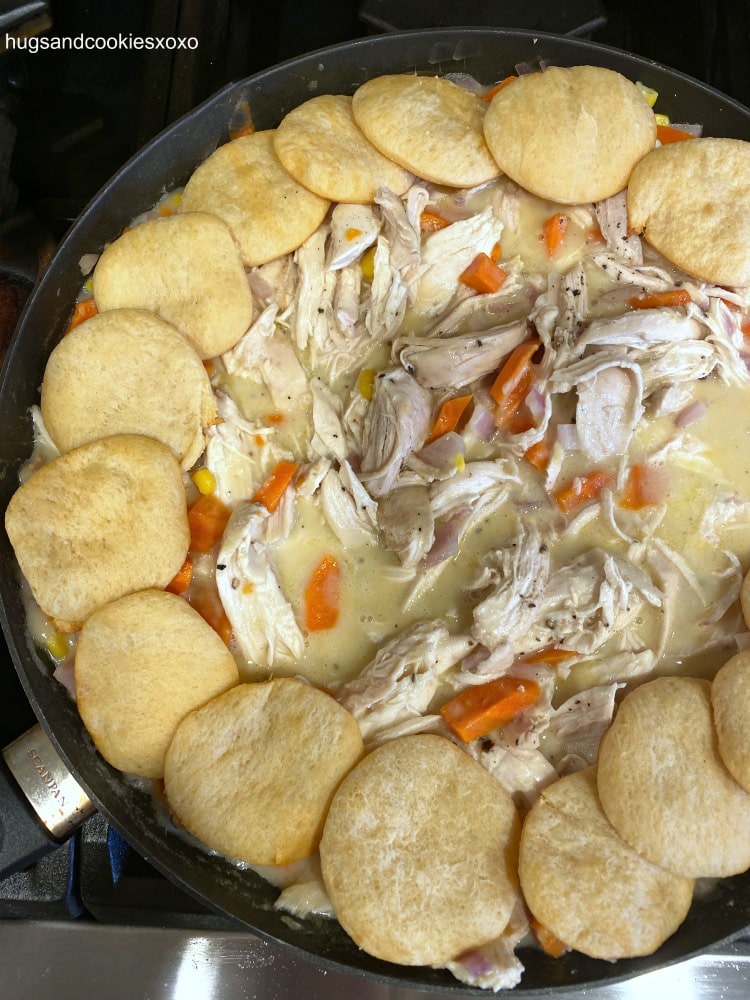 Chicken Pot Pie with Crescent Roll Dippers
Ingredients
4 chicken split breasts.
olive oil, salt and pepper
3 carrots, peeled, sliced and steamed until just tender.
½ cup frozen corn
¼ frozen peas (optional)
1 small red onion, chopped
4 T. butter
¼c. flour
2 c. chicken broth
2 T. heavy cream
2 containers Pillsbury Crescent Roll Sheets
Instructions
Line a jellyroll pan with nonstick foil and preheat oven to 425.
Drizzle oil on chicken and season generously with salt/pepper.
Roast until chicken reaches internal temp of 165.
Let cool, then discard skin and shred chicken into bite sized pieces.
In a large pot, heat 1 T. olive oil
Saute onions, carrots, corn and peas (if using)
Melt butter and sprinkle in the flour.
Cook 1 minute.
Add broth and cream.
Stir to combine and simmer on low to thicken a bit and heat through.
Meanwhile, roll out the crescent dough.
Cut circle shapes with a cookie cutter and bake according to package directions.
Lay across pot pie filling right before serving!