This is what tart dreams are made of! A sweet crust packed with dense chocolate and crushed almonds. A THICK, rich caramel center! And a ganache topping with coarse sea salt for a bit of crunch! This truly is a show stopper dessert for when you have company and need a winner! I found this recipe at Home Cooking Adventure! What a beautiful blog that you must check out!!! You'll be happy you did. Then, get baking this tart! It takes a lot of chilling time between steps but is not difficult to prepare!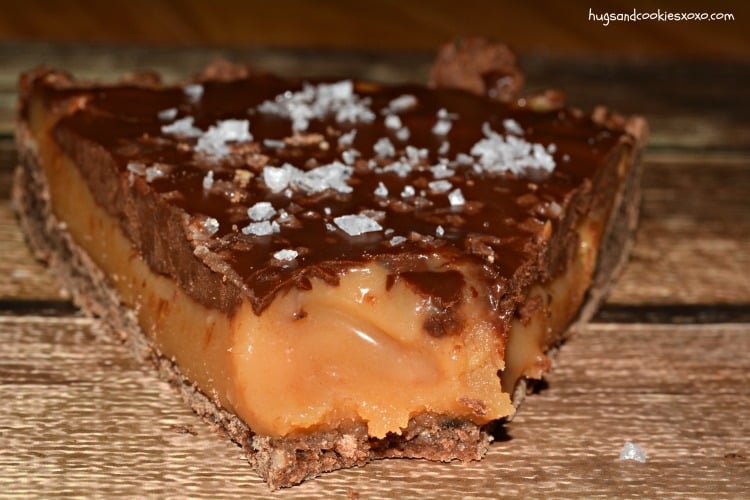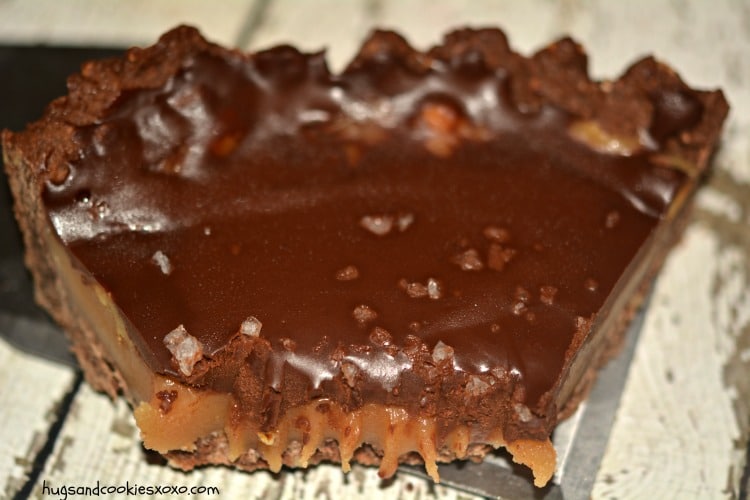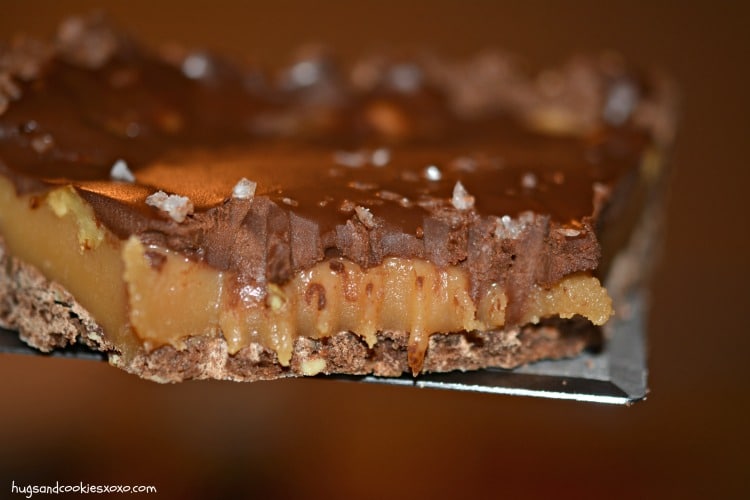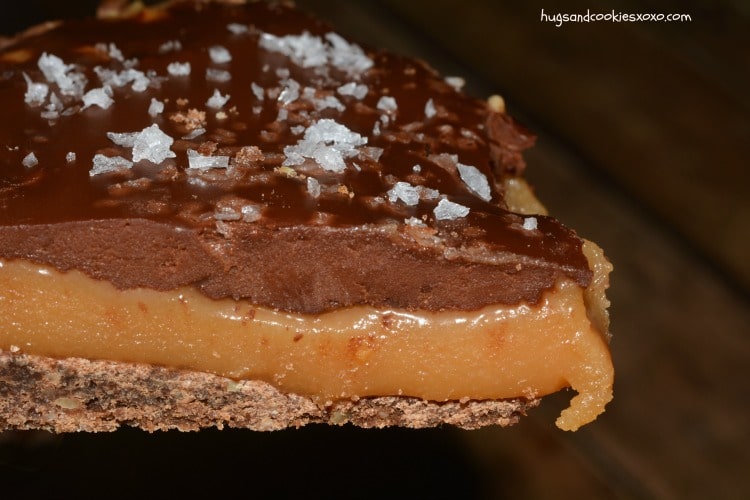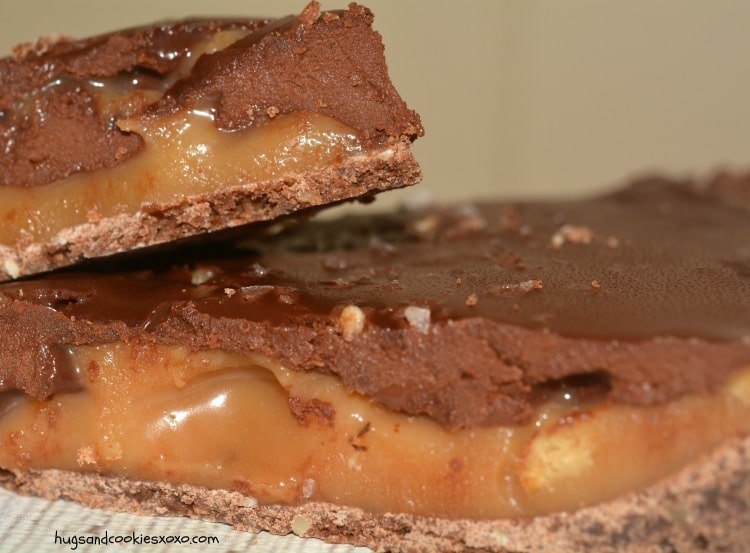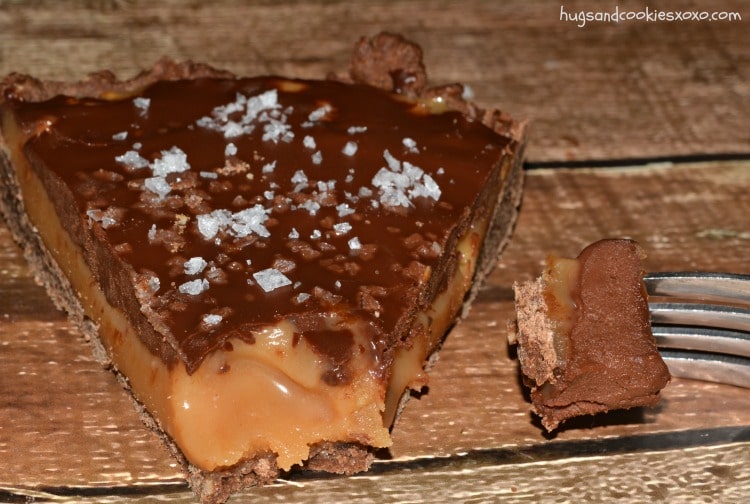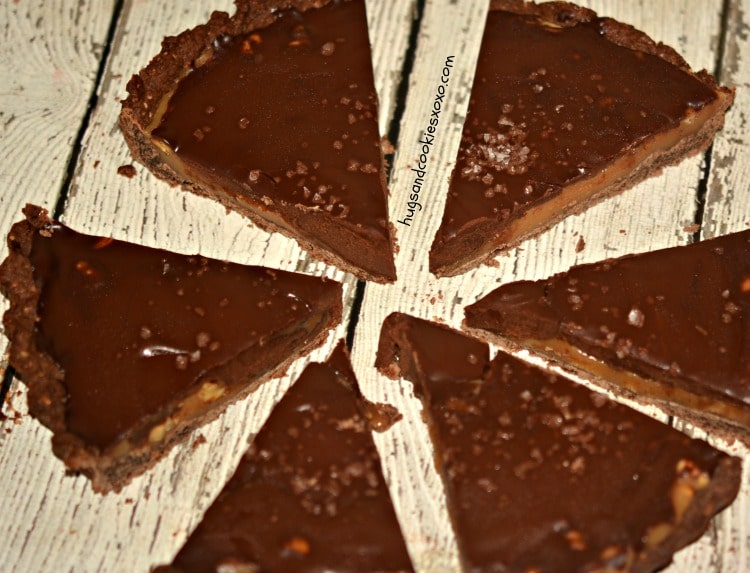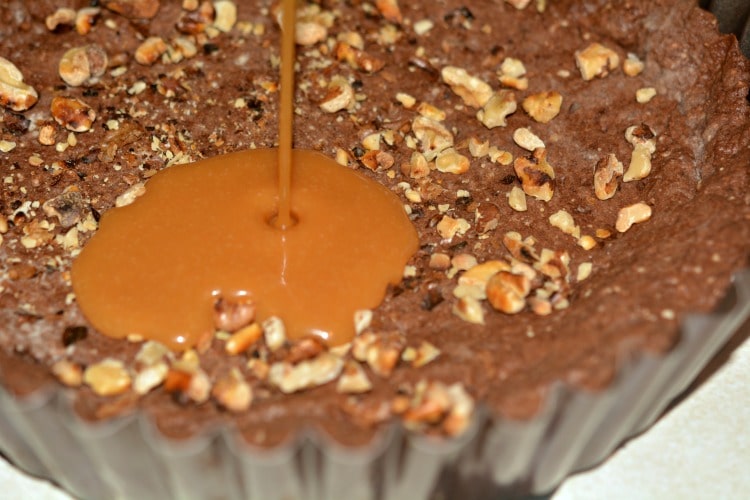 You'll Need:
You may also love THIS TART!
Chocolate Caramel Tart With Chocolate Almond Crust
Ingredients
Crust
1¼ cups flour
30 grams almonds (1/2c.)
¼ cup unsweetened cocoa powder
¼ cup sugar
¼ tsp salt
8 T. butter, cut into cubes
1 tsp vanilla extract
1 egg
2 T. ice water
½ cup toasted walnuts, chopped
Caramel
1½ cups sugar
½ cup water
½ cup heavy cream
5 tbsp butter
1 tsp salt
Ganache
½ cup heavy cream
4 oz bittersweet chocolate, chopped
Instructions
Crust
Pulse almonds in food processor to grind up finely.
In a mixer, combine flour, ground almonds, suar and salt.
Add butter to make crumbs and add vanilla.
Add egg.
Add ice water to form a dough.
Flatten in a disk, wrap in plastic and chill 30 mins.
Roll on floured service with a rolling pin to fit pan and lay into bottom and sides of 10 inch tart pan w/removable bottom. Prick bottom.
Line with parchment and fill with pie weights (I used quinoa! LOL)
Bake 15 mins at 350, then remove parchment and weights to bake an additional 15 minutes.
Cool.
Sprinkle on the toasted walnuts.
Caramel
Combine sugar and water in bottom of heavy pot with a spoon.
Cook on medium high until it comes to a boil.
Once boiling do not stir, only swirl pot.
Cook until it reaches an amber color-be patient it takes a while and keep a close eye!
Once amber, remove from heat and stir in cream. It will bubble so stir carefully.
Return to heat for 2 mins then remove again and stir in the butter and salt.
Cool a little and pour over the crust.
Chill 5 hours.
Ganache
Heat cream just to a boil and pour over the chocolate.
Let sit one minutes and then stir smooth.
Pour over caramel layer an chill again until set, another few hours.
Sprinkle with coarse sea salt if desired.
Cut into slices and enjoy!!!!
Adapted from
Home Cooking Adventure
-be sure to check out her fabulous site!!!! She even shows step by step directions which is neat!