Chocolate Chip Heath Bar Cookies
Chocolate Chip Heath Bar Cookies are the perfect combination of candy and cookie. The heath bars add the perfect taste of butterscotch! My friend Christine declared these the best!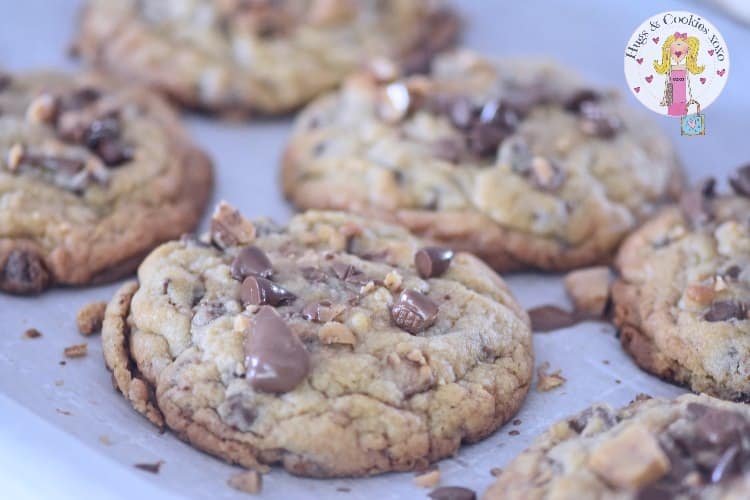 Chocolate Chip Heath Bar Cookies
Ingredients
2⅔ cups all-purpose flour
½ teaspoon baking powder
½ teaspoon baking soda
½ teaspoon salt
¾ cup sugar
¾ cup packed dark brown sugar
2 sticks (1 cup) salted butter
2 eggs
2 teaspoons vanilla extract
1 cup semisweet chocolate chips (plus a few extra for the tops)
1 cup chopped Heath bars (plus a few extra for the tops)
Instructions
Position the oven rack in the middle of the oven. Heat oven to 400 degrees F. Line jellyroll pan with parchment.
Combine flour, baking powder, baking soda, and salt in a medium bowl; set aside.
Beat the butter until just softened with a mixer on low speed.
Add the sugars and cream on low until well combined.
With the mixer still on low, add the eggs and vanilla and mix until incorporated.
Fold in the flour mixture. The dough will be stiff. Beat on low for 5 to 10 seconds to combine. Fold in the chocolate chips and chopped Heath candies.
Measure 4 ounce mounds and bake 13 minutes.
Top with extra chips/Heath when they come out of the oven. Use a large round cutter to help reshape them, if desired.
*Pro tip-if your cookie bottoms are getting too dark, place your cookie sheet on top of an inverted cookie sheet half way through the baking.