This chocolate ganache cake rocks. I made it with my baking buddy and we both enjoyed it…..lots! The cake itself is very moist! Stuff it with some caramel, homemade whipped cream and coat it with ganache and you can see why it would be a winner!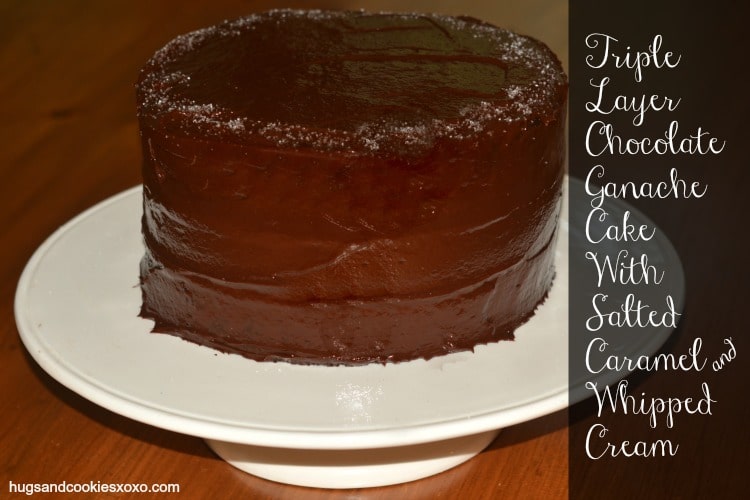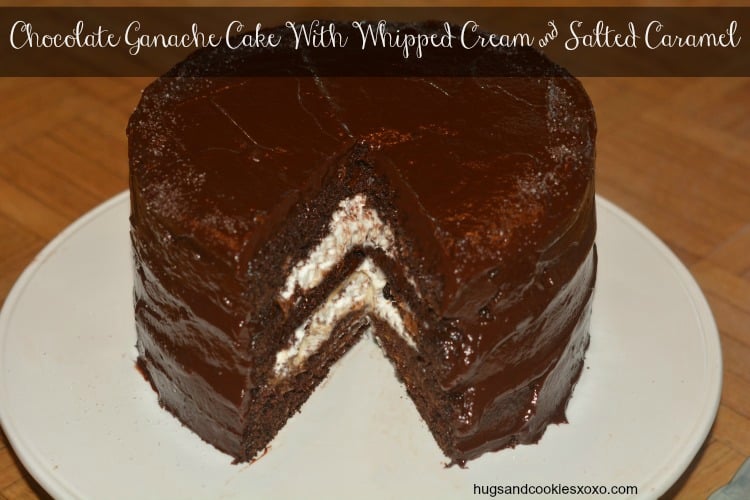 3 Cake Layers (adapted from Sweetapolita)
2 1/4 cups all-purpose flour
2 1/4 cups sugar
3/4 cup cocoa powder
2 1/4 teaspoons baking soda
2 1/4 teaspoons baking powder
1 teaspoon salt
1 cup buttermilk
3/4 cup brewed coffee or espresso, hot
1/3 cup vegetable oil
3 eggs, room temperature
1 tablespoons pure vanilla extract
Spray 3 8- inch cake pans with pam and line with parchment. Preheat oven 350.
In an electric mixer combine  flour, sugar, cocoa powder, baking soda, baking powder and salt.
In a large measuring cup combine the buttermilk, coffee, oil, eggs and vanilla.
Add liquids to the mixer and beat on medium until smooth, about 1 minute.
Divide batter among the 3 cake pans (Each layer should be 520 grams per cake pan).
Bake until a toothpick comes out with a few crumbs, about 20-25 minutes. Cool in the pans for 10 minutes and then turn onto a wire rack until completely cool.
The original recipe said to not chill the cakes but next time I would freeze the layers and assemble frozen for easier cutting. They will that fast enough.
Salted Caramel
1 bag kraft caramels
3 Tablespoons heavy cream
few pinches sea salt
Combine caramel and cream in microwave safe bowl and heat until smooth and creamy. Stir in salt. Let cool to room temp. If too thick, add drop more cream.
Whipped Cream
1 cup heavy cream
1/3 cup powdered sugar
Beat both together until soft peaks form.
Ganache
11 ounces Ghirardelli dark chocolate chips
1 cup  heavy cream
2 1/2 Tablespoons corn syrup
1/8 teaspoon sea salt
4 Tablespoons salted butter, cut into cubes
Heat cream, corn syrup, salt until just under a boil either on stove or in microwave.
Have chocolate in a heat proof bowl and pour the cream over the chocolate.
Let sit one minute and then stir with a whisk.
Add the butter and whisk until melted.
Let sit a few minutes to thicken
Assembly
Lay one layer on cake plate. Top with caramel and then whipped cream. Pop in fridge a few minutes.
Add second layer and spread on caramel and then whipped cream. Pop in fridge again.
Add third layer om top and spread ganache all over to coat cake. Extra? Dip some raspberries!
Top edge of cake with sea salt.