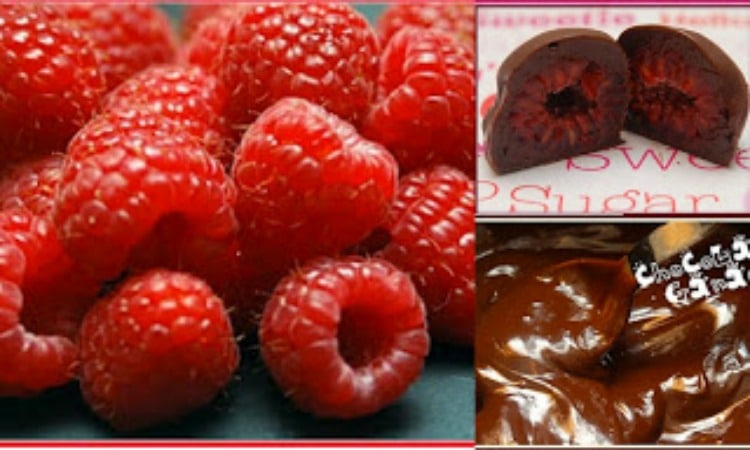 Start with fresh raspberries…


Make some dark chocolate ganacahe. MMMmmm….


Roll the raspberries in the ganache…

Dip them in chocolate and enjoy!!!!!!

GANACHE INGREDIENTS
3/4 cup heavy cream
20 ounces bittersweet chocolate, very finely chopped, divided
2 cups firm, dry fresh raspberries
Put the cream in a medium saucepan over medium heat just until it comes to a simmer. Remove from the heat and immediately sprinkle 8 ounces of the chocolate into the cream. Cover and let sit for 5 minutes; the heat will melt the chocolate. Stir gently until smooth. Pour the ganache into a small bowl.
1. Line a jelly-roll pan with aluminum foil. Gently pat your raspberries dry, if necessary. Drop one raspberry onto the surface of the ganache. Use two spoons to carefully toss the berry back and forth until it is completely covered with ganache. You want just enough ganache to adhere to the berries to cover them completely without having any extra; this will give you the right proportion of fruit to chocolate. They will not be neat and round; they will look like odd-shaped lumps of chocolate, which is fine. Place the chocolate-covered berry on the prepared pan, repeat with the remaining berries, and then refrigerate the pan until the ganache is completely firm, for about 2 hours, or overnight.
For the Chocolate Shell
Line a jelly-roll pan with aluminum foil, shiny side up, smoothing out any wrinkles. Melt the remaining 12 ounces of chocolate
1. Drop the chilled raspberry centers one at a time into the chocolate and use two forks to help submerge and remove them; you are aiming to make as thin and even a coating as possible when you remove a center from the chocolate, have it balanced on the flat part of the fork and rap the base of the fork on the side of the pot to help any excess chocolate drip back into the pot. Place the dipped center on the prepared pan. Repeat with the remaining berries and refrigerate until firm, then place in the fluted paper cups. Refrigerate in an airtight container in a single layer for up to 2 days. Remove from the refrigerator about 30 minutes before serving.