Any recipe that you make from my friend Vera's website is a WINNER! She is the owner of OMG Chocolate Desserts and More!  This chocolate triple layer toffee cake is yet another winning recipe from Vera! You must hop over and visit her site! Be careful if you go there hungry! You have been warned!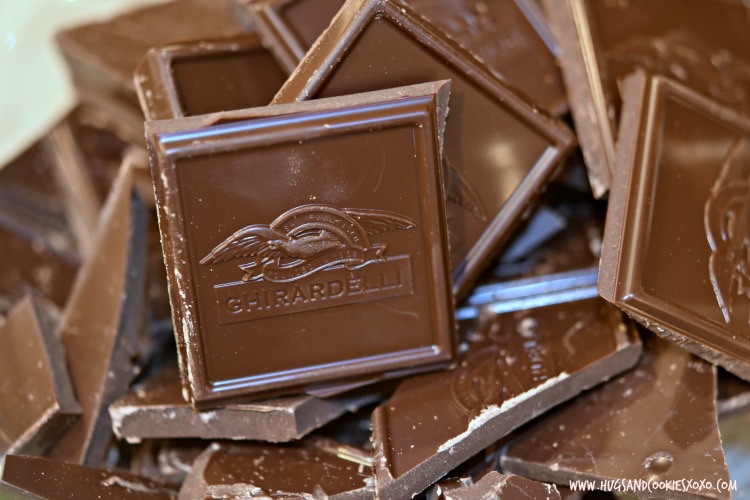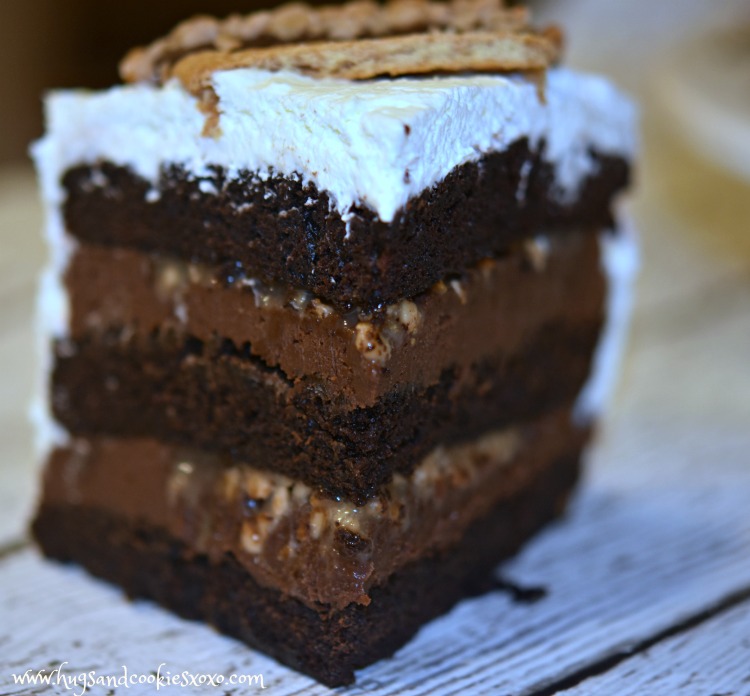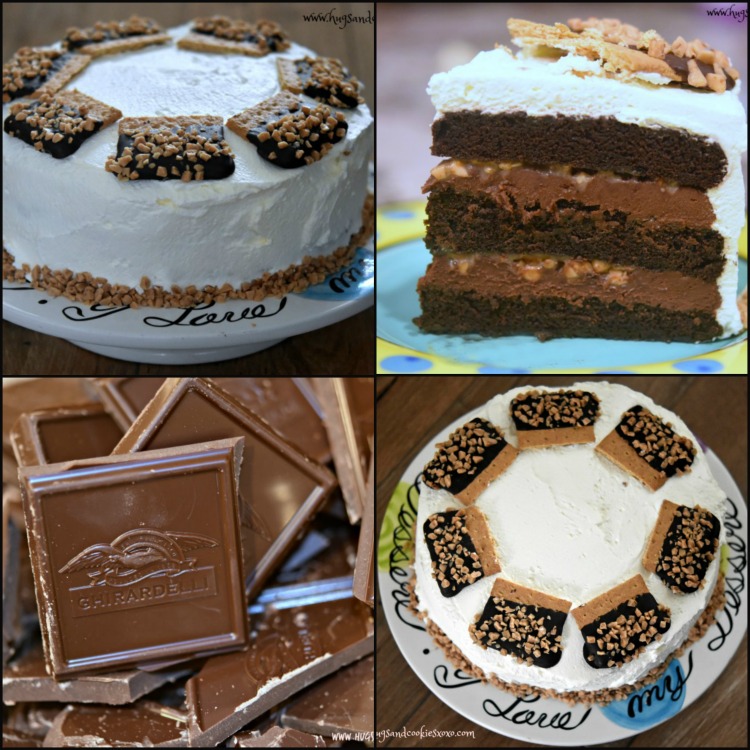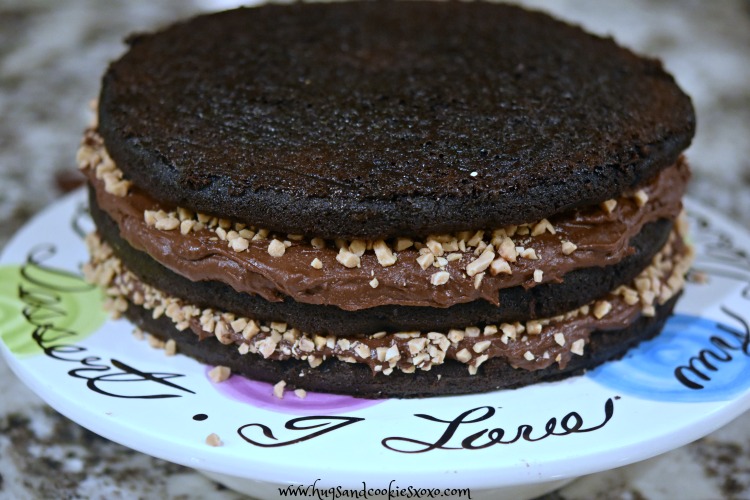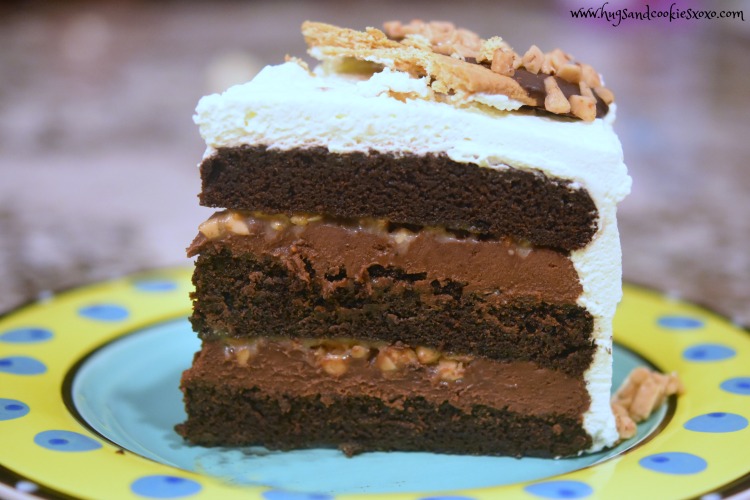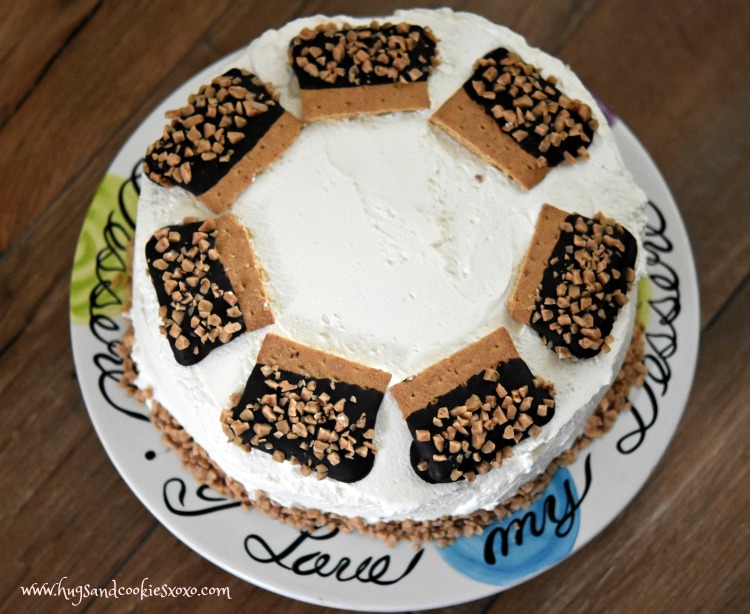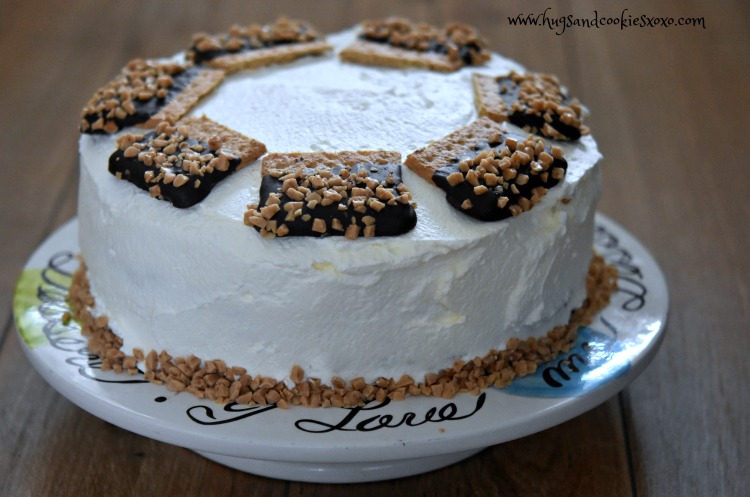 Chocolate Triple Layer Toffee Cake
Ingredients
Ganache Filling:
16 oz. Ghirardelli semisweet chocolate chopped into small pieces
2 cups heavy cream
3 tablespoons light corn syrup
1½ cups Heath toffee bits (for assembly time)
Cake
¾ cup unsweetened dark cocoa powder
1 cup boiling water
½ cup + 2 Tablespoons soft butter
2 cups sugar
3 eggs
1 tsp vanilla extract
1¾ cups all-purpose flour
1½ tsp baking soda
¼ tsp salt
¾ cup whole milk
¼ cup sour cream
Frosting
2 cups heavy cream
¼ cup powdered sugar
Garnish (optional)
Graham crackers
extra toffee for crackers and bottom border
Bada Bing Melts
Instructions
Ganache
Make this early, it takes 3 hours!
Place chocolate in a heatproof bowl.
Heat cream and corn syrup to almost boiling and pour over the chocolate.
Let sit a minute and whisk smooth.
Cover with plastic and chill 3 hours. Stir every half hour or so. After 3 hours it should be thick enough to spread as a frosting.
Cake
Preheat oven to 350°F
Spray 3 9-inch round baking pans with pam, line bottoms with parchment paper, grease again and set aside.
In small bowl combine cocoa and boiling water with a whisk until smooth. Cool.
In medium bowl stir together flour, baking soda and salt.
In a mixer, beat butter and sugar until fluffy.
Add eggs, one at a time and vanilla.
Slowly add the cocoa mix.
Add ⅓ of the flour mix, then the milk. Then ⅓ of flour and the sour cream. Then, add the past of the flour.
Mix well and divide into the pans.
Bake 20-22 mins until the toothpick comes out clean.
Cool and pop out of pans. Remove parchment,
Assembly:
Lay one cake on platter, top with half ganache.
Sprinkle on half the toffee.
Place the next layer on top.
Spread with the rest of the ganache and the toffee.
Place on the third cake layer.
Whipped Cream
Beat heavy cream until soft peaks.
Add powdered sugar.
Beat until stiffer and a nice spreading consistency.
Cover the cake with cream.
Garnish
Melt bada bing melts gently.
Dip graham crackers.
Lay on wax paper.
Sprinkle on toffee and pop in fridge 10 mins to set.
Lay around the cake and add toffee to bottom of cake, going around.
You can find Bada Bing Melts over at my my favorite chocolate company-
Chocoley!!!!