Love those delicious cinnamon buns you smell while shopping in the mall? Me too! Love cheesecake? Well, you must know by now that I do, too. This dessert is a winning combo of both! Best part is they are mini! Yup, guilt free! Ha! Well sort of! Definitely whip up these cinnamon roll mini cheesecakes for your next brunch, dessert or tea party! Your friends and family will be glad you did!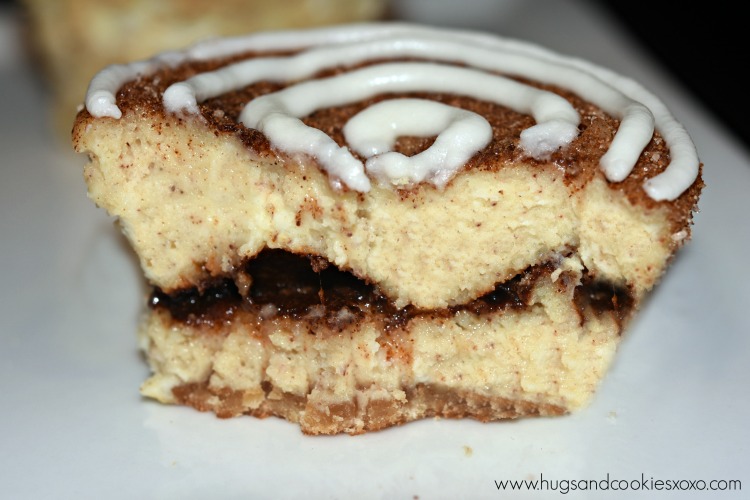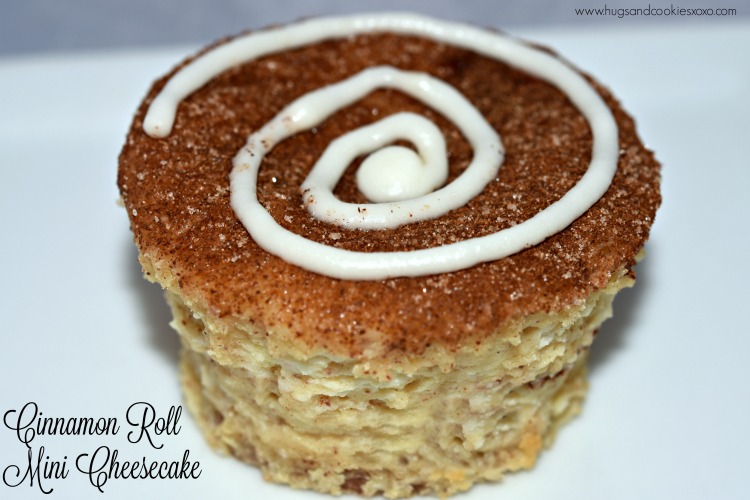 You'll Need:
Cinnamon Roll Mini Cheesecakes
Ingredients
Crust
12 Nilla Wafer Cookies
12 ounces soft cream cheese
½ cup sugar
3 Tablespoons flour
½ tsp cinnamon
½ cup sour cream
1 tsp vanilla extract
2 eggs
Cinnamon/Sugar Mix
1½ Tablespoons cinnamon
¼ cup sugar
Icing
3 Tablespoons soft butter
½ cup + 2 Tablespoons powdered sugar
¼ tsp vanilla extract
½ Tablespoon milk
Instructions
Crust
Preheat oven to 300 degrees.
Line a muffin tin with 12 liners and put a nilla wafer in the bottom of each.
Cheesecake
Beat the cream cheese, sugar, flour and cinnamon on low to combine.
Add sour cream and vanilla.
Add eggs and combine well.
Cinnamon filling
Mix cinnamon and sugar together.
Assemble
Pour some batter onto each cookie.
Sprinkle on the cinnamon mix and top with more batter. Finish off the tops with more cinnamon mix.
Bake about 18 minutes and then shut oven. Cool in hot oven 5 more minutes and then cool on the counter to room temp. Chill
Icing
Whip all until a good piping consistency and pipe circles onto the cheesecakes.
Add about ½ to ¾ of a tablespoon of filling into each cupcake, then sprinkle some cinnamon sugar over the filling, fully covering the filling. Repeat two more times for a total of three layers of filling and cinnamon sugar. The cupcakes should be mostly full.
Bake the cheesecakes for 15-17 minutes, then turn off the oven and leave the door closed for another 5 minutes.
Crack the oven door and allow cheesecakes to cool for 15-20 minutes, then put in the fridge to finish cooling.
When cheesecakes are cooled, remove them from the pan.
To make the frosting, mix the butter until smooth.
Add the powdered sugar, vanilla extract and mix and mix until smooth.
Add the frosting to a piping bag fitted with a small round piping tip (or a ziplock bag with the corner cut off) and pipe a swirl of frosting onto each cheesecake.
Refrigerate cheesecakes until ready to serve
Read more at http://www.lifeloveandsugar.com/2016/10/12/mini-cinnamon-roll-cheesecakes/#p0Mkvy1U7rIrXHYr.99
Adapted from the amazing Life, Love and Sugar….go give her a visit-you'll be happy you did!