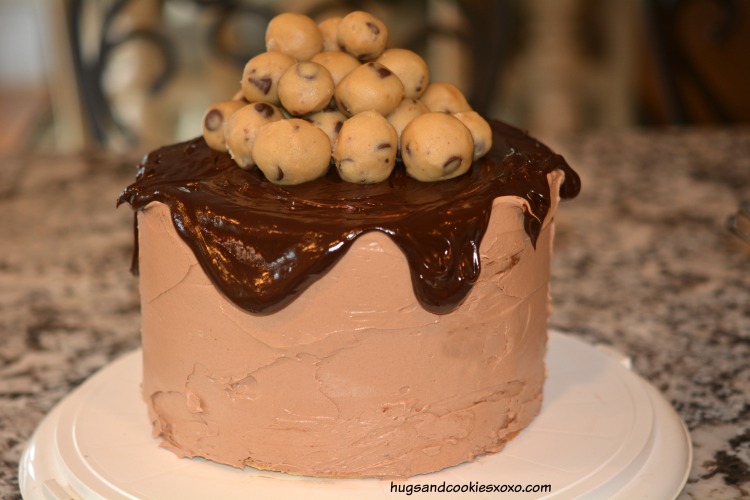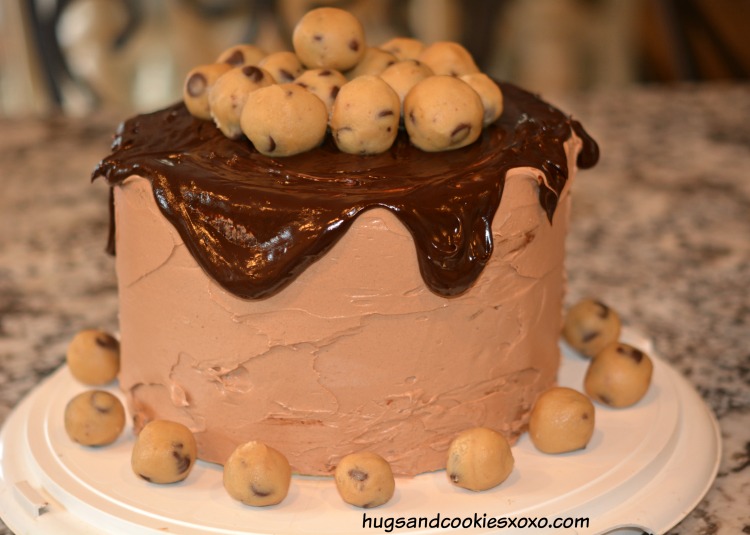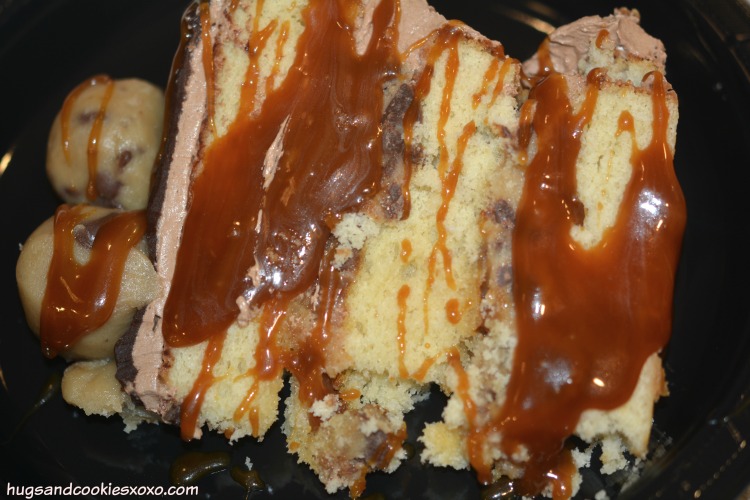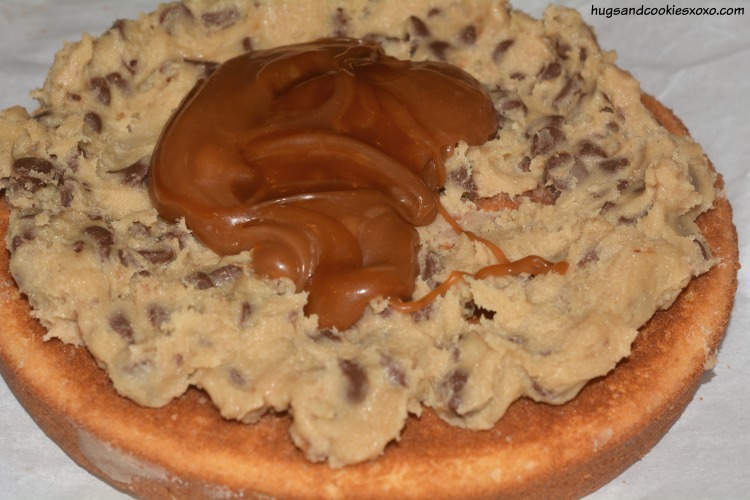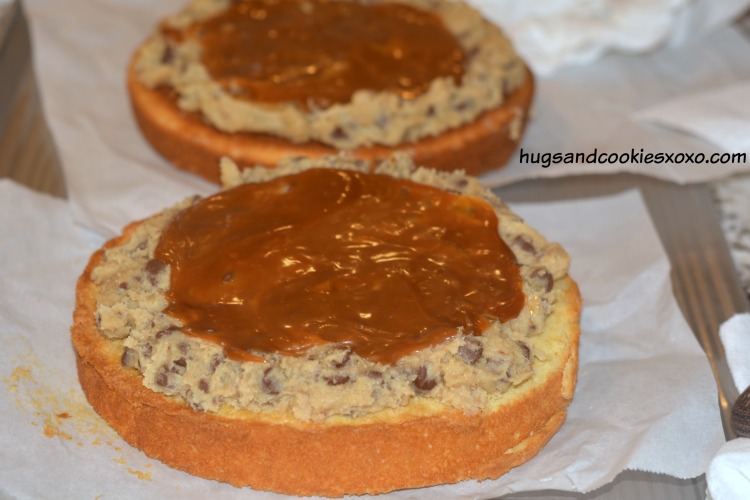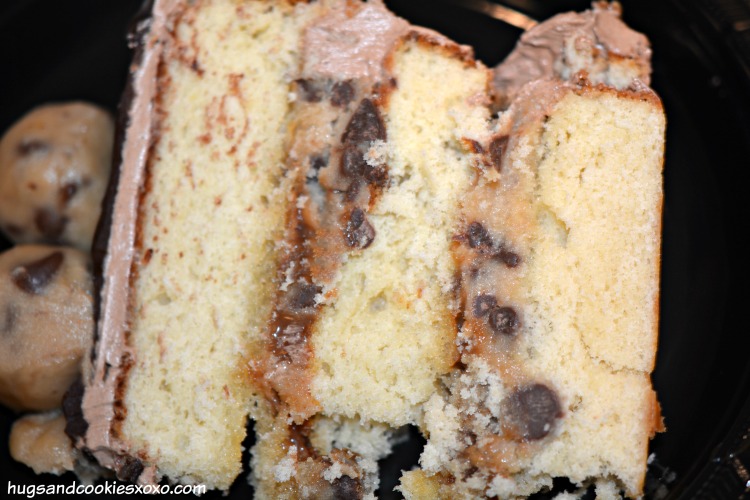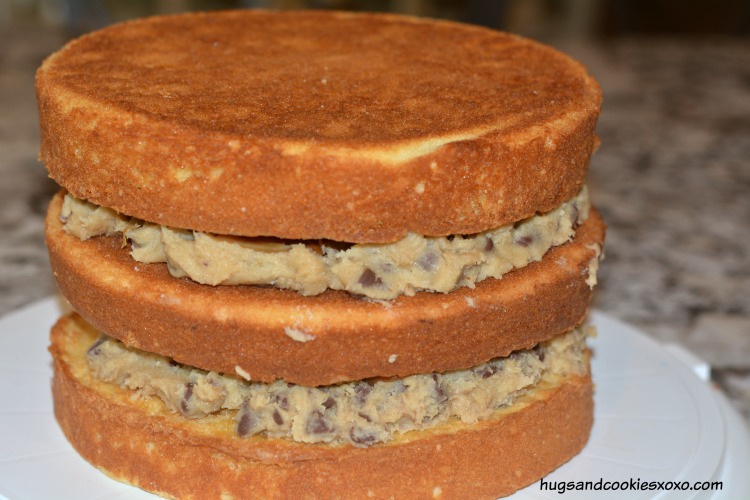 You'll Need:
Ingredients
Vanilla Cake:
3 cups flour
2 teaspoons baking powder
½ teaspoon kosher salt
1 cup salted butter, room temperature
2 cups granulated sugar
¼ cup vegetable oil
4 eggs
1 Tablespoon vanilla extract
1 cup whole milk
Caramel Sauce:
1 cup granulated sugar
¼ cup + 2 Tbsp water
¼ cup salted butter, cut into Tablespoon pieces
½ cup heavy cream
¾ tsp Maldon salt, optional
Egg-Free Cookie Dough: (half for layers, half for decoration)
1 cup salted butter, at room temperature
1½ cup packed light brown sugar
2 teaspoons vanilla extract
2 cups all-purpose flour
¼ cup whole milk
1½ cups semisweet chocolate chips
Chocolate Swiss Meringue Buttercream
3 egg whites
1 cup granulated sugar
1 cup salted butter, cubed, at room temperature
4 oz semisweet chocolate chips, melted
Chocolate Ganache:
1 cup finely chopped dark chocolate chips
⅓ cup heavy cream
Instructions
Cake:
Preheat oven to 350.
Grease and line three 8-inch cake pans with parchment and grease again.
Beat butter and sugar for 2 minutes.
Add the oil, eggs, and vanilla.
Combine the dry ingredients and on low, add some of the flour mixture alternating with the milk. Begin and end with flour.
Divide in pans and bake 25 mins.
Cool and then freeze each layer until ready to use.
You can do this way in advance or just freeze for easier assembly.
Caramel:
In a heavy-bottomed large pot, combine sugar and water.
Put heat on medium high and let sugar melt.
Stir to help sugar along.
Once dissolved, stop stirring and let it come to a boil.
Boil until the sugar is dark amber in color and swirl pot now and again to help it cook evenly.
Once the sugar is amber add the butter and stir to melt it.
Remove heat and slowly/carefully pour in the cream.
Keep stirring until smooth.
Pour in a glass measuring cup or jar to let cool.
Add salt if using.
You can make this days in advance and keep in fridge. let come to room temp when assembling the cake.
Egg-Free Cookie Dough:
Beat butter and sugar.
Add vanilla.
On low, add the flour and milk.
Once smooth, fold in chips.
Chocolate Swiss Meringue Buttercream:
In a heatproof bowl, whisk egg whites and sugar.
Place the bowl over a saucepan of one inch of simmering water.
Whisk whites 5 mins.
Move mixture to mixer and beat on high to stiff peaks, about 10 mins.
Add butter and mix until combined,
Add melted chocolate and mix smooth.
Assembly
Take half of the cookie dough and divide it onto 2 cake layers.
Keep it thick on edges to hold the caramel that is coming!
Pour caramel on top-eyeball how much you want, probably won't use it all. Save some for another dessert!
Chill these layers 10 mins to set the caramel.
Place layers on top of each other and top with third layer.
Frost cake with frosting.
Ganache:
Heat cream until hot, pour over chocolate and stir smooth.
Let it cool 15 minutes or it will melt your frosting.
Spread over cake.
Roll the other half of the cookie dough into round balls. Decorate top and sides with cookie dough balls!
Notes
**from the Cookies and Cups Cookbook
This recipe is adapted from
Cookies and Cups
and also seen on
Confessions of a Cookbook Queen
  You can find Shelly's
Cookbook Here!