Yup, you read that right! What's better than one cookie? TWO! This recipe starts by baking off a few cookies, cooling and chopping them. Then, you gently fold those into the rest of your batter and pop them into the oven. The result? Pretty much the ultimate snack! Crisp edges, soft and chewy inside and a few bits of crunchy goodness inside. Now, let's talk about the  dough for a minute. Chocolate chip cookie dough with freshly baked cookies inside? Need I say more? Get baking! Hope you try out these very soon! Try not to eat up all of the dough before you bake them off. It can be very tempting. These make the perfect lunchbox treat for your kids, too! Their friends will be very jealous and may be asking for your recipe!
You may also like:
Chocolate Chip Shortbread Cookies
Caramel Crispy Brownies(Opens in a new browser tab)
Just look at that cookie dough-OMG!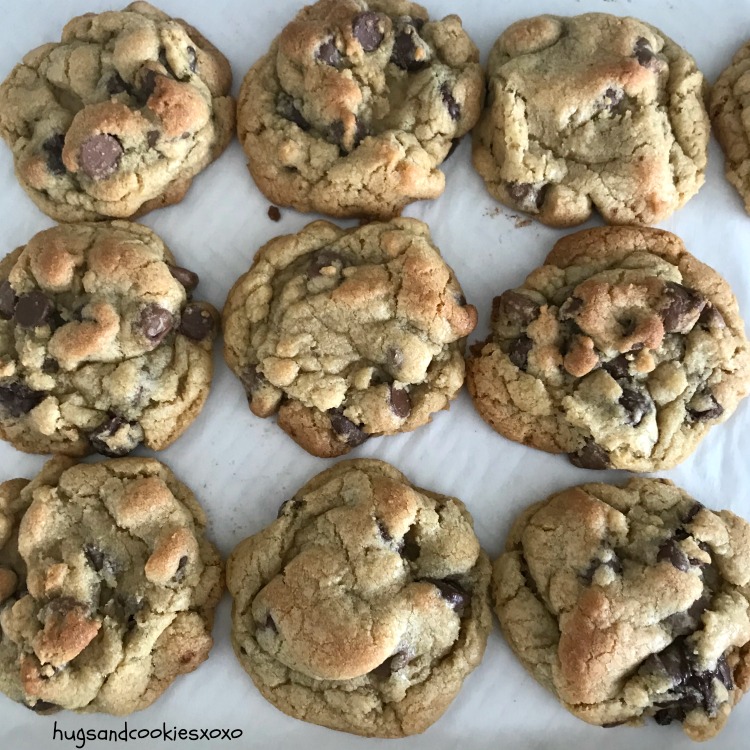 You may need:
Cookies in Cookies
Ingredients
2½ cups flour
½ tsp. kosher salt
½ tsp. baking soda
1½ sticks soft butter
1 cup light brown sugar
½ cup regular sugar
1 T. vanilla extract
1 egg
1 egg yolk
1 cup NESTLE semisweet chips plus ½ cup bittersweet Ghiradhelli chips and ½c Ghirardelli Milk chocolate chips.
Instructions
Preheat oven to 425 degrees. Line cookie sheets with parchment.
Beat butter and both sugars until well blended. Add in vanilla, egg and yolk until light and creamy. Add in flour, salt and baking soda just until incorporated. Stir in chocolate chips by hand. Drop 4-5 cookies by 1¾ ounce mounds onto parchment. Place in oven and IMMEDIATELY lower temp to 375. Bake 9 minutes or until tops golden. Let cool and then chop into bite size pieces. Fold into the rest of your dough gently and chill dough 30 minutes.
When ready to bake, return oven temp to 425. Measure our 1¾ ounces of dough per cookie again. When you place the cookie sheet in the oven, immediately lower the temp to 375. For each new batch you will preheat oven to 425 and lower to 375 when the cookies go in!. This helps produce nice, thick cookies!
You May Love These, Too! XOXO