Cosmic Brownie Cheesecake
This cheesecake is a complete winner for cosmic brownie lovers! Below, is the cheesecake recipe followed by the brownie recipe. You can make the brownies a day ahead to simplify this cake even more.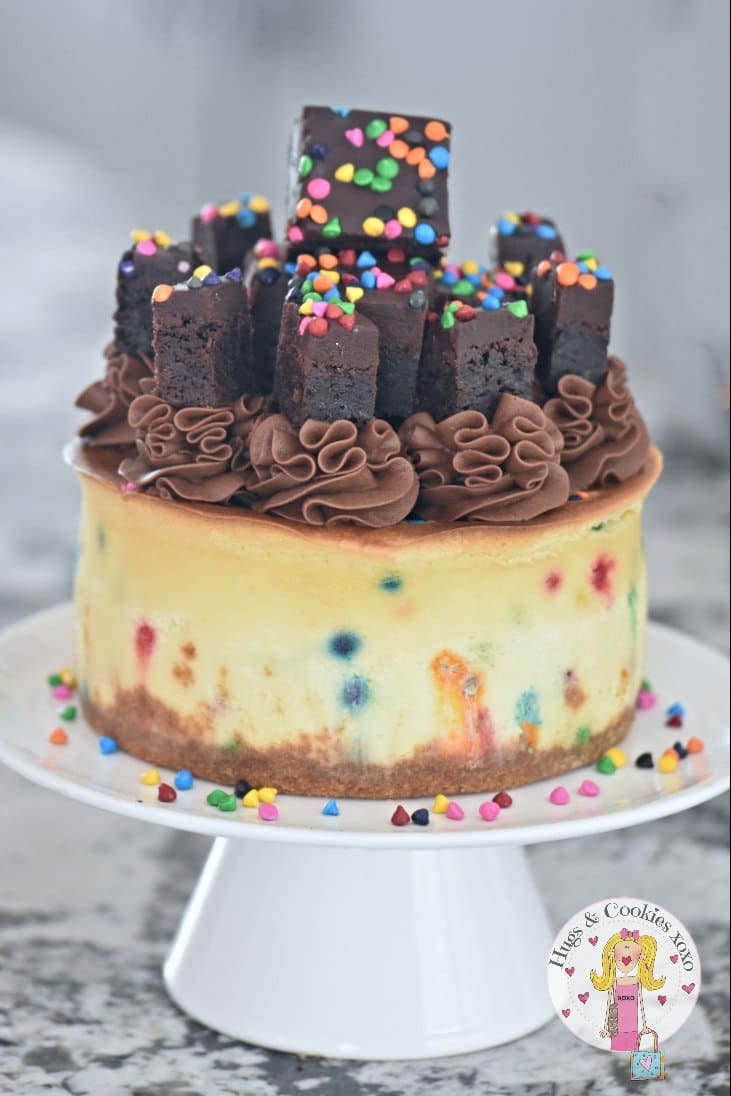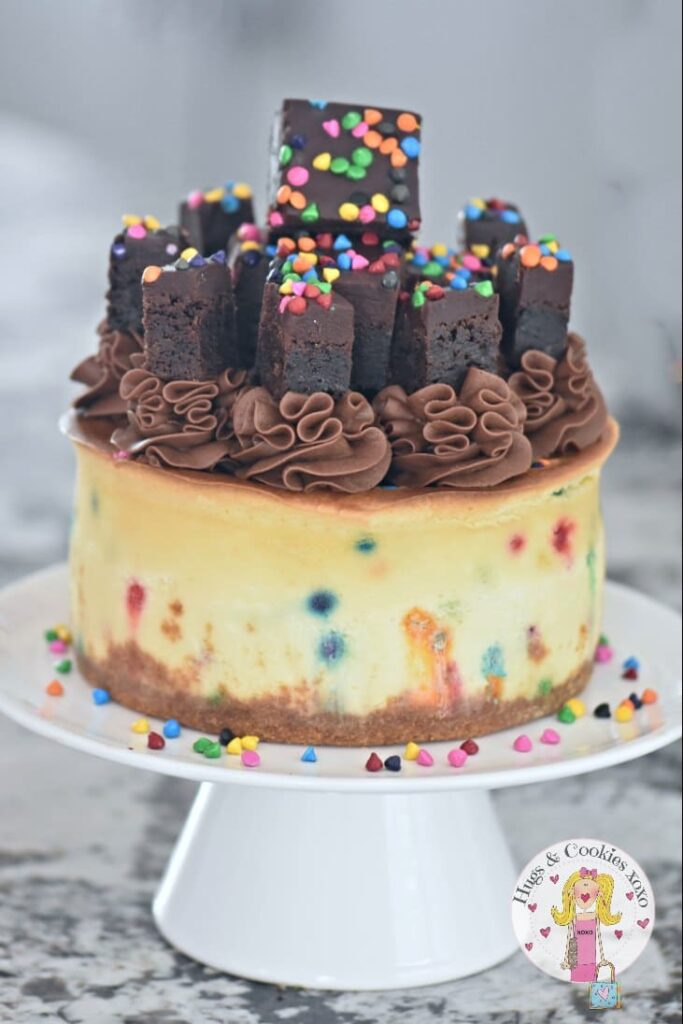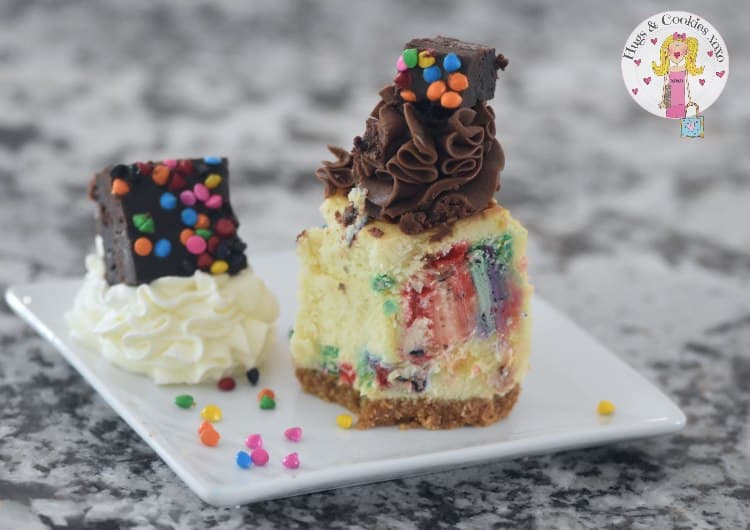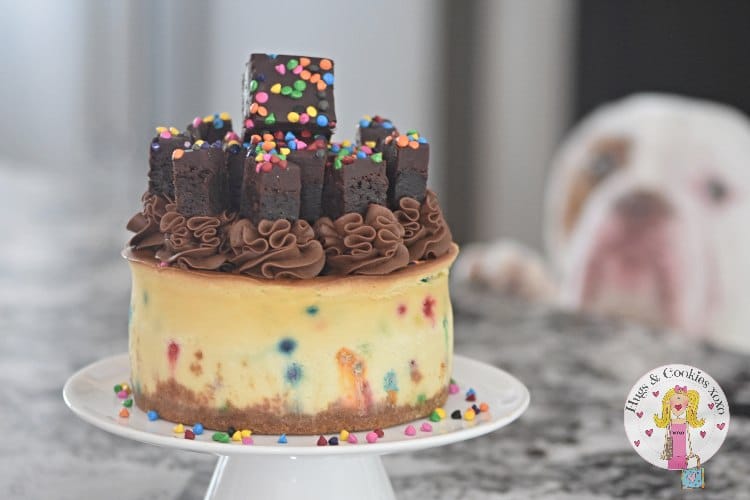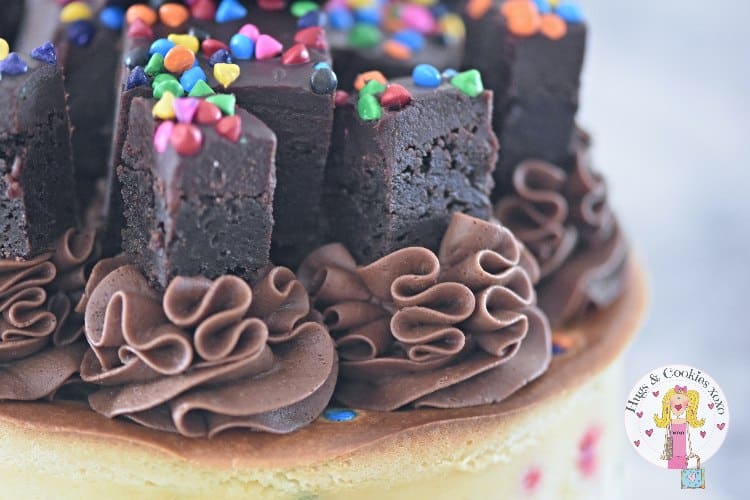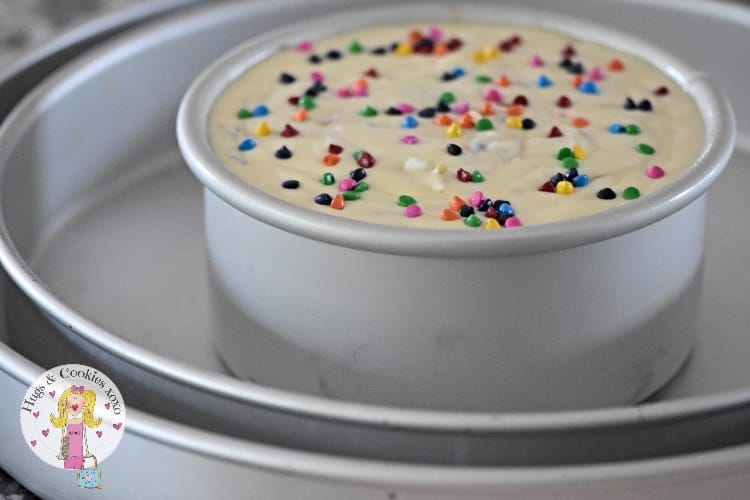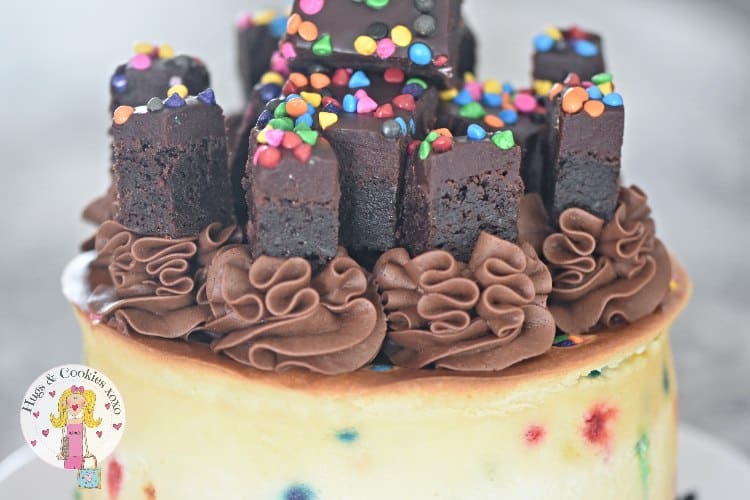 Cosmic Brownie Cheesecake
Ingredients
Crust
¾c. graham cracker crumbs
½ T. sugar
3 T. melted butter
Cheesecake
24 ounces soft cream cheese
1¼c. sugar
3 T. cornstarch
1½ tsp. vanilla
2 eggs
½c. plus 1 T. heavy cream
3 T. Rainbow Chips, plus 1 T. for the top
Frosting
1 c. salted butter
3½c. powdered sugar
½c. cocoa powder
¼c. heavy cream) maybe a little more to thin it)
Instructions
Preheat oven 350. Grease a 6x3 inch pan with removable bottom with Pam and line with parchment.
Crust
Combine ingredients and press into the bottom of pan.
Bake 8 minutes and let cool.
Cheesecake
Beat cream cheese on low until smooth.
Beat in sugar, cornstarch and vanilla.
Add eggs, scraping down sides as needed.
Pour in cream and mix just until combined.
Stir in rainbow chips.
Pour over cooled crust.
Add a few more chips on the top.
Place in cheesecake moat or create a water bath.
Bake 50m-1 hour and then shut oven off leaving cheesecake in the oven for an additional 45 minutes.
Then crack door open for another 45 mins.
Let chill in fridge.
Frosting
Beat butter smooth.
Add sugar to combine.
Add cocoa on low.
Pour in cream and once blended increase to high and whip.
If too thick, add more cream a little at a time.
Assembly
Pipe frosting with a 1M tip. Top with Cosmic brownies.
Frosting adapted from
Life, Love, Sugar
Copycat Cosmic Brownies
Ingredients
Brownies:
¾ cup butter (1½ sticks), melted
1 cup sugar
⅔ cup light brown sugar
2 eggs, room temperature
2 teaspoons vanilla extract
¾ cup unsweetened cocoa powder
¾ cup of flour
1 tablespoon cornstarch
½ teaspoon baking powder
Ganache:
1½ cups semi-sweet chocolate chips
½ cup heavy cream
½ cup Rainbow Chip Sprinkles
Instructions
Preheat oven to 350º. Line an 8 x 8-inch baking pan with non-stick foil.
In a large, microwave-safe bowl, melt the butter using 30-second increments
Add the sugars and mix to combine. Then add the eggs, vanilla, and stir till well mixed.
Add the cocoa powder and whisk until smooth.
Add the flour, cornstarch, and baking powder and stir until it's blended,
Pour batter into prepared pan, smoothing the top lightly with an offset spatula.
Bake for 28-32 minutes until the top looks set and a toothpick inserted into the center comes out clean or with just a few crumbs. Cool on a wire rack.
While brownies have cooled for at least a half-hour, make the ganache.
Add chocolate chips and cream to a medium, microwave-safe bowl, and microwave on high for one minute. Set aside.
Let stand a few minutes before whisking to combine. If there are any small lumps, you may microwave for 15 seconds and whisk until smooth. Repeat if needed.
Pour the ganache over the brownies and smooth with an offset spatula.
Sprinkle with sprinkles and chill for at least 2 hours before cutting.
Have leftover cheesecake? Cut it into squares, freeze and dip into chocolate! Voila! Cheesecake bites!