Cosmic Nutella Stuffed Chocolate Cookies
We absolutely love these cookies and if you adore Nutella, you will too!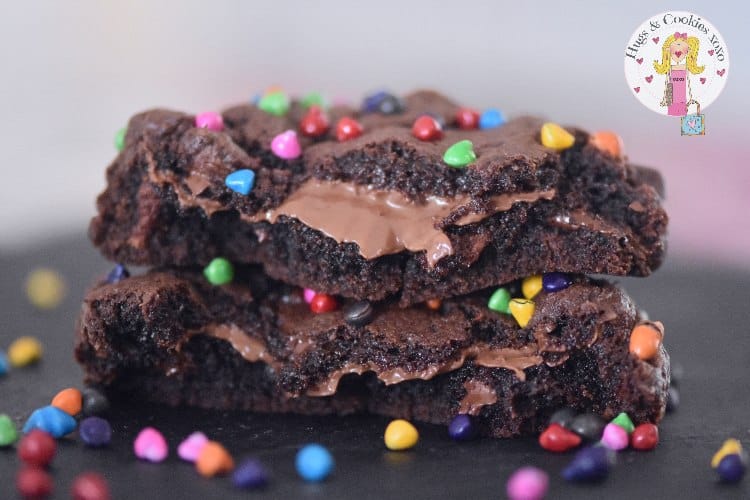 You may need:
Nutella Stuffed Chocolate Cookies
Ingredients
2 sticks cold, salted butter, cubed
160g Caster Sugar
160g Light Brown Sugar
150g dark chocolate chips
150 g milk chocolate chips
150 g semi sweet chocolate chips
230g Self-Rising Flour (I made my own and measured it from this batch: 2 cups flour, 3 tsp. baking powder, ½ tsp. kosher salt.)
200g all purpose flour
70g Cocoa Powder
1 tsp Salt
¼ tsp baking soda
3 tsp baking powder
3 eggs
Nutella, a heaping teaspoon to fill each cookie
Rainbow chips
Instructions
Preheat oven 400.
Beat butter to break it up.
Add sugars until combined.
Mix in chips.
Stir in dry ingredients.
Lastly, add eggs.
Scoop out 5 ounce cookies.
Add a heaping tsp. of Nutella into the middle and wrap dough around it sealing tightly.
Press rainbow chips into the cookie.
Bake on parchment lined jelly roll sheets 13-14 mins.
Remove and let sit at least 30 mins.
Adapted from
Cupcake Jemma
You May Love These, Too! XOXO