This is a dinner you have to make. Like HAVE TO!!! So amazing, I make a variation of this every week! This cream sauce is to die for and goes well with any add ins! No sausage? Try chicken! No chicken? Add shrimp! They all work beautifully with this sauce! It is so versatile and did I mention DELICIOUS!!! I hope you try out this Creamy Orecchiette with Sausage and Broccoli very soon!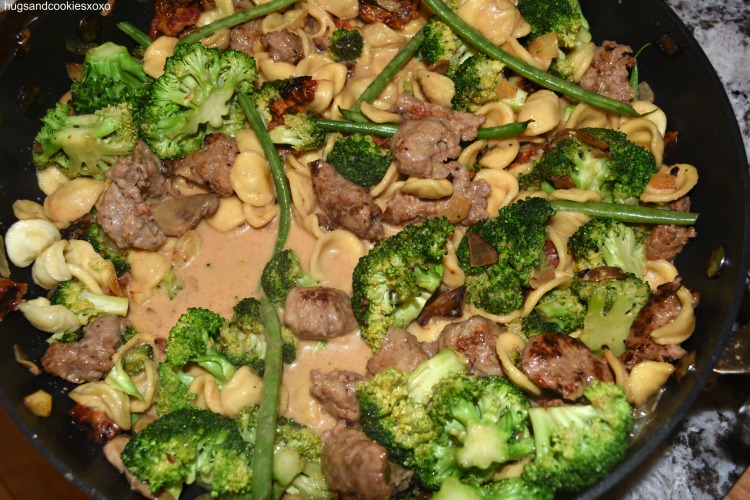 You'll Need:
Creamy Orecchiette with Sausage and Broccoli
Ingredients
1 T. Butter
handful sliced mushrooms
5 chopped garlic cloves
1 T. olive oil
2 Broccoli heads, chopped
a few handfuls of haricoverts
1 package Premio sausage links, casings removed
1 cup sundried tomatoes (reconstituted in microwave with ¼ cup liquid)
½ cup heavy cream
1 cup chicken broth
⅓ cup parmesan cheese
¼ cup shredded mozzarella cheese
fresh parsley, chopped for garnish
8 ounces cooked orecchiette
Instructions
Melt butter in skillet and fry garlic and mushrooms till mushrooms are brown.
Add oil.
Fry sausage pieces to brown and cook through.
Add broth and cream and parmesan,
Add sundried tomatoes.
Simmer 5 mins till thick,
Add salt/pepper to taste.
Add broccoli/haricoverts just until crisp tender.
Add cooked pasta.
Enjoy!
You May Love These, Too! XOXO