Creamy Parmesan Salmon
This Creamy Parmesan Salmon is an easy dish that comes out so fancy it looks like you cooked for hours. Go ahead and tell them you did. Your secret is safe with me! You can top off the salmon with whatever herbs you love. I used dill, parsley and scallions! Yum!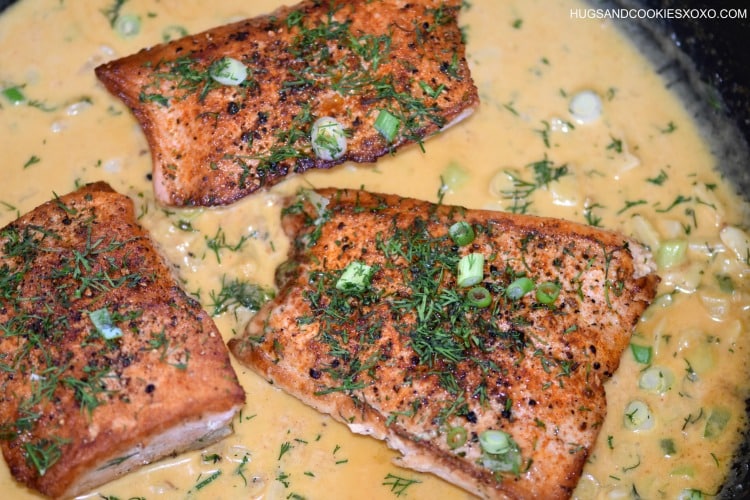 Parmesan Cream Sauce Salmon
Chipotle Shrimp in Parmesan Cream Sauce
Ingredients
3-4 6-ounce salmon pieces
paprika, salt, pepper for seasoning
2 T. olive oil, divided
1 T. butter
1 chopped onion
4 chopped garlic cloves
8 ounces mushrooms
salt/pepper to taste
1 cup chicken broth
½ cup heavy cream
⅓ cup Parmesan
fresh parsley, dill, scallions chopped
Instructions
Heat 1 Tablespoon oil and 1 T. butter.
Add mushrooms and cook to brown.
Add onions, garlic for a few mins.
Remove to a plate.
Heat 1 T. oil and add salmon.
Season very generously with salt, pepper and paprika.
Cook a few mins and flip. Season other side.
Once cooked, remove to a plate.
On medium high, add broth, cream and cheese.
Let simmer.
Return salmon to skillet with onions, garlic and mushrooms.
Simmer a few minutes.
Can add some cooked pasta directly to pan before serving.
Sprinkle with fresh parsley, dill, scallions.
For extra sauce, double the amounts above.