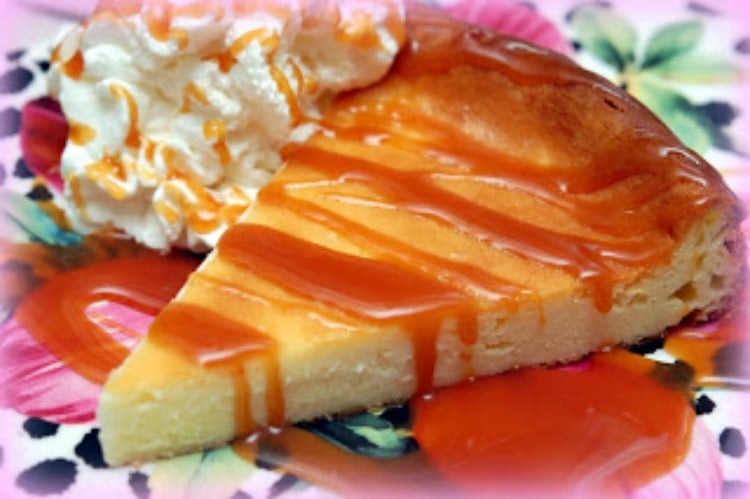 THIS RECIPE IS CRUSTLESS AND GF! THE RECIPE MAKES 2 CHEESECAKES BUT IF YOU ONLY WANT ONE, IT HALVES EASILY AND WORKS PERFECTLY!
Crustless Cheesecake portion:
2 sticks (16 tbsp) softened butter
1 cup granulated sugar
4- 8 oz packages cream cheese, softened
1- 3 oz. package cook and serve vanilla pudding
4 eggs
2 tsp baking powder
Preheat oven to 325 degrees. Grease two 9″ pans with shortening, line the pans with parchment and then grease the parchment. Lightly butter the pans and Set aside.
Cream butter and sugar in a stand mixer fitted with paddle attachment. Add cream cheese a little at a time until smooth. Scrape bowl down and beat again on medium speed, adding eggs one at a time. Add remaining ingredients. Mix again until smooth.
Divide batter evenly between pans. You should have 8 cups of batter, so 4 cups in each pan. Smooth batter with offset spatula and bake for 55 minutes to 1 hour. Cheesecake will puff up during baking, then deflate when taken out.
Do not turn out cheesecakes when they are finished baking. Put them directly in the freezer, and leave until frozen solid.
Turn out frozen cheesecake layers and peel parchment from the bottoms.
SERVE WITH SALTED CARAMEL: CLICK HERE FOR THE BET RECIPE EVER…THE CARAMEL OF YOUR DREAMS!