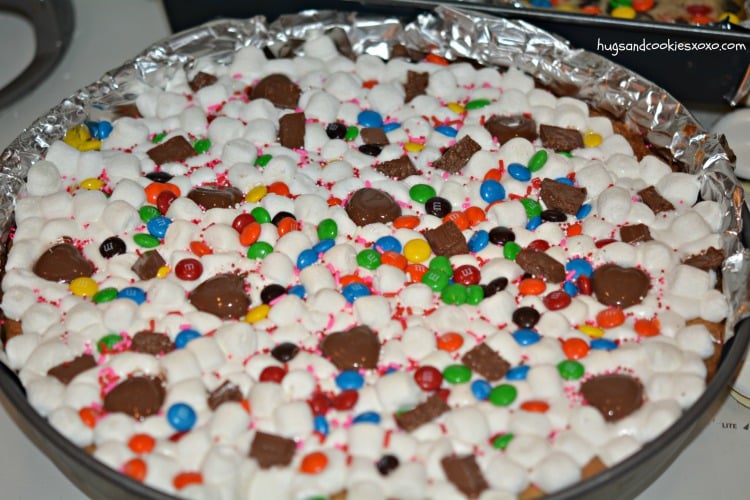 You'll need:
Deep Dish Chocolate Chip Candy Pizza
Cookie Pizza
Ingredients
2 sticks soft butter
½ cup light brown sugar
¾ cup granulated sugar
2 teaspoons vanilla
2 eggs
1 teaspoon baking soda
1 teaspoon kosher salt
2¼ cups AP flour
3 cups milk chocolate or semi-sweet chocolate chips
Topping:
3 cups mini marshmallows
Candies of your choice, kit kats, Twix minis cut in half, M&M's , Rolos, etc.
Instructions
Preheat to 350°
Cream butter and sugars until well blended and fluffy.
Add eggs and vanilla-beat well.
Add flour, baking soda, salt.
Mix just to combine.
Fold in chocolate chips.
Spread batter onto a pizza pan or deep dish pan lined with nonstick foil. Mine was 14 inches.
Mine baked 18-20 minutes to get it lightly golden.
Remove from oven and sprinkle on the marshmallows all around leaving some of the edge plain to create the crust.
Return to the oven for 3 more minutes until marshmallows start to puff.
Remove from oven and sprinkle on your candies evenly.
Let cool completely and cut into slices using a pizza cutter!
Recipe adapted from
Cookies & Cups