Warning! These cookies are actually even better than they look! The perfect post-Halloween cookie! It's like a kitchen sink cookie and the more goodies you add…the better the cookie gets! Just imagine the possibilities! Snickers, Peanut Butter Cups and Twix-Oh My! The cookie has an awesome chocolate base and if you can get your hands on the dark chocolate powder it makes such a difference. I hope you adore these double chocolate candy cookies as much as my family did!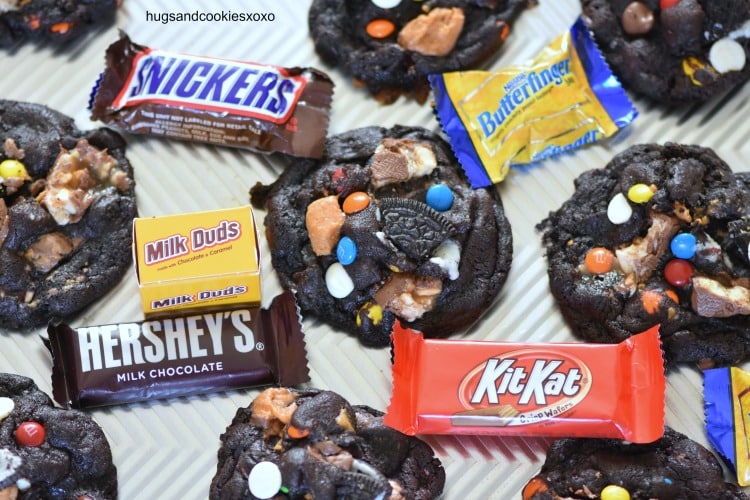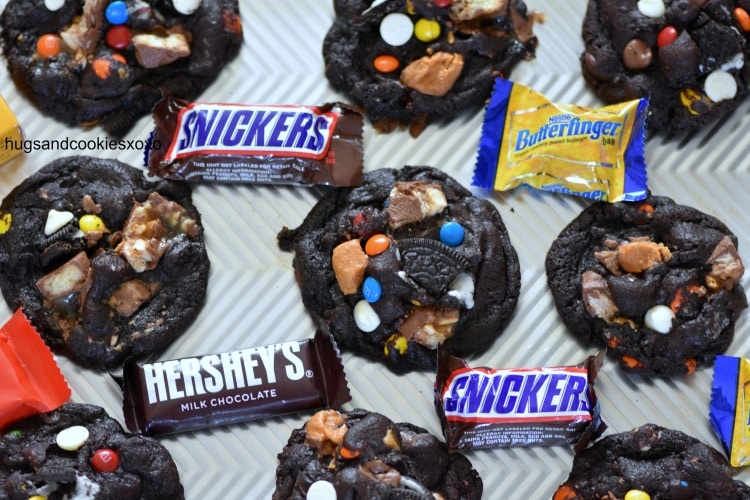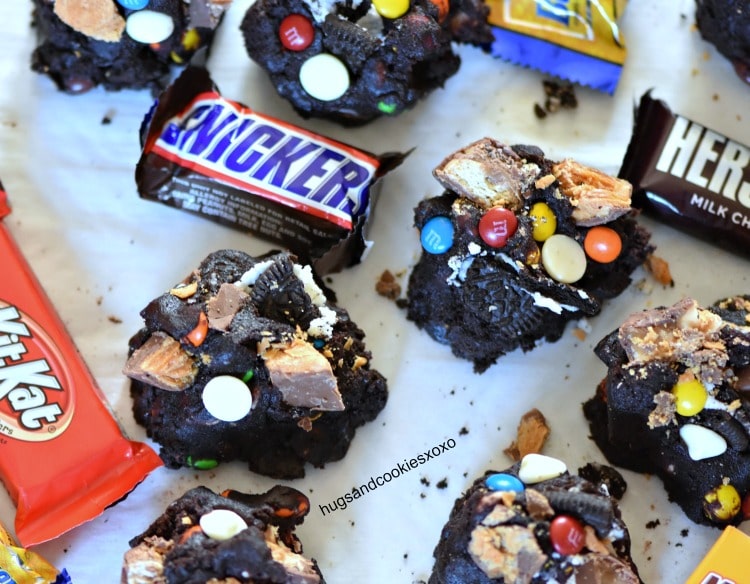 Ingredients
1 cup butter
1 cup sugar
¾ cup light brown sugar
2 eggs
2 tsp vanilla
1¾ c. flour
¾ cups dark cocoa powder
½ cup regular cocoa powder
2 tsp baking soda
1 tsp salt
3 cups assorted chips and chopped candies
Instructions
Preheat oven to 350 degrees F.
Line a baking sheet with parchment paper.
Beat butter and sugars till creamy.
Add eggs and vanilla and mix well.
Slowly add the dry ingredients until combined.
Add your candies, reserving some to stick into the tops of each cookie.
Chill dough overnight (or at least 2 hours)
Scoop large mound onto the cookie sheet and press in the reserved goodies. I used milk chocolate chips, white chocolate chips, chopped Oreos, m&ms, chopped Snickers, Twix and Butterfingers.
Bake 10 mins and cool.
Adapted from Love from the Oven ….Be sure to check out her delicious blog!!