SO MY FRIEND KELLY FROM KELLY'S TASTY TREATS WAS TOYING WITH MY EMOTIONS BY SHOWING ME THE LATEST OREO CHEESECAKE…. SOON TO BE RELEASED FROM THE CHEESECAKE FACTORY. SHE CERTAINLY KNOWS OREOS ARE ONE OF THE BEST WAYS TO MY HEART! THE NEW CAKE WON'T HIT THE RESTAURANT UNTIL JULY 30TH, SO WHAT'S A GIRL TO DO? I HAD TO CREATE MY OWN! THANKS FOR THE INSPIRATION KELLY! AFTER EATING THIS, I CERTAINLY WON'T HAVE TO FIGHT THE CROWDS ON THE 30TH…I CAN EAT MY OWN! YUMMMMY!!!! AND FOR MY GF FRIENDS…THIS SLICE IS GLUTEN FREE! EASILY MADE WITH OR WITHOUT GLUTEN…READ ON TO SEE HOW!
RECIPE-A HUGS & COOKIES XOXO ORIGINAL RECIPE
STEP ONE: PREHEAT OVEN TO 325
1 BOX GLUTINO COOKIES (21 COOKIES), CRUSHED IN FOOD PROCESSOR (or 21 oreos)
4 T. MELTED BUTTER
STIR TOGETHER AND PRESS INTO 8 INCH SPRINGFORM PAN. BAKE FOR 8 MINS AND LET COOL.
STEP TWO: CHEESECAKE LAYER
2 sticks (16 tbsp) softened butter
1 cup granulated sugar
4- 8 oz packages cream cheese, softened
1- 3 oz. package cook and serve vanilla pudding
4 eggs
2 tsp baking powder
Lightly butter sides of pan above the cookie crust. Cream butter and sugar in a stand mixer fitted with paddle attachment. Add cream cheese a little at a time until smooth. Scrape bowl down and beat again on medium speed, adding eggs one at a time. Add remaining ingredients. Mix again until smooth. Pour into springform pan so it fills it 3/4 of the way. I did have some leftover batter. Make some mini cheesecakes with it! Push about 5 whole cookies into batter deep enough you can no longer see them! Bake for approx 70 minutes. Cool 5 minutes and then place immediately in freezer until cold and firm. It will deflate-no worries!
Step 3: Oreo Mousse
electric mix:
1/2c. heavy cream
2T. confectioner's sugar
6T. cream cheese
4 T. oreo instant pudding powder (If making gf, use vanilla pudding and add some glutino cookie crumbs for same look)
Once cheesecake is COLD, spread this mousse on the top in the center part that deflated.
Step 4: Make Ganache
On 70 percent power, microwave 1/2c. heavy cream and 4 1/2 ounces chocolate chips until smooth. Pour half on top of the mousse and chill. Reserve the extra for serving. Serve with whipped cream.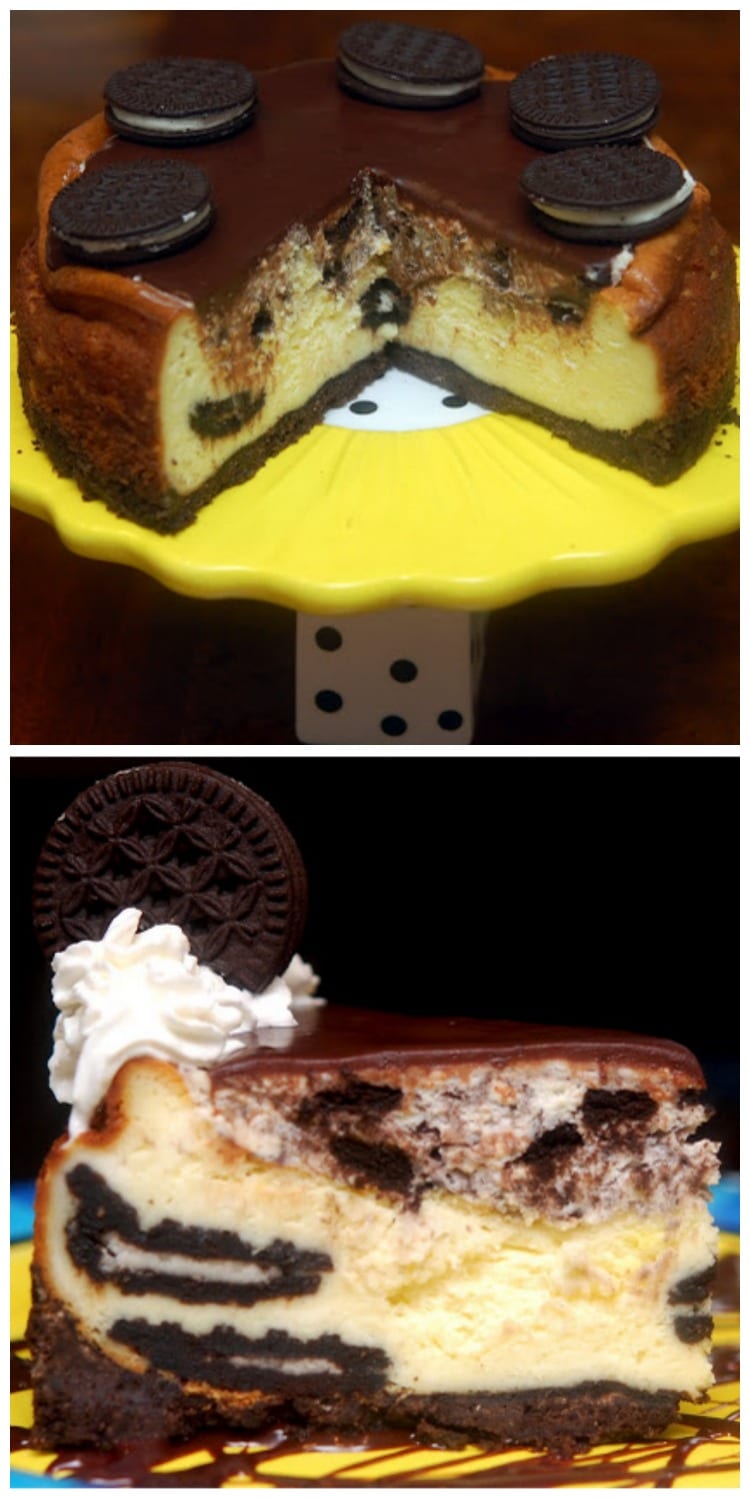 You May Love These, Too! XOXO