These little treats were a crazy popular snack this summer! They make a ton, they are finger sized for little hands and they are extra sweet with a salty twist! For dipping, I recommend Chocoley Bada Bing Melts. They are absolutely delicious and they have a great sprinkle assortment, too!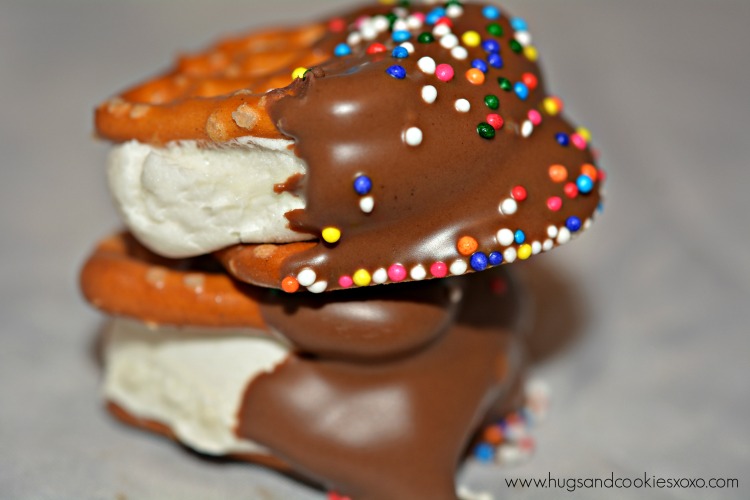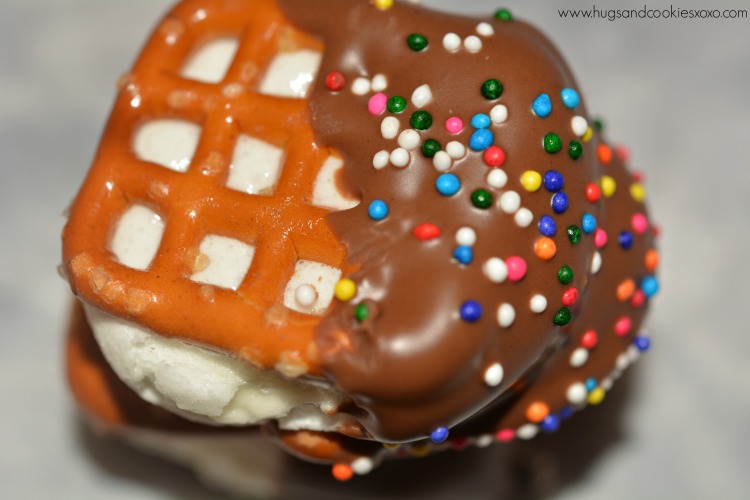 You'll Need:
Bada Bing Milk Chocolates-these are far superior to the craft store chocolates. They are also nut free! (omit the peanut butter in this particular recipe if you are nut free!) And gluten free! And taste amazing!
Pretzel S'mores
Ingredients
Mini square pretzels (snaps) (@ needed for each sandwich you make)
regular sized marshmallows, sliced in half, you'll need one half for each sandwich
¼ cup creamy peanut butter
Chocoley Chocolate disks (milk or semi sweet Bada Bings)
sprinkles
Instructions
Line a cookie sheet with nonstick foil.
Lay square pretzels on pan. Top each with one half of a marshmallow.
Bake at 350 for 4-5 minutes.
Remove.
Cool.
Dab a drop of peanut butter on top of each marshmallow and place another pretzel on top of each.
Dip each halfway in melted chocolate.
Lay on a cookie sheet lined with wax paper and add sprinkles while the chocolate is wet.
Let set in fridge 5 minutes.