This is a perfect dinner and very healthy. Salmon, sea scallops, broccoli, brown rice turned into fried rice….perfection on a plate! Below is the "how-to" for making this. It is simple and you can make any adjustments you like. The fried rice alone makes a wonderful side dish..just like the rice you find in hibachi restaurants! Enjoy!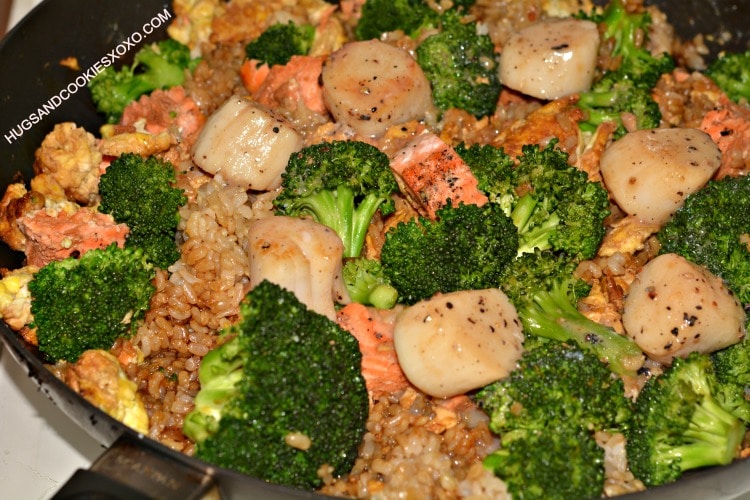 hi
The amounts of scallops/salmon to use depend on how many people you are feeding. Use your judgement.
1. Pan fry sea scallops in a skillet coated with 2 Tablespoons olive/avocado oil until brown on both sides. Season with salt and pepper.
2. Season salmon with salt, pepper and a pat of butter. Broil for 13 minutes and cut into bite sized pieces.
3. Steam broccoli-as much as you'd like.
4. Make fried rice (recipe below). When it is done, add the scallops, broccoli and salmon. Yum!
FRIED RICE:
Heat 2 Tablespoons oil. (I use avocado or dark sesame oil)   Add 4 eggs and cook to scramble. Add your veggies of choice, peas, carrots, onions. Add 20 ounces of cooked brown rice (I get this at Trader Joe's in frozen aisle) and add lots of Tamari or soy sauce until everything is well coated.