Ganache Topped Cheesecake Bars with a Cookie Crust..Mmmmm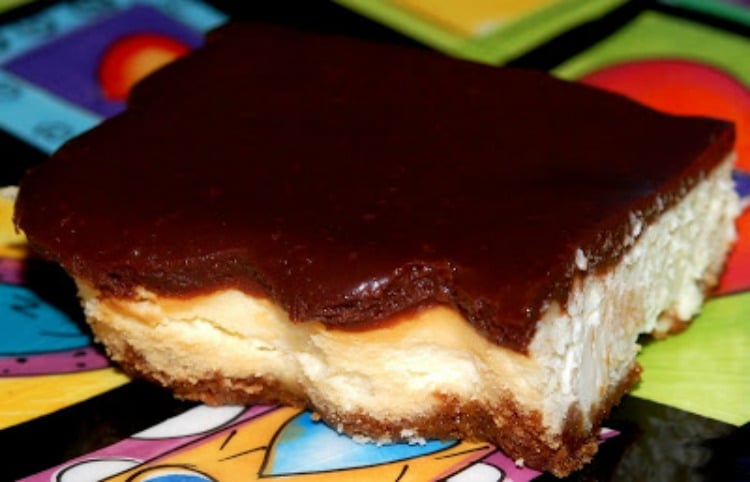 Cheesecake Bars Dressed in Chocolate Ganache (Thanks Bakerella!)
Crust
1 1/2 cups crushed Biscoff Cookies (about 27 cookies)
You can find these cookies in 2 places. The first is on a Delta flight but if u r not traveling right now like Gregg and me you can also find them in Walgreens! Much easier! And trust me, buy extras because these cookies are yummy! I had never heard of them before…have u???
3 Tablespoons packed brown sugar
6 Tablespoons melted butter
Mix cookies and sugar together.
Add butter and stir until combined.
Press mixture into a 13 X 9 pan. (I used a pan with a removable bottom for ease but certainly use what u have)
Cheesecake
3 (8 oz.) packages cream cheese, softened
1 cup sugar
2 Tablespoons flour
3 eggs
8 oz. sour cream
1 Tablespoon vanilla
Preheat oven to 325 degrees.
Cream the sugar, cream cheese, and flour with an electric mixer on medium until light and fluffy.
On medium low, add eggs one at a time, mixing well with each addition.
Add sour cream and vanilla and mix until just combined.
Pour on prepared crust and bake for about 45 minutes.
Remove and cool.
Prepare ganache.
Chocolate Ganache
8 oz. heavy whipping cream
2 oz. butter
8 oz semi-sweet chocolate
1/4 cup confectioners' sugar
Heat cream and butter on stove until just before boiling.
Remove from stove and pour over chocolate. Stir until completely combined.
Add confectioners' sugar and beat with a wire whisk until combined and smooth.
Pour over cooled cheesecake.
Cover and refrigerate overnight.
Cut into bars and serve.
Makes about 30 bars.