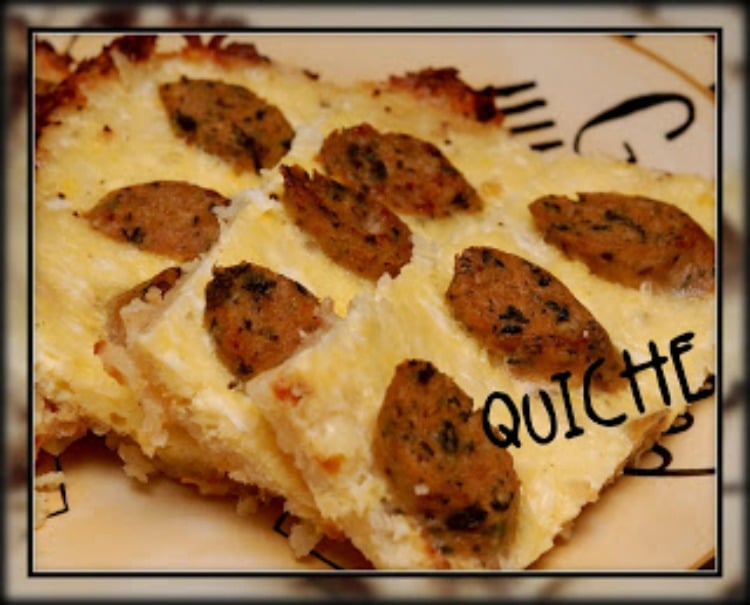 ON A SCALE OF 1-10 MY HUBBY RATED THIS QUICHE AN 11. THIS IS SURPRISING SINCE I EVEN MESSED UP THE RECIPE. THOUGHT I'D BE CLEVER AND USE A SPRINGFORM PAN. DON'T EVEN THINK ABOUT IT! LOST HALF MY CUSTARD THIS WAY THROUGH THE OPENINGS. THEREFORE, MY SLICES ABOVE ARE VERY THIN AND NEXT TIME I MAKE IT I WILL HAVE A BETTER PICTURE! BUT….IT TASTED TOO DELISH TO MAKE YOU WAIT FOR A NEW PICTURE. TRY THIS…YUM, YUM, YUM!
RECIPE ADAPTED FROM KING ARTHUR
Potato Crust
1/2 cup grated onion
1 teaspoon salt
1 teaspoon dry thyme
2T. CORNSTARCH
1 1/2 pounds Idaho potatoes, peeled
Filling
2 tablespoons olive oil
2 1/2 cups (1 large) leek, sliced, washed, and drained
4 cups sliced mushrooms (I OMITTED)
salt and pepper to taste
1 cup grated fontina or Swiss cheese (I USED MOZZARELLA/PROVOLONE MIX)
5 large eggs
1/2 cup milk
1/4 teaspoon Worcestershire sauce (OMITTED)
Directions
Preheat oven to 450°F. Grease a 9- or 10-inch deep-dish pie pan. Set up a strainer over a bowl.
1. Grate the onions into the strainer, and drain for 10 minutes, pressing out the extra liquid.
2.When the onions are drained, transfer them to a bowl and combine them with the salt, thyme and CORNSTARCH.
3. Grate the potatoes into the strainer. Press out any extra liquid, then combine with the onion mixture, mixing to combine.
4. Pat the mixture into pie pan and up the sides. Bake for 25 minutes to let the steam escape.
5. After 25 minutes, brush the potatoes with oil, then bake for 15 minutes more, until the edges are golden brown. Remove from the oven and turn the oven temperature to 350°F.
6. While the crust is baking, heat the olive oil in a large skillet over medium-high heat. Add the leeks and mushrooms and cook until the leeks are wilted, and the mushrooms give up their liquid and it cooks away (you don't want the vegetables to be juicy). Season with salt and pepper to taste.
7. Transfer the vegetables to the baked crust, and sprinkle the cheese evenly on top.
8. Whisk the eggs, milk and Worcestershire together, and pour slowly over the vegetables. Return the quiche to the oven and bake for another 25 to 30 minutes, until the center is set. Remove from the oven and cool for 10 minutes before slicing. Serve warm.

I PAN FRIED SOME CHICKEN SAUSAGE AND LAID IT ON TOP OF THE QUICHE BEFORE BAKING.
You May Love These, Too! XOXO