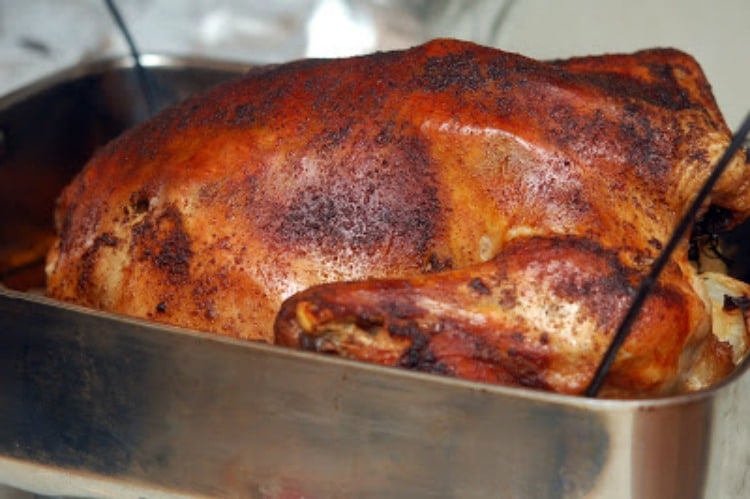 BRINE:
BRING TO A BOIL, 16 CUPS WATER, 1/2C. SUGAR, 1/2C. SALT. ONCE ALL IS DISSOLVED COOL IN FRIDGE BEFORE POURING ON TURKEY. LET SIT IN BRINE OVERNIGHT. IN MORNING, REMOVE AND PAT DRY.

BRUSH WITH 1 STICK MELTED BUTTER AND SPRINKLE WITH SALT, PEPPER, GARLIC POWDER AND PAPRIKA. STUFF WITH 1 SPANISH ONION QUARTERED, FRESH ROSEMARY, 1 HALVED LEMON, AND SOME FRESH GARLIC CLOVES. IN BOTTOM OF ROASTING PAN, POUR IN 2C. CHICKEN BROTH AND SLICED MUSHROOMS.

BAKE AT 350 UNTIL REGISTERS 165. MINE TOOK 3 HOURS. LIKE HOW I COOKED IT UPSIDE DOWN? OOPS! HAHAHHA
GRAVY!!!! INA'S!
1/4 pound (1 stick) unsalted butter
1 1/2 cups chopped yellow onion (2 onions)
1/4 cup flour
1 teaspoon kosher salt
1/2 teaspoon freshly ground black pepper
Defatted turkey drippings plus chicken stock to make 2 cups, heated
1 tablespoon Cognac or brandy
1 tablespoon white wine, optional
1 tablespoon heavy cream, optional
Directions
In a large (10 to 12-inch) saute pan, cook the butter and onions over medium-low heat for 12 to 15 minutes, until the onions are lightly browned. Don't rush this step; it makes all the difference when the onions are well-cooked.
Sprinkle the flour into the pan, whisk in, then add the salt and pepper. Cook for 2 to 3 minutes. Add the hot chicken stock mixture and Cognac, and cook uncovered for 4 to 5 minutes until thickened. Add the wine and cream, if desired. Season, to taste, and serve.
You May Love These, Too! XOXO