Hawaiian Pineapple Chicken
How is THIS for a fancy way to serve up some fancy chicken!? I absolutely loved this presentation and surprised my hubby with this for lunch one day. He was a happy camper for sure! This recipe started with my hubby barbecuing some boneless chicken thighs that we picked up from the butcher with a bbq rub on them. That part can even be done a day ahead. I just sliced the chicken and cubed it off the bbq and wrapped it well and chilled overnight in the fridge. The rest is very simple. Slice your pineapple in half lengthwise and scoop out the inside carefully with a knife. Very carefully. You can cube up the part you scooped out to add to our chicken salad we will be making. I then added some red pepper, yellow pepper, red onion, garlic and scallions. Next, I made a pineapple vinaigrette and stirred it all together to marry the flavors. I whipped up some white rice (3 minutes in the microwave thanks to Trader Joe's) and arranged it in the center of the pineapple. Then just scoop your yummy chicken salad right on top! Easy, fresh and delish!
You will need: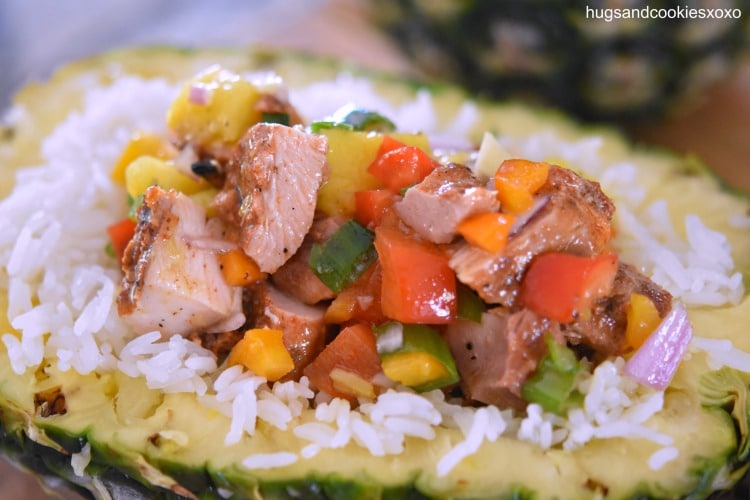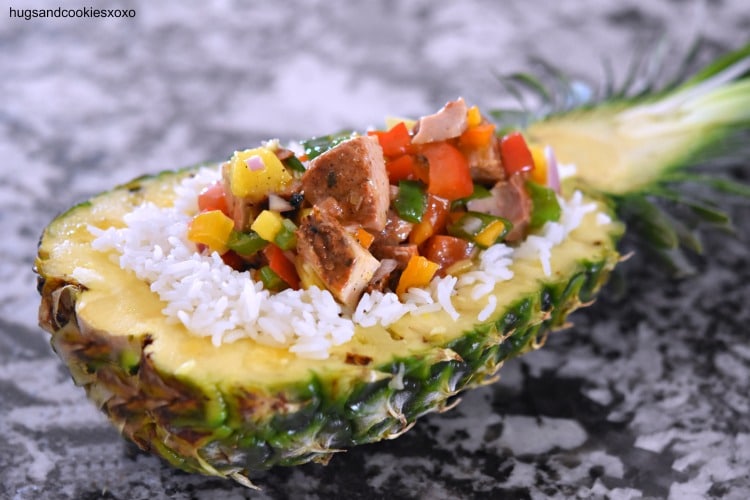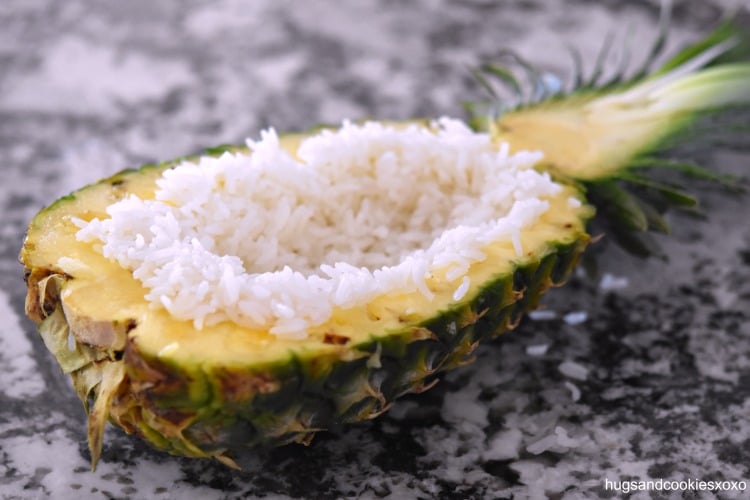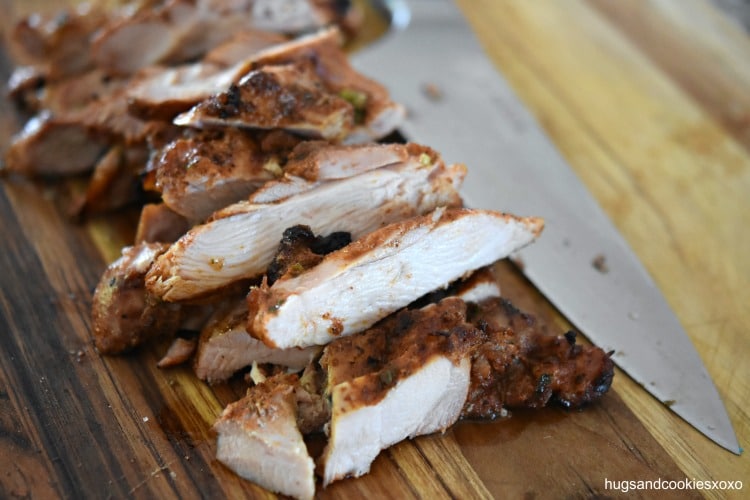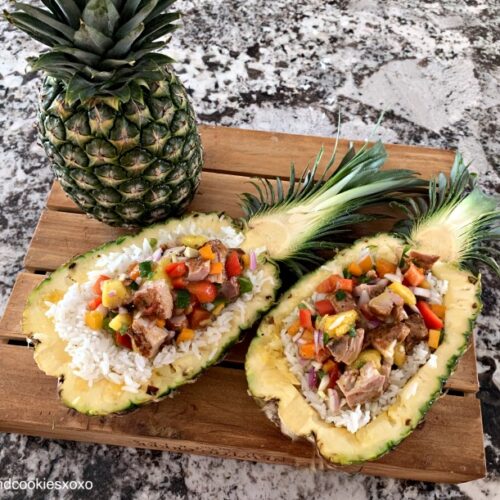 Hawaiian Pineapple Chicken
Ingredients
White rice

I made one pack of Jasmine from Trader Joes

1

pineapple

sliced lengthwise, inside schooped out and chopped

4

boneless chicken thighs

can buy with a bbq rub as I did or season yourself

½

red pepper

cubed

½

yellow pepper

cubed

¼

red onion

diced

4

chopped garlic cloves

2

scallions

chopped
Dressing
¾

c.

olive oil

2

T.

pineapple juice

1

T.

toasted sesame oil

salt/pepper to taste
Instructions
BBQ the thighs until cooked through.

Slice and cube.

Toss chicken, peppers, onions, scallions, garlic, pineapple together

Whisk dressing together and pour over the chicken a little at a time until you like how it is dressed.

Divide the rice in half and place inside each pineapple half. Place the mixed chicken salad on top and serve.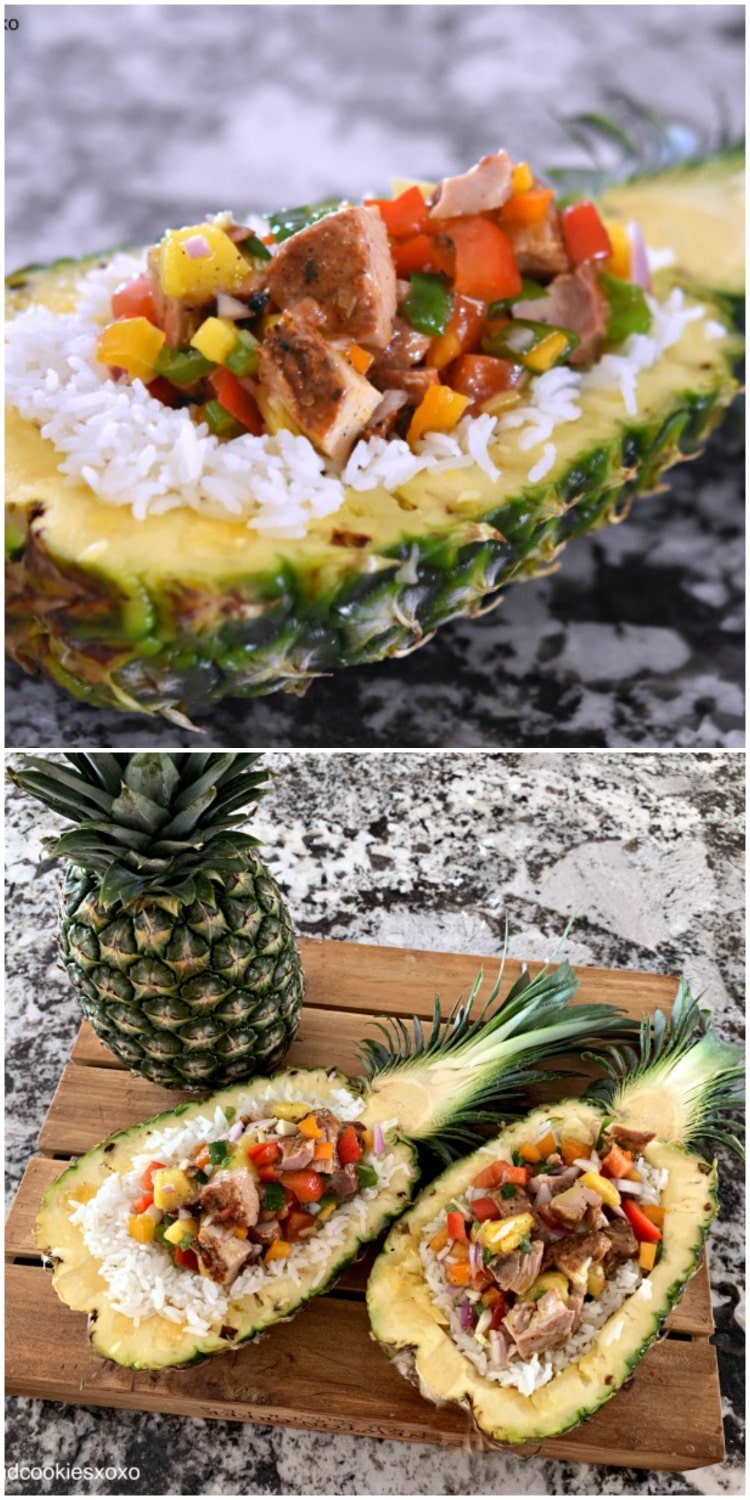 You May Love These, Too! XOXO