WE HAVE A NAME! 12 LAYERS OF LOVE! THANKS FOR THE NAME HELP BECCA!
MY FRIEND AND I HAD QUITE A GOOD TIME TOGETHER CREATING THIS CAKE! 2 CRAZY SUGAR BRAINS + SOME COFFEE AND SNACKS=THIS WILD, CRAZY AND DELICIOUS CAKE!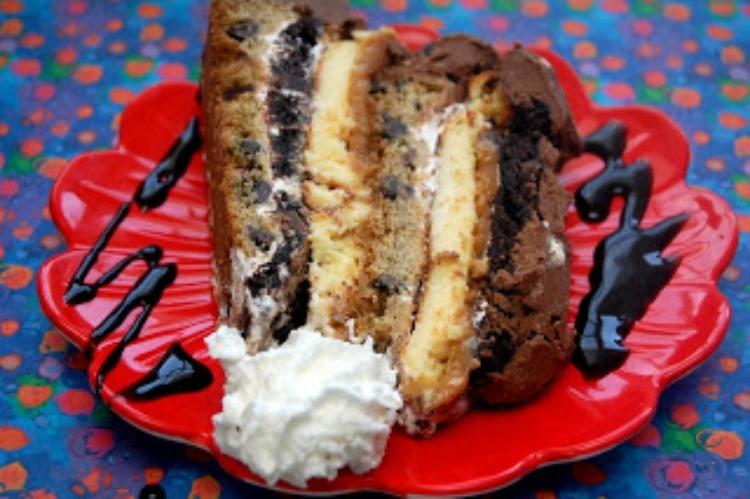 THIS CAKE IS MADE UP OF 2 CHOCOLATE CHIP COOKIE LAYERS, 2 BROWNIE LAYERS, 2 CHEESECAKE LAYERS AND IT IS FILLED WITH ALTERNATING LAYERS OF THICK CARAMEL AND MARSHMALLOW FLUFF! ALL TOPPED WITH A RICH CHOCOLATE FROSTING!!! CAN I OFFER YOU A FORK?
1. BAKE THE 2 CRUSTLESS CHEESECAKE LAYERS
2 sticks (16 tbsp) softened butter
1 cup granulated sugar
4- 8 oz packages cream cheese, softened
1- 3 oz. package cook and serve vanilla pudding
4 eggs
2 tsp baking powder
1 tbsp lemon juice
Preheat oven to 325 degrees.
Grease two 9″ pans AND line the pans with parchment and then grease the parchment. Lightly flour the pans and tap out excess over the sink. Set aside. Cream butter and sugar in mixer. Add cream cheese a little at a time until smooth. Scrape bowl down and beat again on medium speed. Add eggs one at a time. Add remaining ingredients and mix smooth.
Divide batter evenly between pans. You should have 8 cups of batter, so 4 cups in each pan. Smooth batter and bake for 55 minutes to 1 hour. Cheesecake will puff up during baking and deflate when taken out.
Do not turn out cheesecakes when they are finished baking. Put them directly in the freezer, and leave until frozen solid.
Turn out frozen cheesecake layers and peel parchment from the bottoms. Line the pan they were in with enough parchment or wax paper to hang over the sides of the pan (Fig. 3). Place the cheesecakes back in the pans. This makes removal FAR more easy after caramel layer has been added. Place cheesecakes back into the freezer while you make the caramel layer.
Caramel for cake layers:
14 oz can of sweetened condensed milk
5 tbsp. butter
40 caramels
Microwave all until smooth about 4 minutes.
Pour caramel evenly over frozen layers of cheesecakes. keep frozen.
2. BAKE THE CHOCOLATE CHIP COOKIE LAYERS
2 1/4 cups flour
1/2 tsp. kosher salt
1/2 tsp. baking soda
1 1/2 sticks soft butter
1 cup light brown sugar
1/2 cup regular sugar
1 T. vanilla extract
1 egg
1 egg yolk
use 1 bag mini chips or
1 cup NESTLE semisweet chips plus 1 cup bittersweet Ghiradhelli chipsPreheat oven to 350 degrees. Line two 9-inch round pans with parchment or spray with pam.
Beat butter and both sugars until well blended. Add in vanilla, egg and yolk until light and creamy. Add in flour, salt and baking soda just until incorporated. Stir in chocolate chips by hand. Chill if you have time. Divide dough and smooth into pans. Bake until golden-15-20 mins.Cool completely
3. Bake favorite brownies in two 9 inch pans. We used Ghirardhelli brownies for this. Cool completely.
4. Frosting:
Chocolate Frosting
Recipe adapted from sweetapolita
Ingredients
6 ounces unsweetened chocolate, melted and cooled
4 1/2 cups confectioners' sugar
3 sticks butter, at room temperature
6 tablespoons milk
1 tablespoon vanilla extract
Directions
Place all of the ingredients in a food processor and process until smooth. Chill till desired consistency.
Assembly-start by grabbing a large tubof marshmallow fluff. Here is how I layered this cake from the bottom up.
chocolate chip cookie round, spread fluff, brownie round, more fluff, cheesecake layer with the caramel on top of it, chocolate chip cookie round, more fluff, brownie round, more fluff, cheesecake layer with caramel. frost entire cake and chilllllll before cutting!!!!
Cheesecake & caramel adapted from Sprinklesbakes