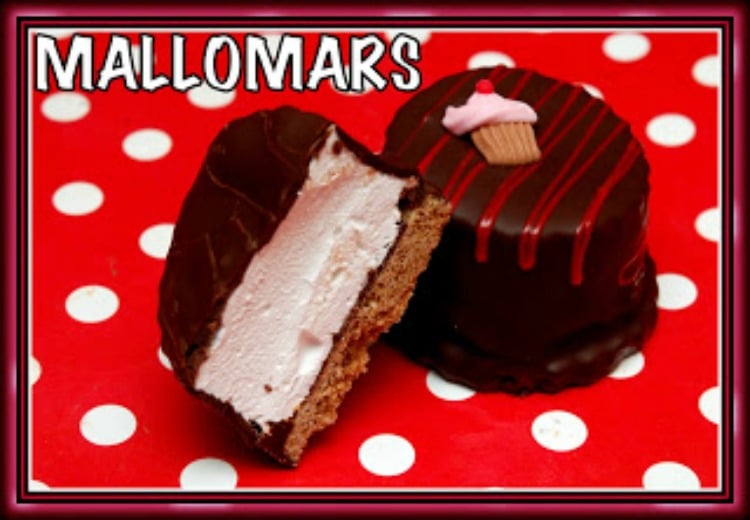 HOMEMADE MARSHMALLOWS + HOMEMADE GRAHAM CRACKERS + A DIP IN DARK CHOCOLATE = HOMEMADE MALLOMARS!!! WHO CAN RESIST!
STEP 1 MARSHMALLOWS-YES!!! HOMEMADE!!!! INA'S ARE THE BEST!
Ingredients:
3 packages unflavored gelatin
1 1/2 cups granulated sugar
1 cup light corn syrup
1/4 teaspoon kosher salt
1 tablespoon pure vanilla extract
Confectioners' sugar, for dusting
Directions:
Combine the gelatin and 1/2 cup of cold water in the bowl of an electric mixer fitted with the whisk attachment and allow to sit while you make the syrup.
Meanwhile, combine the sugar, corn syrup, salt, and 1/2 cup water in a small saucepan and cook over medium heat until the sugar dissolves. Raise the heat to high and cook until the syrup reaches 240 degrees F on a candy thermometer. Remove from the heat.
With the mixer on low speed, slowly pour the sugar syrup into the dissolved gelatin. Put the mixer on high speed and whip until the mixture is very thick, about 15 minutes. Add the vanilla and mix thoroughly.
Pour the marshmallow batter in an 9 by 13- pyrex that has been greased and dusted generously with confectioners sugar. Smooth the top of the mixture with damp hands. Allow to dry uncovered at room temperature overnight. Cut with cutters into squares or circles and use same cutter for the graham crackers. Dust with more confectioners sugar.
STEP 2 GRAHAM CRACKERS:
INGREDIENTS:
1 1/2C. FLOUR
1 1/2C. GRAHAM FLOUR
1 TSP. BAKING SODA
1/2 TSP. CINNAMON (OR 1 TSP. IF YOU LIKE)
1/2TSP SALT
2 STICKS BUTTER, SOFTENED
3/4C. LIGHT BROWN SUGAR
2T. HONEY
ELECTRIC MIX THE BUTTER, SUGAR & HONEY. ADD THE DRY INGREDIENTS AND PROCESS TILL FORMS A DOUGH. IF TOO DRY, ADD 1-2T. WATER SLOWLY. WRAP DOUGH IN PLASTIC AND REST 20 MINUTES. ROLL OUT ON FLOURED BOARD AND CUT CIRCLES OR SQUARES WITH COOKIE CUTTERS. I CUT MINE ABOUT 1/4″ THICK. BAKE ON PARCHMENT PAPER LINED SHEETS 10-15 MINUTES TILL LIGHTLY GOLDEN. IMMEDIATELY PLACE A MARSHMALLOW ON TOP SO THE HEAT SEALS THE 2 TOGETHER WHILE COOLING.
STEP 3: DIPPING
MELT SEMISWEET OR MILK CHOCOLATE (I USED MILK CHOC) AND TURN THE COOKIE UPSIDE DOWN. DIP IN THE CHOCOLATE…MARSHMALLOW PART FIRST. SET ON WAX PAPER TO DRY IN FRIDGE.
HERE ARE SOME PICTURES FROM THE LAST TIME I MADE MALLOMARS! CLICK