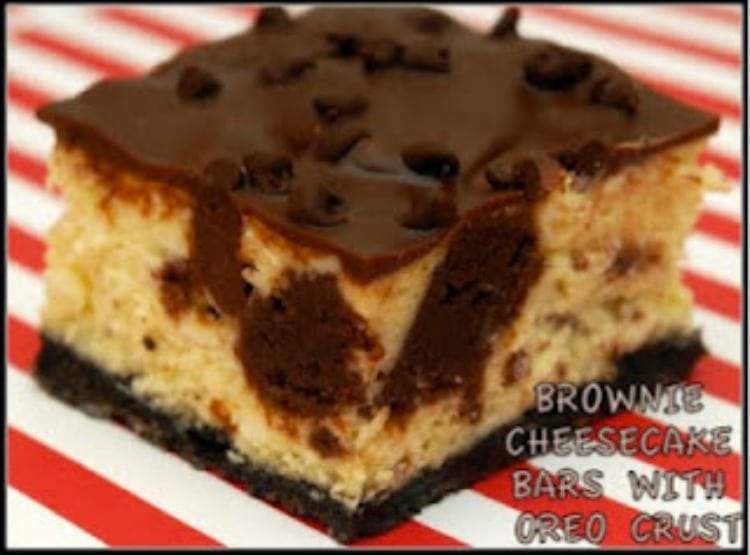 Step 1-make brownies- (you won't need this whole batch but that's okay. These are sooooo yummy you can munch the rest!)
DIRECTIONS:
Preheat 350. Line 9×13 pan with nonstick foil.
4 ounces unsweetened chocolate
1 1/2 sticks butter
1 3/4c. sugar
3 eggs
1tsp. vanilla
1/2tsp. kosher salt
1c. flour
Microwave chocolate and butter until melted 1-2 minutes. Stir in the sugar. Mix in eggs and vanilla. Add salt and flour. Pour in pan and bake 30-35 minutes. Let cool. Stick in the fridge if you need to speed this part up like I did! Cut into small 1 inch chunks and loosely measure 2 cups -save for the filling.
Step 2: Make Oreo Crust
Food process 10 ounces Oreo cookies
10 T. melted butter
2/3c. sugar
1/4tsp. kosher salt
Combine all in a bowl. Press in the bottom of your pan. Now you have some choices. The original recipe calls for a buttered 10 inch round springform pan. I used a 10 inch square springform to cut bars rather than slices.
Step 3: Make Filling
3 (8-ounce) packages cream cheese, soft
1c. sugar
4 eggs
1 tsp. vanilla
Beat cream cheese and sugar in a mixer until fluffy. Add eggs and vanilla. GENTLY fold in the 2c. of brownie chunks and pour on top of your oreo crust. Place this on a cookie sheet and place in oven. (Cookie sheet will catch some of the drips that do happen!!!!!! Don't skip this step!) Bake at 350 for 45-50 minutes, until the cake is set 3 inches from edge but center is slightly wobbly when the pan is gently shaken. Cool completely and then glaze!
Step 4: Ganache
3 ounces bittersweet chocolate chips
1/2 stick butter
1/4c. heavy cream
1/2tsp. vanilla
1T. powdered sugar
Mini Chocolate Chips
Place butter AND cream in microwave safe dish and cook 45 seconds-1 minute to scald. Pour this over the chocolate in another bowl and stir until melted. Whisk in vanilla and powd. sugar until smooth. Spread over cheesecake. Top with mini chocolate chips for decoration! Chill and then cut into slices or bars.
(Recipe adapted Brown Eyed Baker)
You May Love These, Too! XOXO