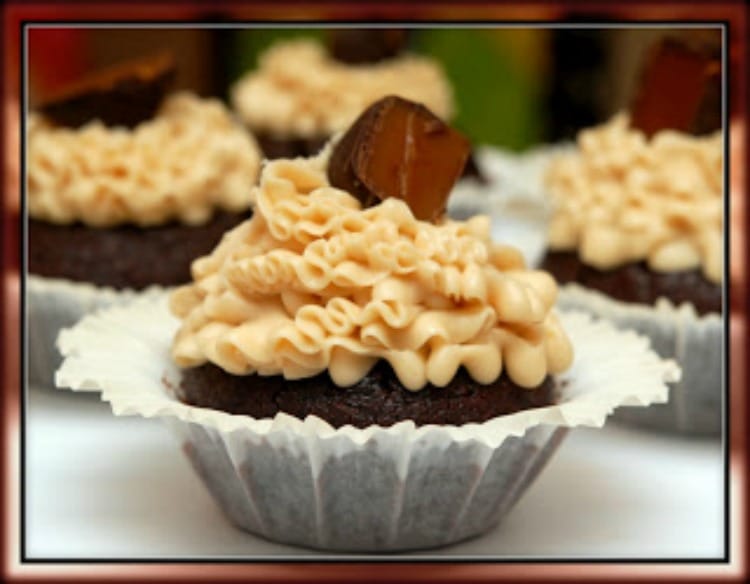 Cupcakes:
2¼ Cups All-Purpose Flour
¾ Cup Unsweetened Dutch-Process Cocoa Powder
½ Cup Granulated Sugar
¾ Cup Packed Brown Sugar
1½ Teaspoons Baking Soda
½ Teaspoon Salt
1 Cup Milk
1½ Cups Malted Milk Powder
1 Cup Vegetable Oil
3 Large Eggs, at room temperature
1 Cup Sour Cream, at room temperature
1 Teaspoon Vanilla Extract
½ Cup Whoppers, smashed
Preheat oven to 350 degrees. Line standard muffin tins with paper liners. Whisk together flour, cocoa, both sugars, baking soda and salt. In another bowl, whisk together milk and malted milk powder until powder is dissolved.
With an electric mixer on medium-high speed, beat flour mixture, milk mixture and oil until combined. Add eggs, one at a time, beating until each is incorporated, scraping down sides of bowl as needed. Add sour cream and vanilla, and beat just until combined. Fold in smashed Whoppers.
Divide batter evenly among lined cups, filling each halfway. Bake, rotating tins halfway through, until a cake tester inserted in centers comes out clean, about 20 minutes.
adapted from martha!!
Salted Caramel for Buttercream Recipe
1 cup sugar
4 tablespoons water
2 tablespoons light corn syrup
1/2 cup heavy cream
2 tablespoons butter
1/2 teaspoon lemon juice (I OMITTED THIS)
1/2 teaspoon salt, kosher or sea
1. Combine the sugar, water, and the corn syrup in a large saucepan and stir with a wooden spoon over medium heat until sugar is dissolved.
2. Cover the saucepan and let it cook over medium heat for 3 minutes.
3. After 3 minutes, remove the lid, increase the heat to medium-high, and bring to a boil.
4. Do not stir from this point on, but instead swirl the liquid around the pan so that the caramel doesn't burn.
5. Continue to cook until the caramel turns an even amber color then remove from the heat and let stand for about 30 seconds.
6. *** Be careful here *** Pour the heavy cream into the mixture. The mixture will bubble up significantly and is very hot.
7. Stir the mixture, again being careful. Add the butter, lemon juice (IF USING), and salt. Stir until combined.
8. Measure 1 cup into a Pyrex measuring cup. Stirring occasionally, allow to cool until thick like molasses and warm to the touch, about 20 minutes. Save any extra in a sealed container in the refrigerator. It is delicious on ice cream, not to mention your finger!!!
Salted Caramel Frosting
2 sticks butter at room temperature
8 ounces of cream cheese
3-4 cups sifted powdered sugar
1 cup salted caramel (recipe above)
1. Beat butter and cream cheese at medium speed until creamy.
2. Add 2 cups of the powdered sugar into the butter/cream cheese mixture and beat to combine.
3. Add 1 cup of the salted caramel and beat to combine.
4. Add additional powdered sugar until the frosting is the sweetness and consistency you desire.
You May Love These, Too! XOXO