A million dollars for a cookie? Noooo way but these sure taste like a million bucks. Perfectly chewy and sweet with an overload of 3 chocolates and a touch of sea salt! Pretty much my new favorite cookie. I can't wait to try them with some raisins and a touch a cinnamon, too. Try this cookie and you will forever love oatmeal cookies  After a 30 minute chill of the dough to prevent flat cookies, I also baked mine on the convection setting of my oven. So, if you have one go for it. Otherwise, no big deal just be sure the dough is cold.
WELCOME TO ANOTHER MONTH OF 2 SWEETIE PIES!! I LOVE THIS DAY! MY BLOGGING BUDDY LIZZY (FROM THAT SKINNY CHICK CAN BAKE) AND I EACH BAKE FROM THE OTHER'S BLOG AND SURPRISE EACH OTHER…AND YOU-WITH WHAT WE MADE!!! TRUTH BE TOLD, I LOVE THAT EVERY RECIPE I CHOOSE IS ALWAYS A WINNER!
Liz used E. Guittard disks for these cookies and so did I. I did not have white disks on hand so I went with bittersweet, semi sweet and milk chocolate. A perect trio! I also added some sea salt to the finished cookies because that seems to be my latest addiction. Coarse sea salt adds a wonderful flavor twist for your taste buds!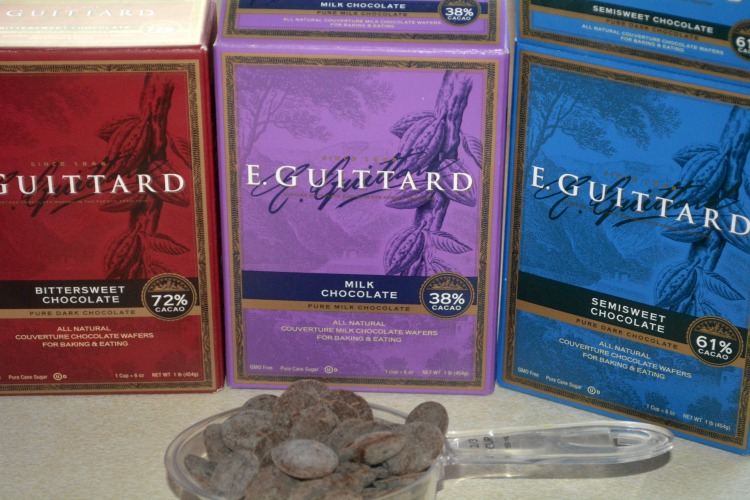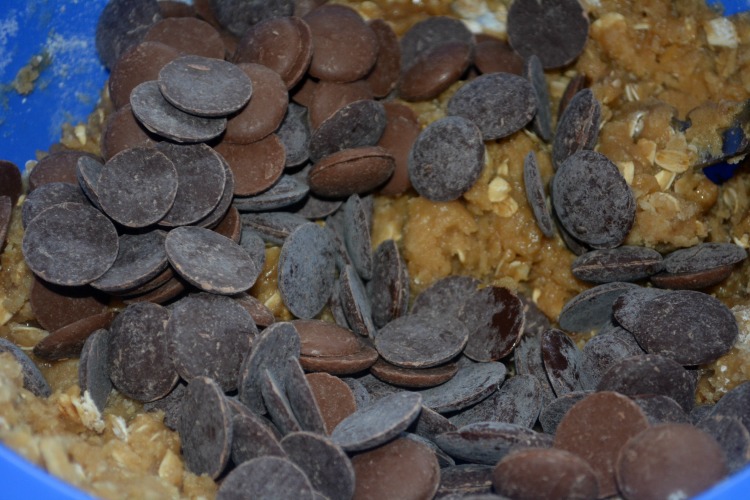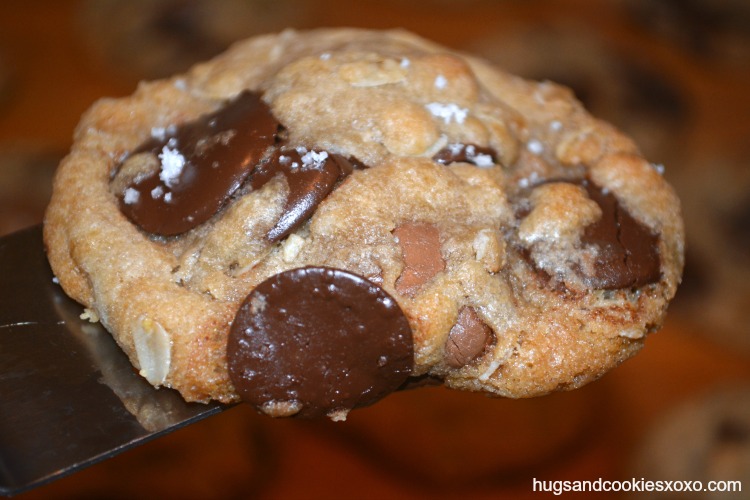 Million Dollar Oatmeal Chocolate Cookies
Ingredients
1 cup (2 sticks) butter
1 ¼ cups dark brown sugar
½ cup granulated sugar
1 egg
1 egg yolk
1 teaspoon vanilla extract
2¼ cups flour
1 cup oatmeal
1 teaspoon baking soda
½ teaspoon salt
⅔ cup milk chocolate discs (I used Guittard), chunks or chips
⅔ cup semi-sweet chocolate discs (I used Guittard), chunks or chips
⅔ cup bitter-sweet chocolate discs (I used Guittard), chunks or chips
Instructions
In a large microwave safe bowl, microwave the butter until melted.
Add both sugars and stir until the sugars are incorporated. Chill the mixture for 10 minutes.
Remove from the refrigerator and stir in the egg, egg yolk, and vanilla.
Add the flour, oats, baking soda,and salt; mix till combined.Stir in the chocolate chunks.
Chill dough 30 minutes,
Scoop out large tablespoonfuls of dough and place on parchment lined cookie sheets leaving about 2-inches between each cookie.
Bake 325F. 12-15 minutes, or until golden brown.
Cool for several minutes on pan, then transfer to cooling rack.
Yield: 24-36 cookies, depending on size
Adapted from That Skinny Chick Can Bake via The Cooking Channel

You can also visit Lizzie on: