Nothing TASTES more like Autumn than Pumpkin Ice Cream & Pumpkin Pound Cake…together, of course! And with a big dollop of whipped cream! IT'S ALMOST PUMPKIN SEASON!!!!!!


here's the recipe!!!
Pumpkin ice cream:
In a pot, cook on medium for 5 minutes until sugar melts:
2c. heavy cream
3/4c. dark brown sugar

In a bowl, beat:
5 yolks
1/2 tsp. cinnamon
1/4 tsp. salt

Gradually whisk 1/2c. of the hot cream into the eggs and whisk until smooth. Pour the egg mixture back into the pot and and cook 5-6 minutes on medium heat. Do not boil.
Strain into a bowl and add:
1 tsp. vanilla.

Whisk in:
1c. canned pumpkin

Cover with plastic wrap ad chill until cold, 3 hours or overnight. Run through your ice cream maker and freeze.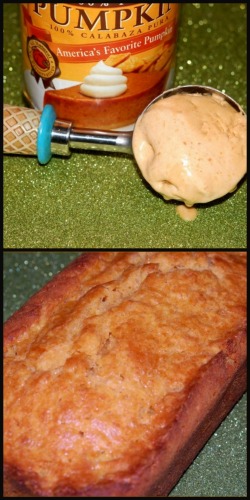 Pumpkin Pound Cake-best recipe from my sis in law, andrea xoxooxox

Grease two 9×5 loaf pan. Preheat oven 350
1 1/2 cups butter
2 3/4 cups sugar
6 eggs
1 tsp. vanilla
1c. canned pumpkin
3 c. flour
3/4 tsp. cinnamon
1/2 tsp. baking powder
1/2 tsp. salt

Cream butter and sugar. Add eggs, one at a time. Add vanilla. Add pumpkin. Add dry ingredients and stir just till blended!!! Bake about 70 mins until a toothpick comes out clean. Cool 10 mins and remove. Serve with pumpkin ice cream!
You May Love These, Too! XOXO