Oven Baked Chicken Meatballs
These are the best meatballs ever! Better than beef, better than a combo of beef & sausage. These are made with ground chicken and chicken sausage but not any ground chicken. The secret is to use ground chicken made from thighs. This way you avoid the usual ground chicken made from the breast! For the chicken sausage I usually choose the parsley garlic variety! You can eat these right out of the oven or turn them into meatball parm! You may also love Baked Meatball Parmesan Casserole.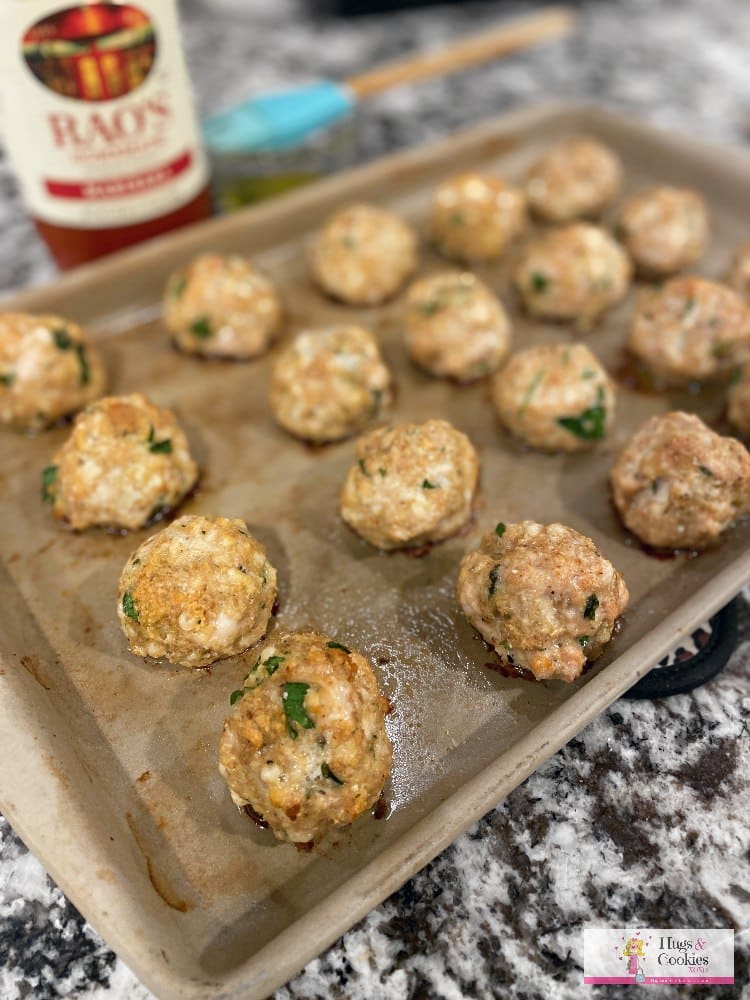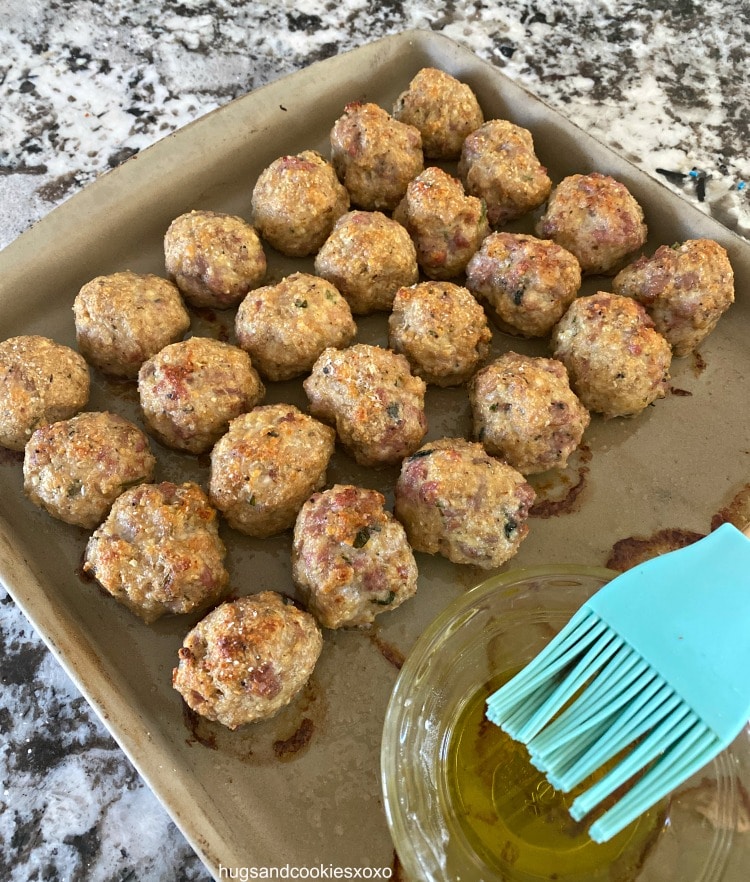 You may need:
Oven Baked Chicken Meatballs
The Best Chicken Meatballs Ever!
Ingredients
¾ pound ground chicken (I have the butcher grind this from boneless, skinless chicken thighs)
½ pound chicken sausage, casings removed (I get parsley cheese sausage)
⅔ cup seasoned bread crumbs
2 cloves garlic, minced
3 tablespoons chopped fresh parsley leaves
¼ cup freshly grated Pecorino Romano
¼ cup freshly grated Parmesan, plus extra for serving
3 tablespoons milk
1 egg, lightly beaten
Kosher salt and freshly ground black pepper
olive oil
Instructions
Preheat oven to 450.
For the meatballs, place the ground chicken, sausage, bread crumbs, garlic, parsley, Pecorino, Parmesan, milk, egg, 1 teaspoon salt, and ½ teaspoon pepper in a bowl and combine gently with a fork.
Form meatballs and lay on a 9x13 baking stone with sides.
Roast 15 mins.
Turn heat up to 500 and brush with olive oil, cooking another 5 mins.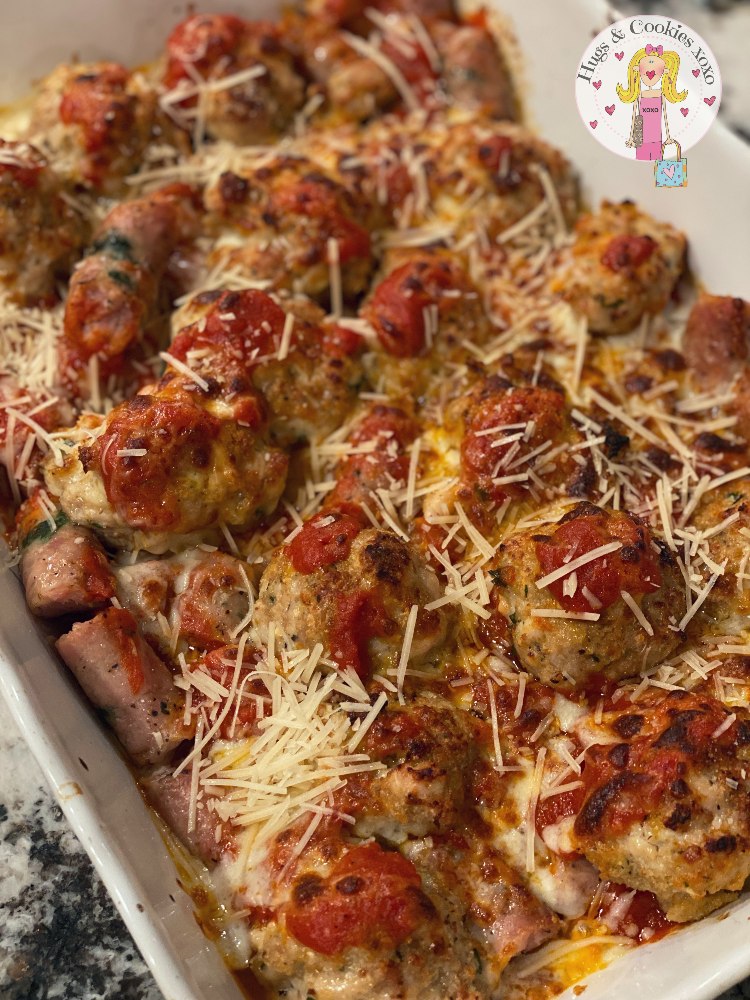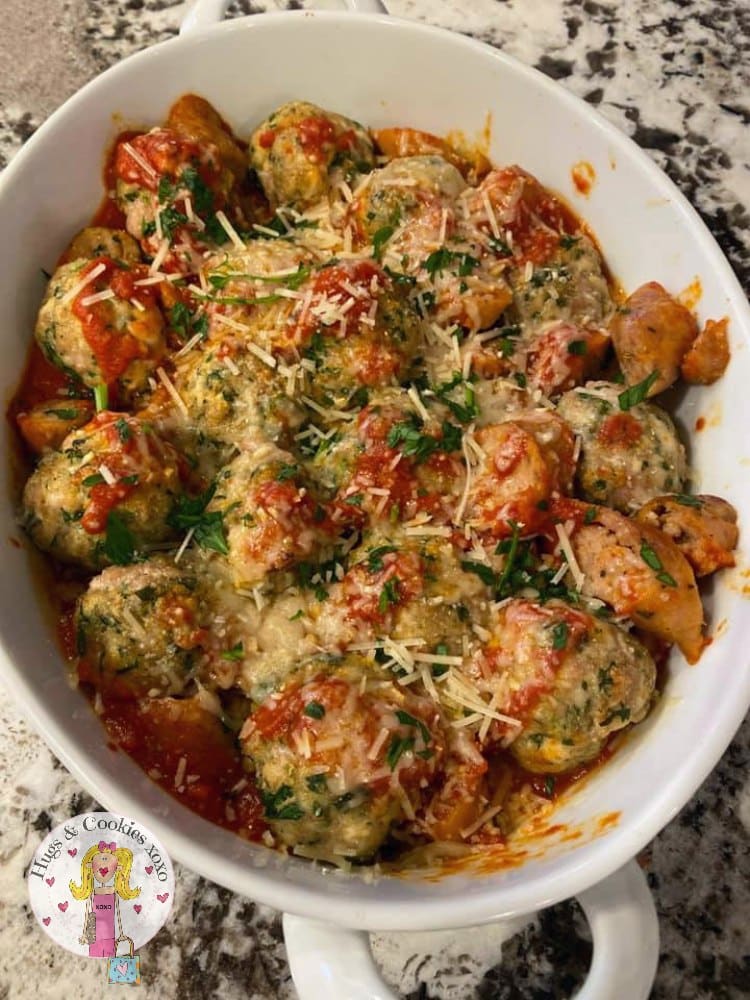 To turn these meatballs into meatball parm, I cooked them and transferred to a casserole dish along with some sweet italian sausage I had cooked.. Top them with Rao's sauce and shredded cheese. Then bake at 450 just to melt the cheese and heat the sauce. Switch to broil to brown the top-this happens quickly so keep a close eye!