Peanut Butter Cup Paradise! An entire peanut butter cup (yes, you read that correctly), baked under a peanut butter cookie and topped with chocolate glaze and a mini peanut butter cup!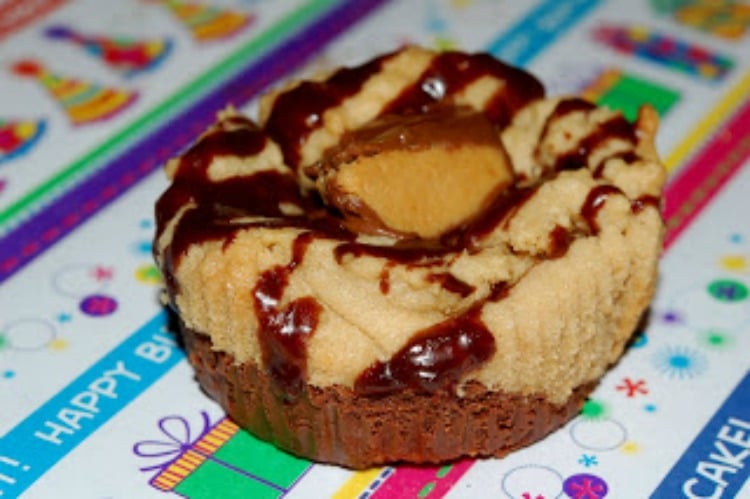 Peanut Butter Paradise Cups
This recipe made 12 peanut butter paradise cups. I did have some leftover dough so you could probably buy a few extra pb cups and make a few more. Or just bake off the extra dough as cookies! (I stopped at 12 because the muffin tin makes 12 and I couldn't be bothered doing a second batch for just a few. LOL)
Take 12 regular size reese's peanut butter cups (hubby bought me the ones that come with 8 individually wrapped ones in a pack) and put 1 pb cup in bottom of each muffin liner in a muffin tin. Preheat oven 325.
make cookie dough:
Mix:
1 stick butter
1/2c.peanut butter
1/2c. sugar
1/2c. brown sugar
1 egg.
Add:
1 1/4c. flour
3/4tsp baking soda
1/2tsp. baking powder
1/4tsp. salt
Beat well.
Scoop 2T. dough on top of each pb cup (try to place it evenly in cup) Bake for 20 minutes until cookie is set.
make Glaze:
Melt 1/3c. butter on low heat.
Add 1/2c. Unsweetened cocoa powder and cook 1 minute.
Shut heat and add:
1/3c. milk
1 tsp. vanilla
2 1/2c. confectioners sugar
Stir and drizzle on top of cookies. Add more milk if too thick to drizzle.
For garnish cut mini pb cups in half and top each with a half.
You May Love These, Too! XOXO