PINKALICIOUS LOVERS…..THIS ONE'S FOR YOU!!

DON'T SPRINKLES JUST MAKE YOU SMILE???


INTO THE OVEN THEY GO….
TIME TO ADD SOME PINK BUTTER CREAM! YOU DIDN'T THINK I COULD LEAVE THEM AS PLAIN SPRINKLE COOKIES, DID YOU?

SANDWICH THE COOKIES TOGETHER!!

THIS ONE IS FOR YOU!


OF COURSE, YOU COULD ALWAYS SKIP THE BUTTER CREAM & WRAP THE COOKIES WITH RIBBON!


FUNFETTI COOKIES
1 cup Butter, Room Temperature
1-¼ cup Sugar
2 teaspoons Vanilla Extract
1 whole Egg
2-½ cups Flour
¼ cups Cornstarch
¾ teaspoons Baking Soda
½ teaspoons Salt
½ cups Rainbow Jimmie Sprinkles AND 2 Tablespoons Nonpareil Sprinkles (I DID NOT MEASURE THIS AND USED MOSTLY PINK SPRINKLES)
BEAT BUTTER & SUGAR. ADD VANILLA & EGG TO COMBINE. ADD FLOUR, CORNSTARCH, BAKING SODA AND SALT JUST UNTIL INCORPORATED. STIR SPRINKLES IN BY HAND SO THEY DON'T GET MASHED IN. I DID NOT MEASURE THE SPRINKLES, JUST SORT OF DUMPED THEM IN!!!! USE MEDIUM ICE CREAM SCOOP AND PLACE ON PARCHMENT LINED COOKIE SHEET. BAKE AT 35O APPROX 12-14 MINS. DON'T WANT THEM TO GET TOO BROWNED. LET COOL 5 MINS ON SHEET THEN REMOVE TO RACK.
COOKIE RECIPE ADAPTED FROM 2 PEAS & THEIR POD
MY BUTTERCREAM RECIPE
BEAT IN THE MIXER 1 STICK BUTTER, 2 CUPS POWDERED SUGAR. ADD A FEW TABLESPOONS OF MILK UNTIL THE DESIRED CONSISTENCY FOR PIPING OR SPREADING! ADD PINK FOOD COLORING, IF DESIRED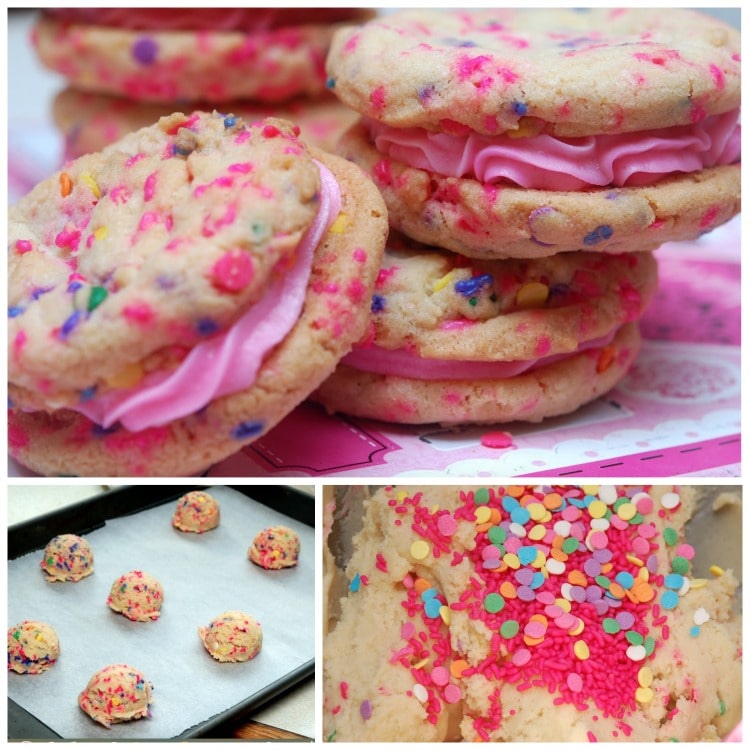 You May Love These, Too! XOXO