These cookies are delicious made with regular flour or with Cup4Cup gluten free flour. Cup4Cup flour is the only gluten free flour I have found to produce cookies that taste exactly like regular ones!!! So now everyone can enjoy some perfect chocolate chip cookies!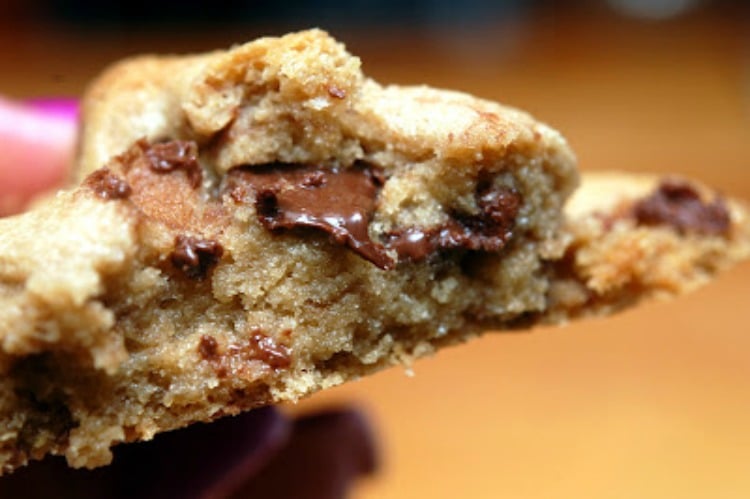 2¼ cup CUP4CUP FLOUR (or regular flour)
1¼ teaspoons baking soda
¼ teaspoon of salt
2 sticks (1 cup) unsalted butter PLUS 1 EXTRA TBLSP.
1¼ cup packed dark brown sugar
¼ cup granulated sugar
1 large egg plus 1 egg yolk
1½ teaspoons vanilla extract
¾ cup semi-sweet chocolate chips
½ cup milk chocolate chips
½ cup dark chocolate chips
Instructions
Melt butter in a skillet over medium heat. Whisk constantly until the butter begins to brown. Takes several minutes. Remove heat once brown and smelling nutty and yummy and pour into mixer bowl. Let cool a few minutes. Beat the butter and sugars. Add the egg, yolk, vanilla. Add the dry ingredients. Fold in all of the chocolate chips. Chill dough a few hours or in the freezer 1 hour!
Preheat the oven to 350 degrees F. Line cookie sheet with parchment paper. DROP BY LARGE TABLESOONS.
Bake 10-12 minutes or until the edges of the cookies begin to turn golden brown. Eat immediately Cool on  sheets.