HUNGRY FOR AN AFTERSCHOOL SNACK? SERVING UP MAPLE PUMPKIN CHEESECAKE BARS ON A BISCOFF COOKIE CRUST!! TOPPED WITH SOME CANDY CORN FROSTING, OF COURSE! ♥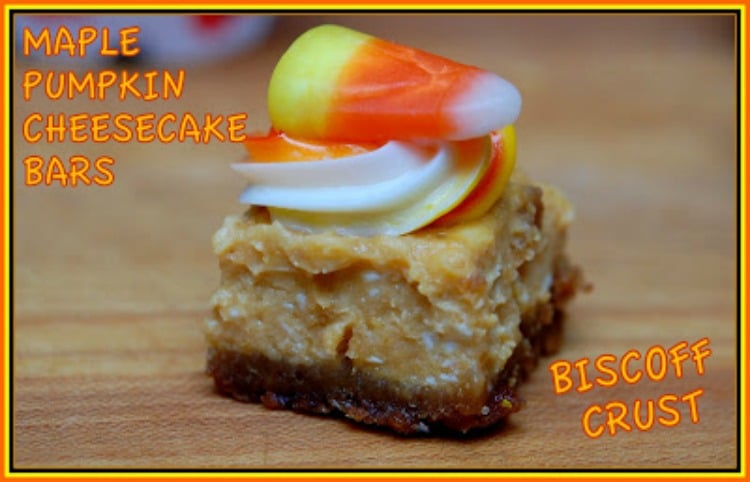 Maple Pumpkin Cheesecake Bars
Ingredients
For the cookie crust:
1 package Biscoff cookies (Gingersnaps can be substituted.)
2 tablespoons sugar
5-6 tablespoons unsalted butter, melted
For the maple pumpkin filling:
1 8-ounce brick cream cheese, softened
2 large eggs
1 15-ounce can pure pumpkin puree (approximately 2 cups)
1 cup light brown sugar
1 12-ounce can evaporated milk
2 tablespoons pure maple syrup
1 teaspoon vanilla
1 teaspoon ground cinnamon
1/2 teaspoon ground ginger
1/8 teaspoon ground cloves
1/4 teaspoon kosher salt
Fresh whipped cream and candy corn for garnish (optional)
Directions
Preheat oven to 350 degrees F. and place a rack in the center of the oven. Line the bottom and sides of a lightly buttered 9 x 13-inch baking pan with aluminum foil that extends at least 3-inches over each end of the pan. You will use this overlap to remove the baked bars from the pan. Lightly butter the foil.
To make the crust, pulse cookies and sugar together in a food processor until you have fine crumbs. Add 5 tablespoons melted butter and pulse a few more times to incorporate. The crumbs should look like wet sand and hold together when pinched. If the crumb mixture is too dry, add an additional teaspoon of butter at a time until the right consistency is achieved.
Press crumbs evenly into the prepared pan and bake for 10 minutes. Rinse and dry the bowl of the food processor.
While crust is baking, prepare the pumpkin filling. Combine all filling ingredients, except the whipped cream, together in the bowl of the food processor and process until smooth. Pour the filling over the pre-baked crust and tap the pan down on the counter a few times to release any air bubbles. Bake until the filling is set in the center, about 30 – 35 minutes. Remove from oven and set on a wire rack to cool.
Run a knife around the inside edges of the pan to loosen the pumpkin bars. Using the foil, carefully lift the bars from the pan and onto a cutting surface. Peel back the foil and cut into squares with a warm, sharp knife. Serve chilled or at room temperature, with a dollop of whipped cream and a candy corn on top, if desired.
The bars can be stored, covered, in the fridge for about 4 days.
Makes approximately 24 bars.
---
Article printed from Sticky, Gooey, Creamy, Chewy: http://stickygooeycreamychewy.com
You May Love These, Too! XOXO