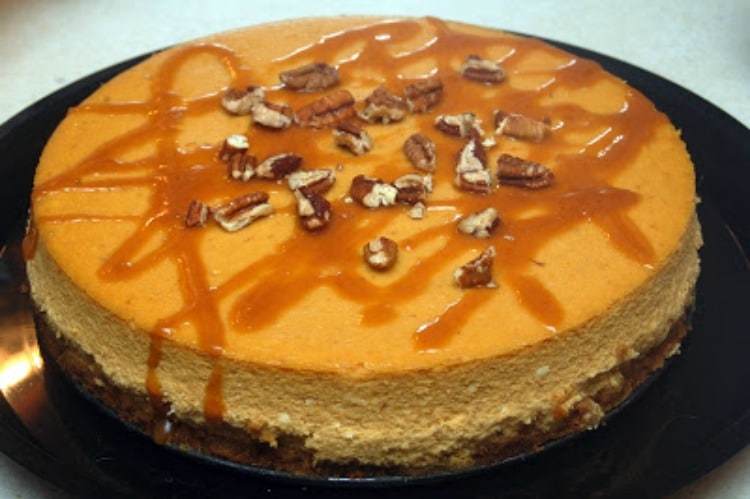 PUMPKIN PIE CHEESECAKE WITH SALTED CARAMEL & PECANS

Ingredients

Crust

1¼ cups graham-cracker crumbs
¼ cup sugar
4 tablespoons unsalted butter, melted

Cheesecake:

32 ounces cream cheese, room temperature
¾ cup granulated sugar
½ cup light brown sugar
15 ounces canned pumpkin
4 eggs, room temperature
3 Tablespoons heavy cream
1 Tablespoon vanilla extract
1 teaspoon cinnamon
½ teaspoon salt

Instructions

Crust

MIX ALL TOGETHER AND PAT INTO 9 INCH SPRINGFORM. BAKE 10-12 MINUTES AT 350.

Cheesecake

ELECTRIC MIX CREAM CHEESE AND SUGAR. ADD PUMPKIN. ADD EGGS ONE AT A TIME. ADD REST JUST UNTIL SMOOTH. POUR ONTO CRUST. WRAP SIDES IN FOIL AND PLACE INTO A BIG ROASTING PAN. POUR BOILING WATER IN HALFWAY UP THE SIDES. BAKE AT 350 FOR 60-65 MINS. WHEN DONE, KEEP IN OVEN FOR ONE HOUR WITH THE HEAT OFF. CHILL COMPLETELY.

SERVE WITH SALTED CARAMEL AND PECANS ON TOP.